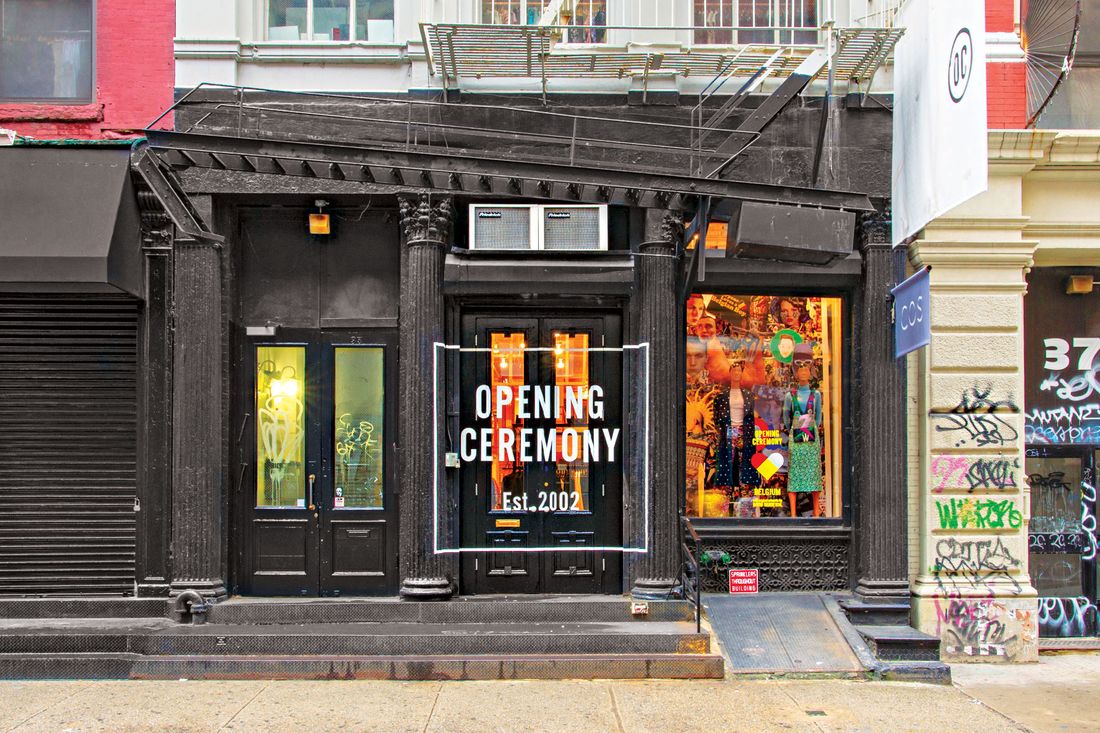 35 Howard Street, where it all began.
Photo: Courtesy of Opening Ceremony
At the start of this year, Opening Ceremony announced it had been bought by the New Guards Group and would be closing its four retail locations: the flagship on Howard Street, where it all started; the shop in the Ace Hotel near Madison Square; and the stores in Los Angeles and Tokyo (which was the first to shut). OC was founded in 2002 by best friends Carol Lim and Humberto Leon, who met as sophomores at UC Berkeley ("We bonded over her studying, me going out, me forcing her to go out, and me not studying," Humberto once said). In everything they did, they operated on instinct and enthusiasm. It paid off. OC quickly became the defining store of its era — a hub for the fashion-curious seeking new brands from both around the globe and emerging local talent. Many New Yorkers first met Acne, Alexander Wang, and even Havaianas there. The Soho location was a clubhouse for the world famous and downtown famous, who all considered themselves "family." But it also strove to be a place where anyone could hang out. "It's like your favorite record store, but a clothing store," Chloë Sevigny told this magazine in 2010, shortly after the company expanded to Japan. But, as with record stores before it, the music moved elsewhere. "You had to be there," says Humberto.
2000: An Idea Is Born
The two friends move to New York and begin working in fashion, Carol at Bally (after a stint as an investment banker) and Humberto at Burberry. In April, they visit Hong Kong: They shop, meet designers, eat, and get massages. They also get an idea: Each year, they'll travel to a different country and bring back what they find. 
Carol: On the plane, we were like, "Everyone would love all this stuff!"
2001: 'Let's Do This'
Carol and Humberto meet every Sunday to hash out a business plan over dim sum — cheung fun (shrimp rice rolls), turnip cakes, chive dumplings, and pork buns — at Jing Fong on Elizabeth Street. The hard part is coming up with a name.
Humberto: It had to be rooted in the idea of travel. We kept throwing out names like "Terminal" and then we would be like, "Oh my God, no. That sounds like 'terminally ill.' "
Carol: They all seemed so pretentious
Humberto: Our friend Shannon Han was like, "What about 'Opening Ceremony?' " And we were like, "You can't really make fun of that." Ceremony is a hard word to be bitchy about.
Riffing on the idea of the Olympics, they decide that each year will be dedicated to a different country, with designers from around the world "competing" with local ones.
August
They each have $10,000 saved up and give notice at work.
Humberto: We thought we were loaded.
September
After 9/11, they take their bosses' advice to not leave their jobs after all. But a couple of months later, they decide they can't undream their dream. They find their way to a pro bono business adviser at Pace University, where they get help drafting a real business plan.
Humberto: The original was like, "Our store is going to be open from 9 a.m. to midnight, maybe 2 a.m. We're going to have a register that sits on this big lazy Susan, and then at 8 p.m., the lazy Susan turns from a register to a DJ booth. Basically, we think all our friends are going to want to hang out and shop until two." But they were like, "Guys, banks don't want to see anything about a lazy Susan."
Carol: We still have the version with the lazy Susan. In the next iteration, it'll come back.
2002: Howard Street Is Home
A bank loans them $20,000, and they rent a former fabric store with a "massage parlor" in the basement on an out-of-the-way stretch at the southern terminus of Crosby Street in Soho. Periodically, men would come into the store confused and ask Carol for a massage. She would refuse.
Claire Danes: I grew up on Crosby … [The flagship] was a special little spot. By the time you finally got there, your mind was happily blown.
June
Humberto throws himself a raucous 27th-birthday celebration in the empty space. It turns into a demolition party when guests tag the walls with graffiti and jump from the balcony, breaking through to the bathroom.
September
The store opens its doors. Michael Stipe is one of the first customers. Carol and Humberto work the floor, ring up sales, take out the trash, and even chase after shoplifters.
Carol: For a long time, even if we were both there, we would greet the customer and then we would go to our office in the back. We wanted to let people look. We thought it was totally normal until one day someone stole five leather pieces from the mezzanine. I started crying.
The Diamond hoodie, which they sell for $60, is their first hit.
Humberto: Carol and I are from Southern California, and having a sweatshirt in your car is absolutely essential. My mom is an amazing seamstress — she worked in garment factories — so we enlisted her to help us. We wanted something really graphic that could stand out without actually having to print anything, which would require extra money. We started with a run of 50; they were there with us on the first day the store opened, and they sold out within the first week.
Patrik Ervell, designer and friend: When the store first opened, it was also a place to hang out. People would come by and play music. There were always people working in the back. It was almost a weird precursor to WeWork in a strange way.
Kids star Leo Fitzpatrick would use their fax machine and have scripts sent to the store. Designer Benjamin Cho would come in to sketch, while his sister, Cathy, studied for her medical exams. Shu Hung (who would go on to work at Nike and then Uniqlo as global creative director) starts a magazine called In with Ken Miller, which is based in the back of the store. Brian Phillips, who would go on to found Black Frame, the fashion PR firm that also represented the brand, starts an art-consulting company there.
Brian Phillips: You'd come to figure out what was happening that night. Pre–social media, if you wanted to know what the cool kids were doing, you'd go and chat with the sales associates.
2003: Year of Brazil
January
They travel to Brazil on a buying trip, find plastic flip-flops called Havaianas in a grocery store, and fill their suitcases with them.
May
Olivia Kim is hired as the first employee. (In 2013, she would join Nordstrom and is now VP of creative projects.)
Olivia Kim: The first day they left me alone in the store, I was by myself and like a thousand people came in, so I locked the door. I was like, What if all these people just grab clothes and run out of here!
2004: Year of Germany
March
The store makes its first $1 million in total sales.
Humberto: Carol and I had a really crazy idea that the minute we ran up that millionth-dollar transaction, we were going to throw confetti at this person. We had also been collecting this goody bag of everything we loved that we were going to hand them. It happened to be someone we knew. She bought a pair of sneakers for her boyfriend and was like, "Hey, I'm in a rush." When we went to ring her up, we were like, "Oh my gosh … she's the one." And so Carol and I, of course, acted insane. As soon as she paid and we rang up her credit card, we threw all this confetti over her head. She was just like, "What is going on, guys?" And we were like, "Congratulations!" She was all dressed up for dinner for her boyfriend's birthday. It was kind of a hilarious mess.
August
After working with only their friends, Carol and Humberto do their first brand collaboration, with Nike, for the 2004 Olympics. They invite each designer and artist they carry to create a unique item, turning the entire store into a Nike shop called Souvenir.
2005: Year of the U.K
They bring Topshop to the U.S.
Carol: When we approached [Topshop], the idea was completely foreign to them because they had never wholesaled their clothing before. They were confused why we wanted them next to emerging brands like Gareth Pugh, Peter Pilotto, and Peter Jensen. But to us and our friends, Topshop was a crucial part of the London fashion experience.
2006: Year of Sweden
They bring Acne and Cheap Monday to the U.S.
Carol: I first noticed Acne when we were in Berlin in 2004. We started selling the whole collection at the store, along with other Swedish brands like Cheap Monday. We actually became for a while Acne's retail partner in the U.S., helping them open a Soho store.
2007: Year of the USA
February
They are one of the first to sell Alexander Wang, who shopped at the store while a student at Parsons.
April
OC opens its first branch in L.A. in Charlie Chaplin's former dance studio on La Cienega Boulevard.
Carol: We didn't believe in making it a store with only textbook L.A. summery jersey products all year round.
About this time, back in New York, they realize the staff seems to be letting OC's status as the "It" store go to their heads.
Humberto: We had to have a lot of talks with the staff. We would go in and have to tell them, like, "Don't think you're cool. What's cool is how not cool you guys are."
Carol: We had to have a big staff meeting in New York. We'd gotten maybe four or five texts in a row from friends saying, "Your staff is horrendous," and we'd seen it too. We had a major conversation. We said, "You have the choice today: You can either walk out, or you can change your attitude." It was intense. It was the first time I'd seen Humberto cry in all the years I'd known him. We were so pissed! We took it so personally.
May
Jacky Tang is hired as manager.
Jacky Tang: It was an intimidating store to walk into, so I made sure that, if it was going to be a clubhouse, we welcomed everyone into the club. If you are a retail associate, you are a customer's friend. You are also a stylist; you're not just selling clothes. Some of those looks are really difficult to put together.
That said, it increasingly becomes a place for celebrities to shop.
Jacky: One time, Lindsay Lohan, Kim Kardashian, and Chloë Sevigny all came into the store at once. It had never really occurred to me that there could be more than one VIP at a time. Lindsay came in first. She lived down the street, so she came in often. So we blocked out a fitting room for her, then Kim came in with Kris Jenner and we were like, "Uh … we don't have a fitting room for Kim." I had to ask Kim if she would share a fitting room with Lindsay. Luckily, Chloë just came in to pick something up. I'm not even sure she was aware that was all going on.
2008: Year of Japan
March
In an interview, Chloë Sevigny is asked whom she would ever want to collaborate with on a fashion line, and she says, "Opening Ceremony." Humberto asks her to lunch to see if she's serious. She is: The collection is a huge hit, and they collaborate many more times.
Chloë Sevigny: I started seeing those Diamond sweatshirts around town, and I was like, Who makes those? So that was the introduction. And then I guess I saw Humberto out at clubs [like Sway]. They were my peers. So much of fashion and streetwear tries to be so cool, but they were more about family. Carol and Humberto have this can-do attitude, and there's no cynicism. None. No "Ughs!" or eye-roll-y fashion stuff, ever.
August
They keep the store open for 72 hours straight to celebrate the Olympics.
Jacky: We did an in-store dance party with Hercules and Love Affair. We did astrology readings with Susan Miller. We did a double-Dutch contest and Ping-Pong tournament. It was a feat to convince staff members to start their shifts at 5 a.m.
By now, OC has its own blog, with food maps for every city and new music.
Carol: One of our most popular columns was called "Wish You Were Here," and we would take pictures of wherever we went on our trips. One time, our friend visited a really small village in Ireland, and he was wearing the Diamond sweatshirt. A girl who worked at the pub knew what it was because she read the blog. He said she talked about the store and us as if she knew us.
2009: The Scale-Up
Which means e-commerce, more collaborations, a bigger wholesale operation, and a store in Japan.
Olivia: I really do believe Opening Ceremony put the concept of collaborations on the map for retail stores. They changed the game around experience — around partnering with brands; around storytelling; around including the customer as part of that experience by engaging them and asking them to come work for you and model on your website.
Carol: Most of the time, [brands] had no idea who we were or what we were about, so we were always up to the challenge of showing them and proving a collaboration through our lens could open up their brands to a new audience.
In their e-commerce, store employees and onetime interns, like Anna Gray, are cast as models.
Anna Gray: Everyone that worked in the store could, in a pinch, be an e-comm model. There were always people running up and down the stairs shouting, "We need another man!" The shoots were a shitshow, but in a fun way. I also doubled as an intern, and I would just go there for so many hours all the time and I was paid in trade. They did feed me lunch, though.
August
OC partners with the Japanese holding company Onward to open its first store in Tokyo after a buying trip leaves them disappointed. Kirsten Dunst, Jason Schwartzman, Andy Samberg, and the Olsen twins all attend the opening.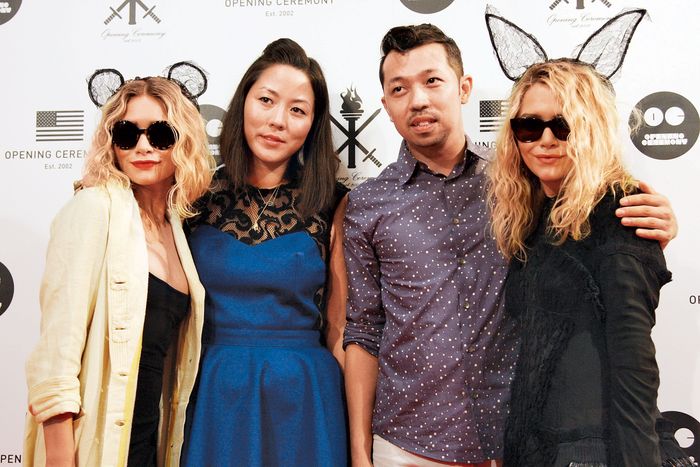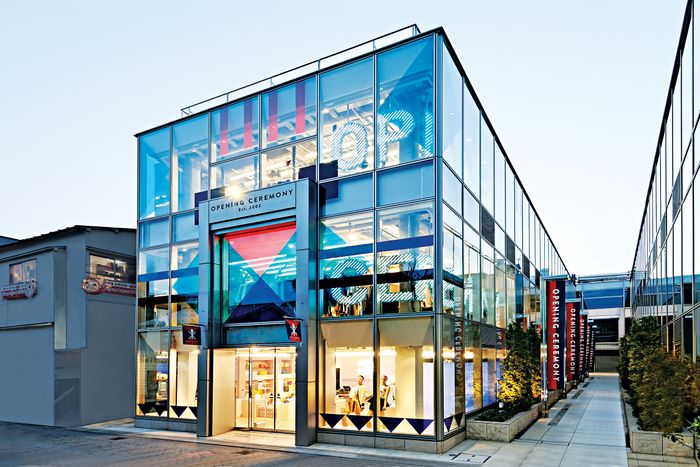 September
OC collaborates with Spike Jonze on a Where the Wild Things Are collection. They sell out of the $610 furry adult onesie with ears and a tail in one hour.
Humberto: I was introduced to Spike through Jason Schwartzman at Jason's mom's Christmas party. We became best friends overnight. When Where the Wild Things Are came out, we decided to do an entire faux-fur collection based on each Wild Thing. He was like, "Who's going to want that?" And we were like, "Trust us." The day that it launched, the first person that came through the door was Jake Gyllenhaal to buy that Max outfit. He needed it.
Spike: Everything they do, and have always done, brings people together. And somehow, in the midst of doing all this — maybe first and foremost — they're great friends to everyone who's lucky enough to be in their lives. I wouldn't still be alive if I didn't know them… but that's for another day.
2010: Year of France
Carol Song, former buying director: When we first started with smaller countries, it was hard to get more established designers to understand what we were doing. When we did France, we were able to get a lot of cool young French designers and then someone as established as Jean Paul Gaultier.
February
They open an outpost inside the Ace Hotel near Madison Square, which sells souvenirs like Alexander Wang tote bags. Solange and the Dirty Projectors play at the opening party.
June
They expand next door in Soho to 33 Howard, previously home to a "hair salon" that was, curiously, not open during the day. Of course, they throw another pre-renovation party. This time, Beyoncé comes.
Jesse Hudnutt, former sales associate who became men's buying director: It was 90 percent shop kids, but Humberto is good friends with Solange, and Beyoncé came, and it was kind of just … chill? We were all dancing together in this little space.
Su Barber, former art director: "My shoes were so filthy after that party I had to throw them away."  
2011: Year of Argentina
February
OC collaborates with Rodarte on a ready-to-wear collection.
June
Chloë hosts her first runway show with OC in an old Nolita gymnasium. "I wanted you to come in and be transported back to the way you felt when you were a teenager," she told the Cut at the time.  
July
Carol and Humberto are appointed creative directors at Kenzo.
Carol: We had been approached to work on other brands and other lines, but we thought about brands that we'd be excited about and Kenzo was on that list.
The first big hit, of course, is a sweatshirt (with a tiger on it).
November
Rihanna's Talk That Talk album comes out with her wearing an OC sale-rack dress on the cover.
Mel Ottenberg, stylist: The night before the cover shoot, I wanted to change her look for a new era. I ran over to OC, which is a block from my studio, and found an Opening Ceremony camo minidress on a sale rack in the basement.
2012: Year of Korea
September
OC celebrates its tenth anniversary with a Rizzoli book and a party at Webster Hall.
Phillips: The idea was that every room would be a different legendary New York party. We had every amazing DJ, every promoter, every crew of kids from New York City, like the Sway kids, the goth kids, the Misshapes, the hip-hop kids — every single different constituency was brought together under one roof that night. People were freaking out. I've never seen a door like that.
November
OC collaborates with longtime shopper Yoko Ono on a collection inspired by John Lennon's "very sexy bod." Whenever she would come into the store, they'd pull a special rack for her of black and white items. 
2013: Year of Belgium
September
OC hosts its first runway show, with models coming out of a fleet of cars. Justin Bieber is in the front row.
Humberto: The collection was all about this street-racing culture that Carol and I grew up with in high school with our Asian friends. No one in the audience knew, and when the headlights of the cars came on, I remember Rihanna screaming and clapping.
Carol: Everyone in the front row also got a Cronut.
2014: Year of Russia
February
OC hosts a show with 2,000 pounds of chocolate melting down a wall next to the runway.
April
OC collaborates with Teva. That same month, Berkshire Partners LLC takes a minority stake in the company — OC's first outside investment since opening.
September
Jonah Hill and Spike Jonze write a 30-minute play titled 100% Lost Cotton for OC's show at the Metropolitan Opera House. John Cameron Mitchell plays Humberto, and Catherine Keener plays Carol.
Jonah Hill: That was my first time working in fashion at all. I was always scared of fashion because I thought it was intimidating. It was also my first time working with Spike Jonze. If I didn't have the experience of working with Carol and Humberto, I don't think I would have explored it the way I am now. They made me realize that fashion could be fun and not to be taken too seriously.
November
Humberto designs Solange's wedding dress under the Kenzo label.
2015
September
OC is early on the vape craze; PAX sponsors its spring 2016 show, and the stores start selling vape pens. 
2016: Year of China
February
OC collaborates with Syd Mead, the concept artist responsible for the look of Blade Runner, on a futuristic collection.
Humberto: Our entire set was comprised of around 20 of the futuristic vehicles [Mead] had drawn, blown up into massive inflatables. About five minutes before the show, the lights went out and all of the inflatables completely deflated. About 700 people were outside waiting to be let in. Our producer came to the conclusion that the only way we could try to make it work is if someone plugged in the generator, which could electrocute them. Our incredible lighting designer rose to the challenge, despite everyone begging him not to. He had his assistant stand behind him with a wood plank to hit him with in case he started getting electrocuted. We were dead silent when he plugged it in … Thankfully, he was okay, but nothing happened. At this point, the crowd had been waiting almost an hour and was getting antsy. Of course, right when our PR team started to let people in, the lights came on, and the entire set started inflating.
September
OC puts on a "Pageant of the People" at the Jacob Javits Convention Center. Fred Armisen and Carrie Brownstein host a cast of women, including Aidy Bryant, Ali Wong, Whoopi Goldberg, Rosario Dawson, and Jessica Williams, each of whom takes the mic to talk about a different political issue. In the Olympics-style ceremony, 47 countries are represented with a flag and a custom varsity jacket.
Humberto: We took the idea of Trump's beauty pageants and twisted it to make it a pageant of the people. The ceremony part was really important. Every single person carrying the flags was of the origin of where that flag came from. We scouted people from all over New York, so the Polish flag was held by a kid we found in a grocery store. We cried at the end, and I think a lot of people cried. We needed that.
Fred Armisen: I honestly have never had an experience like that, before or after.
2017: OC's 15th Anniversary
January
OC collaborates with choreographer Justin Peck on The Times Are Racing, a ballet in which the dancers all wear sneakers.
Justin Peck: I had always been obsessed with their stores. I ended up meeting Humberto through artist Marcel Dzama, one of my visual collaborators. I asked if he'd be up for working on a ballet, and that led to [the dances] New Blood and The Times Are Racing.
March
2018
March
OC brings its show to Disneyland to celebrate the 90th anniversary of Mickey Mouse.
September
"The Gift of Showz," a 100 percent LGBTQA+ show, is held at the club Le Poisson Rouge and hosted by Sasha Velour, featuring a surprise appearance from Christina Aguilera.
2020: Year of Mexico
January
OC sells its intellectual property and trademark to New Guards Group, which owns Off-White and Heron Preston. The retail stores will close, but Carol and Humberto will remain co–creative directors of the house line. What started as a diamond hoodie 18 years ago will now be a standalone brand, produced in Italy. Humberto will also open a restaurant this summer with his family called Chifa in Eagle Rock, California. (His mom's dream.) Carol, meanwhile, is toying with hospitality, as well as a travel excursion for families to immerse themselves in Korean language and culture. They still live only a few blocks away from each other (now in Brooklyn), and take the subway together in the morning.
Carol: We always say that the physical will change, but that emotional connection is forever. When I hear people say, "Oh, that's so OC," I think that's a major accomplishment. We've created a feeling.
Humberto: The store was a meeting point for people. With whatever we create, we always keep that in mind. What's come out of this is an amazing community. That's not going to change. And if you think about it that way, you feel less sad about it.
*This article appears in the March 2, 2020, issue of New York Magazine. Subscribe Now!