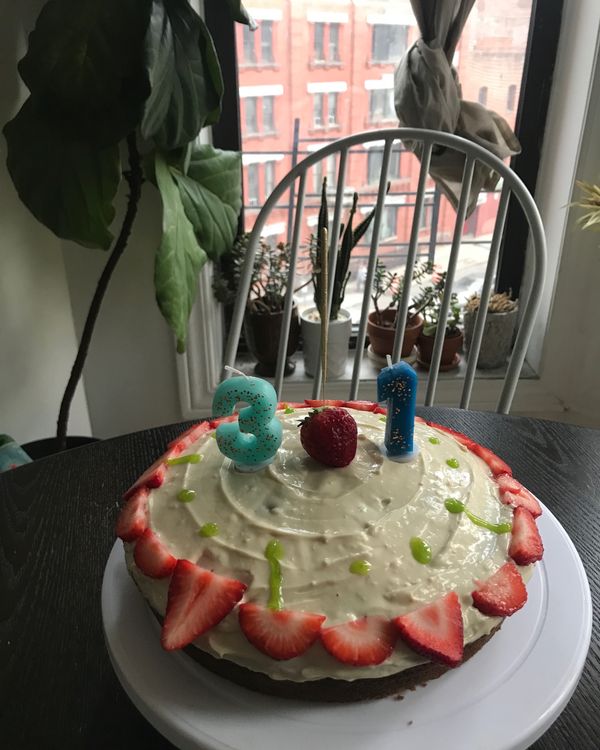 Photo: courtesy of Shanika Gunaratna
Please note the story you're reading was published more than a day ago. COVID-19 news and recommendations change fast: Read the latest here to stay up-to-date. We've lifted our paywall on all essential news and updates about the coronavirus.
Last Wednesday, when having a gathering in person still seemed remotely conceivable, Shanika Gunaratna already felt like the only responsible move was to cancel her 31st birthday celebration. Unbeknownst to her, her friends decided to pivot to a Google Hangout surprise party, a move that now seems less like a Black Mirror episode and more like a necessary idea (okay, it still feels Black Mirror-esque, but at least like one of the happier episodes.) Here's how Gunaratna's friends pulled it off:
Shanika Gunaratna: On Wednesday, the day of my actual birthday, I was supposed to go have low-key, one-on-one drinks at June [a Brooklyn wine bar] with my friend Karen, but I woke up with a sore throat, and after a lot of back and forth, decided I didn't want to step out of my apartment sick. She insisted that we had to do something, so we FaceTimed for an hour until her phone started to die and she suggested we switch to Google Hangouts.
What I didn't know was that after our drink, Karen had planned to lure me to her apartment where my friends would be waiting to surprise me. I kept on delaying my answer, and everyone was on a group chat trying to figure out what to do.
Molly Greenberg: We got a text from Karen saying Shanika wanted to cancel. And so we were all like, uh, you know … we already made the cake.
Christina Chaey: We're a very close group of girlfriends. We're in our thirties now, but we still get hyped on birthdays, and there's always been this tradition of someone making the cake for someone else. We planned a whole surprise party to give her the cake. Shanika's from New Rochelle — a few of us are friends from high school — and it was just really devastating that she had to cancel her plans to go home to have an early birthday dinner with her parents. I was just like, 'Wow, this must suck.' You can't see your parents on your birthday. You're kind of sick and half your friends are sick. Not like corona sick, but it was just weird. All of us had colds all of a sudden. So it just felt like such a bummer.
Allie Kriesberg: She also had a ton of anxiety around hearing about all these friends who had exposed people in their offices, and she was getting a cold, and it was unclear what to make of that. She really didn't want to see anyone.
Christina: None of us wanted her to spend her actual birthday alone.
Allie: And I'd already made the cake! I made it the night before because the New York Times recipe said it was better after a day. I decided I was going to do it up. Shanika is really more about the aesthetics of the cake than the cake itself.
Christina: Allie made this beautiful applesauce cake because Shanika only likes cakes that are fruit-heavy. It was like this fucking expertly decorated cake. Allie used a turntable to frost it, you know.
Allie: I'm in between jobs right now.
Christina: It was beautiful! And it just felt like we had to convey somehow to Shanika that this whole plan had been orchestrated. We were so invested at that point.
Molly: Allie is my roommate so I helped decorate the cake, and I had been running around all day trying to find a 1 candle for 31 and had to make one out of a 7 by cutting the tip off. It was a mess. Then it was like, 'what do we do?' 'Is there another way to trick her into coming over to our apartment?' But she was so anxious. Then we thought should we go to her apartment and just show up with the cake. But that also kind of felt invasive. It took about 100 texts to figure this out.
Christina: I think everyone will argue about whose idea this was first, but I think it was my idea to go virtual. A bit before eight, five of us were separately already on a Google hangout together, getting ready while Karen and Shanika were having this deep heartfelt lady catch-up, and we were all freaking out, trying to set it up. People were downloading Google Hangouts on their phone. I don't know why we picked Google Hangouts. Honestly, if I could do it over again and if I knew that everyone had Zoom, I would've been team Zoom all the way. Then I suggested we all turn off our lights in our respective apartments, so the lit cake was the only thing she saw.
Molly: Then we just kind of sat there staring at each other waiting for her, drinking Coronas and hovering over the cake, waiting to light the candle. Surprise parties are like that anyway, but it just felt bizarre waiting in front of the computer for someone to join chat instead of walking in the room. It was weird. I lit the candles.
Shanika: When I opened the link, I expected to see just one face, but then all these boxes started popping up, and there was a rush of noise. I felt so disoriented.
Christina: She had no idea what was going on. It was pure, beautiful chaos. Like nobody knew whether to start singing or laughing and everyone was just taking in her reaction, which was just so, so wholesome, so pure, so confused.
Shanika: There were seven or so of them, drinking wine and Coronas in their respective homes all over Brooklyn, but some people were in bed, feeling a little sickly, not drinking. They started singing. It was overwhelming, but I felt loved and seen — all you can want for your birthday really.
We talked for hours, until about midnight, mostly about silly stuff: men and our personal lives, but also about quarantine inventory and whether we have enough wine in our apartment. They recapped how they planned the whole thing by reading the group chats out loud.
Molly: It was pretty frustrating. I could only stay on for an hour. I couldn't hear anything for pretty much the whole time. Then we — me and Allie — just ended up cutting the cake while everyone else watched.
Shanika: And they saved a slice in the freezer for me to eat.
Molly: But she has to come over to get it.