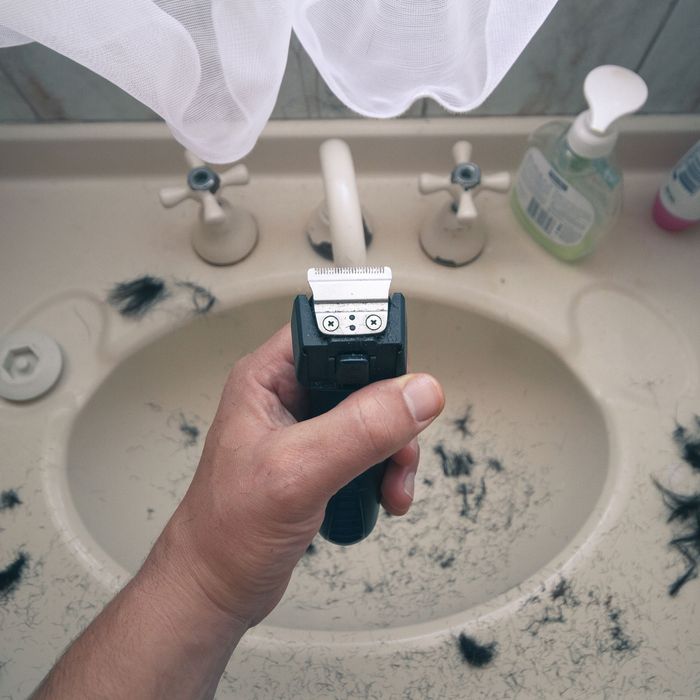 Photo: Howard Ferrier/Getty Images
It's happening: People have started chopping their hair. Six days ago, New York governor Andrew Cuomo ordered that all "nonessential" services, such as hair salons, should be shut down. Not coincidentally, sales of razors are now reportedly up.
TMZ.com reported that Wahl, a leading clipper supplier, has seen a 287 percent increase in website traffic, and its electric shears are back-ordered on Amazon till mid-April. New Jersey, Virginia, Connecticut, Washington, and West Virginia are reportedly the most clipper-happy states.
But it's not just civilians. For our entertainment, several celebrities have taken to social media to document their hair-cutting skills.
While casually chomping on a pretzel rod, singer Pink shows off the evidence of her drinking while haircutting. "I can totally cut hair, why have I been paying people this whole time?" she asks, while showing off her slightly uneven buzz cut. So what?
Scott Evans, brother of Chris, also debuted a fresh buzz cut, with a couple of irregular strands. Luckily, Captain America, now the First Avenger who can also give a nice fade, stepped in to help finish the job.
The number of at-home Instagram shag haircuts continues to be zero by our count, but that could change. In any case, we welcome this new form of entertainment because looking at photos of haircuts gone wrong is still funny.