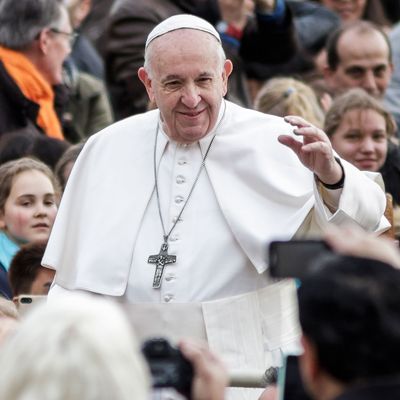 Pope.
Photo: Giuseppe Ciccia/SOPA Images/LightRocket via Getty Images
Please note the story you're reading was published more than a day ago. COVID-19 news and recommendations change fast: Read the latest here to stay up-to-date. We've lifted our paywall on all essential news and updates about the coronavirus.
According to new reports out of Italy, the pope, who has been sick with a mysterious illness, is coronavirus-free.
Last week, reports emerged that Pope Francis was fighting a "slight indisposition," sparking concerns that he had come down with coronavirus. Due to his illness, the 83-year-old pontiff canceled a penitential Mass in Rome, and made a last-minute decision to cancel an annual, weeklong Lenten spiritual retreat. On Sunday, while announcing his decision to cancel the retreat, he paused to cough and sneeze.
Out of all the countries in Europe, Italy has had the largest coronavirus outbreak, with more than 1,800 confirmed cases. (According to current estimates, more than 90,000 cases have been confirmed worldwide, the majority occurring in China.) Health experts have warned that the elderly should take extra precautions to protect themselves from the coronavirus, and in Italy in particular, the elderly are bearing the brunt of the disease; out of the 52 people who have died from the virus in Italy, all were between the ages of 63 and 95, and all had serious preexisting illnesses.
But as it turns out, Pope Francis seems like he just had a cold. On Tuesday, Il Messaggero reported that the pontiff had been subjected to a coronavirus test, and that the result was negative.
Nevertheless, I hope he's still practicing preventative measures, like regularly scrubbing his hands in soapy water, seeing as coronavirus is still spreading rapidly. That way, he can get back to focusing on spreading his new message to cease thy "tittle-tattle."