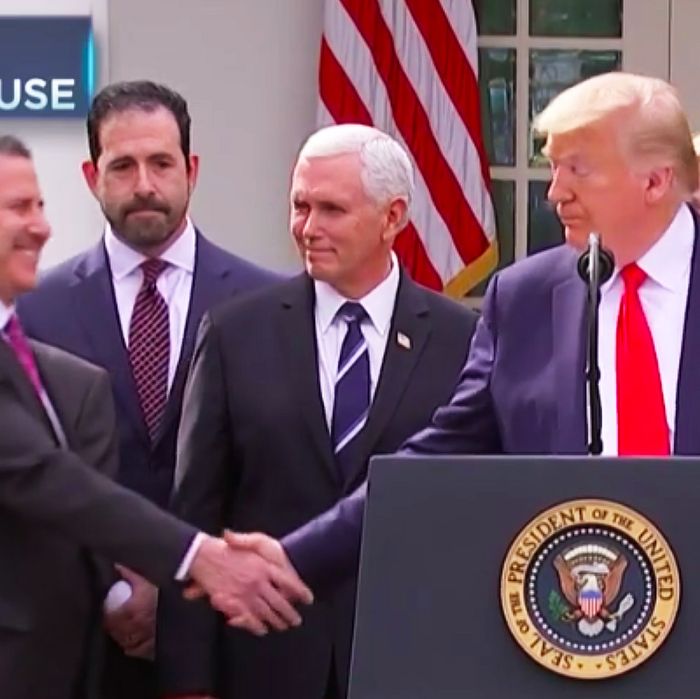 Donald Trump shaking hands with Target CEO Brian Cornell.
Photo: Youtube
Please note the story you're reading was published more than a day ago. COVID-19 news and recommendations change fast: Read the latest here to stay up-to-date. We've lifted our paywall on all essential news and updates about the coronavirus.
At a press conference in the White House Rose Garden on Friday afternoon, President Trump declared a national emergency ("two very big words," as he put it) in response to the rapidly spreading coronavirus pandemic. As various government officials, health experts, and company executives took the podium to lay out their efforts to contain the pandemic, though, it became clear that there was one possible vector no one had a plan to contain: President Trump.
Despite the fact that health experts have been urging people for weeks to refrain from shaking people's hands to avoid possibly transmitting the virus, President Trump proudly shook hands, or tried to shake hands, with most of the officials who spoke at the press conference on Friday. He also repeatedly touched the one microphone into which everyone spoke.
Among those with whom he shook hands: Walmart CEO Doug McMillon, Walgreens president Richard Ashworth, Target CEO Brian Cornell, Quest Diagnostics CEO Steve Rusckowski, CVS Health executive vice-president Thomas Moriarty, and Anthony Fauci, head of the National Institute of Allergy and Infectious Diseases at the National Institutes of Health.
Trump's effort to shake hands was finally rebuffed by the LHC Group's Bruce Greenstein, who offered him an elbow bump instead.
Trump's press conference, and his repeated gripping of people's hands, comes a day after it was confirmed that a Brazilian press aide whom Trump met over the weekend at Mar-A-Lago had contracted the coronavirus, and just hours before a second person from the event tested positive as well. Despite this confirmation that he has been personally exposed to the virus, the president has not yet been tested for it. And clearly, it has not stopped him from touching as many people as possible.
We're committed to keeping our readers informed.
We've removed our paywall from essential coronavirus news stories. Become a subscriber to support our journalists. Subscribe now.