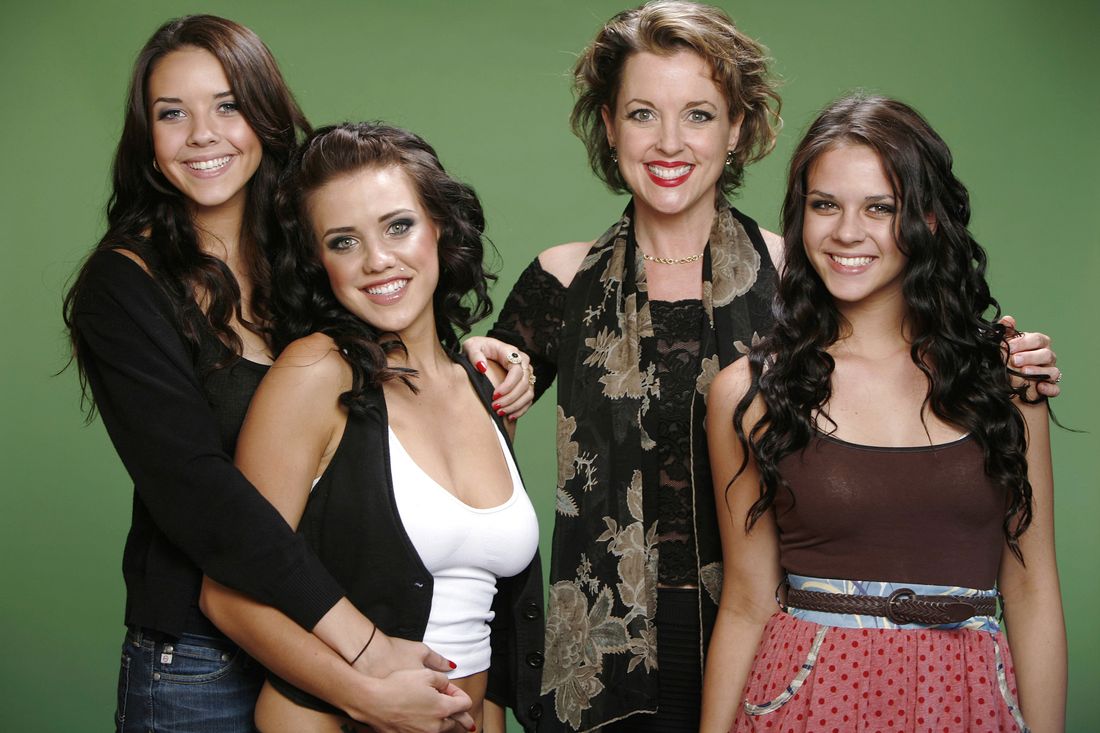 Photo: Jim Steinfeldt/Getty Images
Pretty Wild, which premiered on E! in 2010, was initially pitched as a comedic guilty pleasure, but almost immediately after filming began, it became a different, darker show. The series focused on three sisters — Alexis and Gabbie Neiers, 18 and 15, respectively, and 19-year-old Tess Taylor (their "adoptive" sister who would often live with them to escape a toxic family situation) — plus their mother, Andrea Arlington, as they navigated the Hollywood social scene and chased fame.
A season of pole dancing, making out with D-list singers and actors, and being homeschooled with a curriculum based on The Secret would've been wild enough. But a criminal investigation into Alexis Neiers's involvement in the "Bling Ring," a series of Hollywood burglaries, changed the series' narrative. It's been ten years since Pretty Wild aired, and the cast and crew (minus Taylor, who declined to be interviewed) gave the Cut an inside look at how the entertaining — and, ultimately, exploitative — series was made.
Alexis Haines [Neiers's married name]: I ended up doing my GED and graduating at 16. Tess was at that time in an alternative high school as well. And my mom said, "Why don't you girls give it a shot and try going out into the entertainment industry?" We started putting ourselves out there and we were doing odd jobs like Marilyn Manson music videos. And Tess at that time was auditioning for Playboy.
Andrea Arlington: I wanted to do commercial acting, so I was taking acting classes and I had the girls enrolled in acting classes as well. Tess and Alexis said to me that they wanted to have me write an affirmation ("And so it is") that would help them be successful in the entertainment industry, because I really do believe in the law of attraction.
Alexis Haines: At home, my mom and my sisters and I were getting up every morning and saying this affirmation together, saying essentially that we were going to have careers in the entertainment industry benefiting the world.
Andrea Arlington: Within eight weeks — it might have been six — of reading the affirmation every morning together, the four of us landed [what would be Pretty Wild] a show that Dan Levy (a then–stand-up comedian turned executive producer of The Goldbergs and Indebted) was a producer on.
Levy's original concept for the show was Homeschooled With the Arlingtons, but things didn't go quite as planned. 
Dan Levy, creator: I had a pilot on MTV called My Long Distance Relationship, which was a show about college kids. We had a cast of college party kids, and there was no one who looked more like party people than Tess and Alexis on this pilot.
Alexis Haines: We did not [audition for My Long Distance Relationship]. And we didn't audition for Pretty Wild. We were contacted by a producer we had worked with prior. Then we shot a sizzle reel for [Pretty Wild] and eventually got picked up by E!
Dan Levy: On set, they mentioned that they were homeschooled and their mom was a Playboy Playmate, and Tess wanted to be a Playmate. That seems like a reality show. You being homeschooled and your goal is to be in Playboy? That seems hilarious. We went and pitched the show as a comedy, with Chelsea Handler as a producer, and then we sold it to E!
Andrea Arlington: I was in acting class when Dan Levy called, and I was like, "No, I'm so not interested in doing a reality show. I seriously don't wanna be another Kardashian family." And I said, "I'm serious about my acting career."
Brian Volk-Weiss, executive producer: The original idea was like, "Here are these two crazy girls in Hollywood that are pretty, let's follow them around." Because they were so young, the mom came to the meeting, and while we were watching them interact, it became very clear that the mom was a big character, and we asked Andrea if she would be in the show.
Dan Levy: When we first started doing it, it was like this totally insane reality show about these sisters who aren't even really sisters who are homeschooled by their mom. And the goal is to get them to be Playmates/models/actresses/famous people. But also the teachings are all coming from The Secret.
Andrea Arlington: It was supposed to be about a wacky mom, which I am still, but in a good way. I was a disaster back then. I had not been making good choices in my life.
Gabbie Neiers: I was a little apprehensive because I was really young, and I didn't want too many huge changes to my life. We had Buddhas in our house and we shopped at Trader Joe's, and we were already a family that was perceived to be weird. I was thinking of it from more of an outsider perspective, like how people were going to view us, than my sisters and my mom, who were just so excited about the opportunity.
Despite living in a fancy house while shooting Pretty Wild, the family was broke. Still, Alexis and Tess gave the impression that they were socialites as they partied in Hollywood.
Amber Mazzola, executive producer: They were in a townhouse, and the homeowners association didn't want us to shoot, so that's why we rented a house in the Hollywood Hills. We didn't rent a house because they were broke. But we knew that they were broke for sure.
Andrea Arlington: We certainly didn't have wealth or fame when we got picked up for that show. They really made it look like we were doing well.
Amber Mazzola: They were trying to make it, you know? They definitely wanted to present a life where they had money because they wanted to fit in, and they wanted to be the "who's who" of Hollywood. However they got their stuff, whether it was borrowed through friends, they definitely wanted that appearance of doing better than they were.
Andrea Arlington: It was the time where the real-estate crisis was happening, and we were almost in a recession. We were really struggling financially.
The book and movie The Secret drove the girls' "education." The show eventually became synonymous with the phrase "and so it is" — a phrase Alexis, Tess, Gabby, and Andrea would repeat as an affirmation together. It was all related to the religious science the family practiced, which focused on the divinity of man and the law of cause and effect.
Dan Levy: They would make mood boards and do all these very weird Secret sort of things. And that's how they live their life.
Brian Volk-Weiss: There's this plastic mask that could be connected to a battery that the family  would touch to people's faces that would help them meditate, especially if they were reading The Secret. That's one of my strongest memories of the show.
Andrea Arlington: The device is actually for depression, anxiety, ADHD, and other mental health issues. It's called the Alpha Stim.
Brian Volk-Weiss: Here's Andrea who reads this book and, thanks to its "genius," lives by it. Her life is not made better by the book, by the way. I remember this mom, instead of teaching math and English while homeschooling, has this crazy thing to take to your face.
Alexis Haines: We were just trying to make it in Hollywood, and we would tell people about our crazy life. I've always believed in manifesting and all of that. The philosophy of the science of The Secret's teaching was just basically, "What you think, you become and you attract into your life."
Amber Mazzola: They would do their little prayer circles and end everything with "And so it is." Andrea was very hippie-dippie.
Andrea Arlington: Basically the definition of "amen" is "and so be it." It's a statement of faith and conviction that the word you have spoken is being moved upon by the power of God and that it is done. "And so it is" comes from my spiritual practice, which both my grandmother and my great-grandmother were practicing back in the 1930s and 1940s, and it's from religious science. It's not Scientology. It's just simply a way of being in the world.
Alexis Haines: To this day we say, "And so it is." That's just a huge part of our practice. We still go to the same church that we used to, and we believe you can create your destiny through visualization and affirmation. And, honestly, meditation. I know those all rhyme, but it's true.
Andrea Arlington: The "and so it is," Tess and Alexis both have that tattooed on their fingers. They had "and so" on one finger and then "it is" on the finger next to it. Some of the fans went and had the same thing tattooed on their fingers.
During the first episode of the series, Alexis was arrested for her involvement in the "Bling Ring" robberies. She was convicted of felony residential burglary and sentenced to 180 days in jail with three years' probation and a fine of $600,000. Any hope of Pretty Wild being strictly a comedy went out the window after that, as the show centered around her legal proceedings. 
Andrea Arlington: On the second day of filming, the police showed up at the house and interviewed Alexis and, unfortunately, she incriminated herself. She spoke and that made her an accessory to burglary.
Amber Mazzola: We followed Tess and Alexis to jail [when Alexis was arrested and Tess and the production crew was accompanying her], and I had the camera crews sit outside that jail for hours. We just sat there waiting and filming. And then the show clearly turned, and it was now not about the Arlingtons, it was about these pretty, wild girls.
Alexis Haines: When the police showed up to arrest me, I really wish that someone, one of my parents, would have stepped in then and been like, "We're not doing this show anymore. We'll give your signing bonus back."
Andrea Arlington: Alexis was at the wrong place at the wrong time. She did help Nick Prugo [one of the members of the Bling Ring] pull a backpack off of a fence, so they could get down the hill and get her out of there. She woke up out of her OxyContin stupor in the backseat of a car and she didn't know where anyone else was. And she walked up this hill and found them burglarizing and started screaming at 2 a.m. in the Hollywood Hills. They all freaked out and they were like, "Get her the fuck out of there!"
Alexis Haines: At 18, your brain is not even developed yet.
Gabbie Neiers: With the court hearings, behind the scenes, we were all very tense. There wasn't really a moment of release or laughter because there was just so much tension on what was going to happen with my sister.
Alexis Haines: I was stupid, drunk and ended up at someone's house with a bag in my hand. It didn't matter how much I [said I was innocent] the public was going to crucify me, regardless.
Jeffrey Rubenstein, Alexis's lawyer: As far as attention, she kind of failed upwards. She got incarcerated and she was in the cell next to Lindsay Lohan — they were together the brief period of time that she was in custody. They were just in jail watching themselves on TV, Lindsay and Alexis. It was the wall between reality and fantasy and media. It was all just blurring and blending together. You couldn't make this stuff up.
At the time, Alexis was dealing privately with her own drug addiction — with heroin, opiates, alcohol, and Xanax.
Dan Levy: I'm very naïve to drugs and crime.
Alexis Haines: Drugs and alcohol were very laissez-faire in our house. My mom was smoking pot when we were 14 and 15 years old. Pharmaceutical or illicit, didn't really matter. We all smoked pot together. At the time, me and my mom would drink wine on a regular basis together. Not to make excuses for my mom, but she was basically a teenager when she left her house and really never grew up. She was definitely more of the "fun parent" than she was the parent.
Gabbie Neiers: I had seen people on Xanax. I had seen all that kind of stuff before, so I knew what was going on. And I kept pointing it out to my mom, and she'd be like, "No, they're just stoned," or "They're just tired," or "She's under a lot of stress."
Then one day, my mom finally found Alexis's stash. While the cameras were rolling, my mom pulled it out and was like, "You can't deny what this is. And now that they're recording, you need to be honest." It blew up into this whole thing. That was one background memory that I will never forget. And they never aired it, obviously.
In episode three, Tess's new dog Lola went missing, resulting in Alexis, Tess, and Gabbie sobbing and searching throughout their neighborhood. The stars claim that producers purposely hid the dog, though the production denies it happened.
Alexis Haines: [The crew] took our dog for one of the scenes.
Brian Volk-Weiss: The dog was missing. I don't remember exactly why, but I can tell you this: These girls had enough issues on their own. We did not create problems for them.
Amber Mazzola: Tess couldn't really take care of the dog. Like, they didn't have the money to take care of the dog. At one point they left the doors open, it was raining and they went looking for the dog — this ended up being a scene in the show. The dog happened to come into the  "video village," where all the producers are in the garage, basically hanging out and watching our monitors.
Alexis Haines: Production was just hiding the dog in the garage.
Amber Mazzola: All of a sudden Tess was outside, they're crying, they're looking for the dog, and we're reality TV so we're not going to go in there and be like, "Oh, Tess, your dog is in the garage." We just were like, you know what, she's so irresponsible, and she has no idea where anything is ever. Let's see how long it takes her to find her dog. We knew the dog was safe with us in the garage. She ultimately found it. It was maybe 45 minutes.
In March 2010, journalist Nancy Jo Sales wrote an explosive Vanity Fair feature on Neiers and the "Bling Ring" co-conspirators. After reading the piece, Neiers left Sales a voicemail that has become a viral meme; years later, the Vanity Fair article and the name "Nancy Jo" still elicits a visceral reaction from the family. (Sales declined interview requests.)
Amber Mazzola: I remember an executive at E! called me and said, "Hey Amber, the article came out in Vanity Fair. We have the magazine here." Alexis was really psyched about the article. Somebody had a copy, so I grabbed it and the producers were reading and we're like, "Oh gosh, this is not as positive as Alexis thinks it is." I'm like, you know what, I'm gonna stick with the mailbox when she goes to get her mail for the day. They'll see it, and they'll read it. It was kind of ridiculous, 'cause it's obvious that I put it in the mailbox. They checked their mail and they all gathered around really excited to read it.
And then, obviously, you've seen the scene. You had the easiest scenes to cut in history for an editor, because you really didn't have to edit anything.
Gabbie Neiers: Here we are thinking like, "Alexis is going to be able to tell her story." And then that comes out.
Alexis Haines: Because of Nancy Jo's article, I would become the face of the "Bling Ring."
Gabbie Neiers: I was there in the room when Alexis interviewed with Nancy. Honestly, I'm pretty sure she said stuff about how she wants to follow Buddha and Gandhi, and none of that gets published, because that's not what sells.
Andrea Arlington: Nancy Jo really got into our good graces. She's like a freaking chameleon. I wrote her a couple of emails. Anytime I saw her name on a Vanity Fair article online, I commented below it and just shredded her to the best of my ability.
Despite the popularity of the first season of Pretty Wild, E! declined to renew the show.
Brian Volk-Weiss: I won't name names, but one of the people who had been in some trouble got a scheduled visit from their parole officer, and the parole officer found them doing drugs. I think they were literally smoking Oxycontin. E! became aware and they were unhappy about it. So that was part of it. But if I had to guess, that was only 49 percent of why we didn't get a season two. Fifty-one percent of why we didn't get a season two was that Chelsea Handler thought this was going to be a comedy. So when it became a very dark drama, Chelsea was no longer excited about the show anymore. And she let E! know that. [Editor's note: Representatives for Chelsea Handler didn't respond to interview requests.]
Alexis Haines: During the filming of the show, I was actively using every substance imaginable, but OxyContin, heroin, marijuana and alcohol were my daily habits. I am sure my addiction and jail sentence contributed to the show not being picked up.
I think it was such a blessing that it didn't get renewed for a second season. Even though it was the hardest year of my life, it was the best thing that ever happened to me. I can't stress that enough, because I would not be where I am today. I would not have gotten sober, had all of that not happened. It was kind of the perfect storm that inspired me to get out of that place.
These interviews have been condensed and edited for clarity. 
Correction: An earlier version of this article made some imprecise claims.