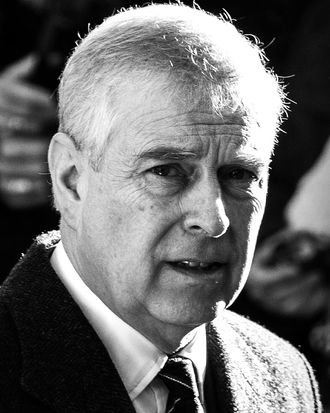 Prince Andrew.
Photo: Geoff Robinson/Shutterstock/Geoff Robinson/Shutterstock
After Prince Andrew's close ties to the late financier and sex offender Jeffrey Epstein came under renewed public scrutiny over the summer, his first move was to give a remarkably tone-deaf interview with the BBC in which he denied any wrongdoing, including the allegations that he had had sex with a teenage girl trafficked by Epstein. Seemingly chastened by the experience, or just equipped with better PR, Andrew, the second son of Queen Elizabeth II, stepped back from his royal duties in November and then issued a statement suggesting that he would cooperate with "appropriate" law-enforcement investigations. According to prosecutors, however, the prince still refuses to submit to an interview — despite his repeated public insistence that he would.
During a news conference outside Epstein's Upper East Side mansion in January, the United States attorney in Manhattan, Geoffrey Berman, said federal prosecutors and the FBI have tried to question Andrew about Epstein, but the royal "has provided zero cooperation," the New York Times reported.
Days later, sources allegedly close to Andrew told the Guardian that Berman's claims left the prince "angry and bewildered." They said he would be "more than happy to talk [but] hasn't been approached by them yet." And still, over a month later, on March 9, Berman says the prince remains deliberately elusive.
"Prince Andrew has now completely shut the door on voluntary cooperation and our office is considering its options," Berman said Monday, according to Reuters. A spokesperson for the U.S. attorney's office told Reuters that Andrew's legal team — he recently hired "Britain's most respected extradition lawyer," Clare Montgomery QC, according to the Telegraph — said he would not be interviewed voluntarily.
Buckingham Palace declined Reuters' request for comment, and reached by the Cut on Monday, Berman's office would not elaborate on what potential next steps might be.
Back in January, though, top women's-rights attorney Gloria Allred — who represents five of Epstein's accusers — suggested that she could subpoena Prince Andrew if he continues not to cooperate. "Certainly if he ever came back to the United States, that would be one of the first things, and I'm sure a lot of lawyers, including me, would want to," Allred told BBC Radio 4 Today. Her daughter, Lisa Bloom, who's also representing several of Epstein's accusers, told BBC News, "Prince Andrew himself is accused of sexual misconduct, and he also spent a great deal of time with Jeffrey Epstein, so it's time to stop playing games and come forward to do the right thing and answer questions."
Andrew's accuser, Virginia Roberts Giuffre, alleges that she had sex with Andrew at Epstein's behest in 2001, when she was 17 years old. In his BBC interview, Andrew said he had "no recollection" of meeting Giuffre, and he has denied knowing that Epstein was sexually abusing girls.
This post has been updated.