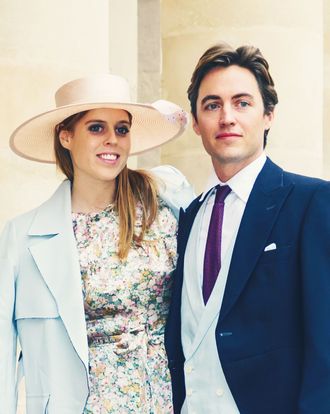 What is the royal policy on eloping? Can you do it online?
Photo: CHRISTOPHE PETIT TESSON/EPA-EFE/Shutterstock
Please note the story you're reading was published more than a day ago. COVID-19 news and recommendations change fast: Read the latest here to stay up-to-date. We've lifted our paywall on all essential news and updates about the coronavirus.
At this point, it feels safe to assume that whatever plans you had for the next few weeks, months, seasons, will be postponed indefinitely. Coronavirus has sent everyone's social lives on hiatus — royalty very much included. On Wednesday, Princess Beatrice announced that she and her fiancé, Edoardo Mapelli Mozzi, had canceled their Buckingham Palace reception, scheduled for May 29.
Although they "are very much looking forward to getting married," according to a statement from the Palace, they "are equally aware of the need to avoid undertaking any unnecessary risks in the current circumstances." Particularly in regards to "the wellbeing of older family members," like, for example, the 93-year-old Queen of England.
"The couple will carefully consider government advice before deciding whether a private marriage might take place amongst a small group of family and friends," the statement concluded.
This will naturally come as a disappointment — to the couple, their friends, and their family, because of a missed opportunity to celebrate love; to you, because of a missed opportunity to ogle the parade of wedding hats that as Princess Beatrice herself has shown us present unparalleled opportunities for sartorial creativity. But according to People, Beatrice has already changed her wedding date twice, due to her father's ties to convicted sex offender Jeffrey Epstein. Prince Andrew's disastrous BBC interview — the one in which he described his friendship with the alleged sex trafficker as "useful," if also "unbecoming" — reportedly led the couple to substantially scale down their plans for the ceremony and party. As of December, though, Andrew still planned to walk Beatrice down the aisle.
In coming weeks, the British government is expected to ask everyone over 70 to self-isolate for up to four months, which — when combined with the country's anticipated ban on big group events — would mean a large party at grandma's won't be a possibility for a while. So, just wondering, what is the royal policy on eloping and can you do it online? Asking for a friend.