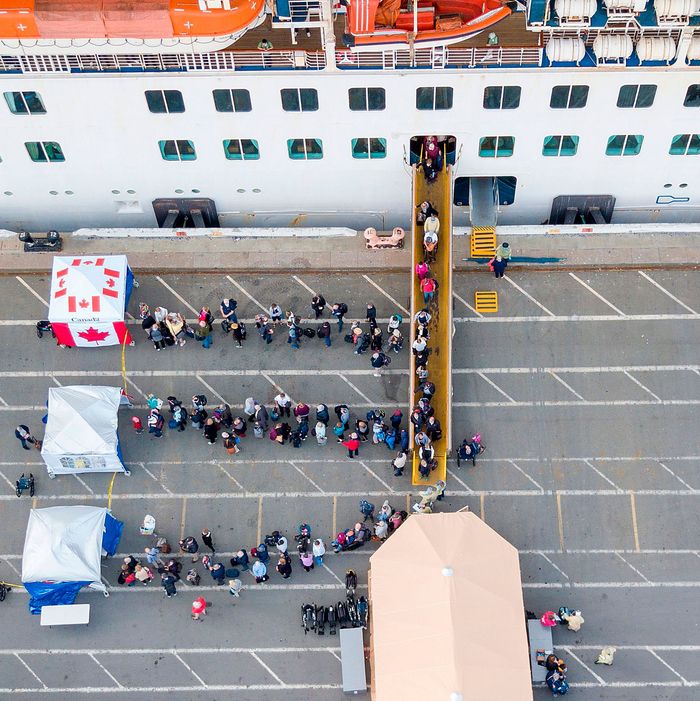 Princess Cruise
Photo: JOSH EDELSON/AFP via Getty Images
Please note the story you're reading was published more than a day ago. COVID-19 news and recommendations change fast: Read the latest here to stay up-to-date. We've lifted our paywall on all essential news and updates about the coronavirus.
Following massive coronavirus outbreaks on two cruise ships that left more than 700 people ill, a major cruise line is finally suspending its business operations.
On Thursday, Princess Cruises announced that they would be suspending all cruises for 60 days, in a move the president called "perhaps the most difficult decision in our history." According to a press release, Carnival, the line's parent company, will offer all affected passengers cash refunds or credit for a future cruise, as well as additional "generous future cruise credit benefit." The cruise line announced that all ships scheduled to end by March 17 will "continue to sail as expected," and that cruises scheduled to finish beyond that date will terminate "at the most convenient location for guests."
"I've never seen anything like it," one travel agent told the San Gabriel Valley Tribune of the company's decision. "It's definitely unprecedented for a cruise line the size of Princess to take all its ships out of service for 60 days."
In early February, after ten passengers on the Diamond Princess tested positive for COVID-19, all 3,700 people aboard the ship were quarantined off the coast of Japan for two weeks, during which nearly 700 additional people became infected, and at least 6 died. In early March, the Grand Princess parked off the coast of San Francisco after some of its 3,500-plus passengers aboard tested positive for the coronavirus. (So far, 21 cases have been confirmed.) In the week-plus since, some people have been evacuated from the ship to be tested or treated for the coronavirus, while some passengers are still quarantined aboard the ship. (In early February, another cruise ship that is unaffiliated with Princess quarantined 1,800 people off the coast of Hong Kong after 3 people tested positive.)
In fact, cruises have proved to be such a hotbed for the novel coronavirus that earlier this week, the U.S. State Department advised Americans, especially the elderly and those with underlying heath conditions, to avoid cruises at this time.
In the coming days, we'll likely see other cruise lines follow suit. In fact, just hours before Princess announced that it was suspending business, Viking Cruises said it would halt operations. Virgin Voyages, a new cruise line that has yet to sail its inaugural ship, has also announced that it won't be embarking on the sea until August.
Meanwhile, at least one cruise line has reportedly been spreading dangerous misinformation about the coronavirus in an attempt to keep up business amid the worsening pandemic.