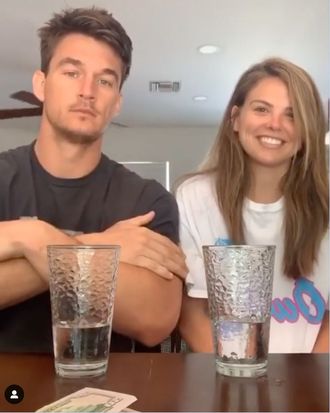 Tyler Cameron and Hannah Brown.
Photo: @thequarantinecrew/Instagram
In times of uncertainty, it can be reassuring to cling to certain eternal truths: The sun will rise in the morning, tides will rise and fall, and celebrities will use contrived relationships to demand our attention.
Like Hannah Brown and Tyler Cameron. Hannah Brown, as you may recall, was the last Bachelorette. Tyler Cameron was one of the men vying for her love on national television, and he made it to the final round before Hannah dumped him for a musician named Jed Wyatt, whom she then also dumped. She and Tyler remained friends, though, and Tyler became semi-famous because he dated Gigi Hadid for a while (she reportedly brought him to her grandmother's funeral). And that was that, mostly, until this month, when Hannah and Tyler reacted to the coronavirus pandemic by fleeing to Florida and making TikToks in a house with four other people.
The group quickly dubbed themselves "The Quarantine Crew" (Quaranteam was right there, but whatever) and secured the @thequarantinecrew handle on both Instagram and TikTok so they could post their content.
According to Cosmopolitan, besides Hannah and Tyler, the crew consists of Tyler's brother Ryan, his friend Matt James (who was going to appear on this upcoming season of the Bachelorette, though that may change, as Chris Harrison has indicated that the entire season will be recast), and a photographer named Jacob. There's also Tyler's friend Kate Dooley, who Cosmo describes as a "micro-influencer," and Olivia, who is "also an influencer."
Really, though, the attention is all on Hannah and Tyler, whose interactions fans have been scrutinizing to see whether they have progressed to more than just friends. And Hannah and Tyler seem more than happy to stoke the flames of interest. The videos they've posted include one, shared on Tyler's TikTok, of "the moment we've all been waiting for" — him and Hannah playing spin the bottle and one on the crew's TikToks of the whole gang doing the "Flip the Switch" challenge — where people flip a light switch and swap clothes — with the caption: "Tyler finally got into Hannah's pants."
Imagining being one of the other members of the crew — in a house where everyone is focused on one hot couple's relationship and no one can remember who I am or why I'm there — gives me chilling high school flashbacks, personally, but they seem to be having fun.
Although some fans seem thrilled by the potential rekindling of "Tannah" (sorry) other members of the Bachelor Nation seem less excited by the group's antics. In an Instagram Live video with The Morning Toast's Claudia Oshry, former Bachelor Nick Viall said: "Stay the fuck home. Stop doing TikTok videos with groups of people in a pool." When Oshry asked if he was referring to anyone in particular, Nick replied, "Just pointing it out."