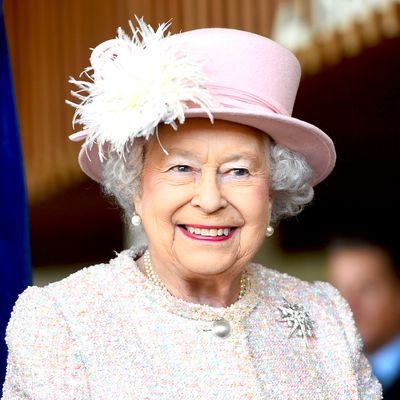 Queen Elizabeth II.
Photo: Stuart C. Wilson/Getty Images
Please note the story you're reading was published more than a day ago. COVID-19 news and recommendations change fast: Read the latest here to stay up-to-date. We've lifted our paywall on all essential news and updates about the coronavirus.
Just like you and probably everyone else you know, the queen has reportedly entered into quarantine mode: According to the Sun, a U.K. tabloid, she and Prince Philip, 98, have hunkered down at Windsor Castle, allegedly a protective measure as the coronavirus spreads. Buckingham Palace, however, denied the report in a statement to Metro UK, saying the queen would return to London this week.
A "royal source" told the Sun that while the Queen, 93, "is in good health," some of her staff have worried about COVID-19, because "the Palace hosts a constant stream of visitors, including politicians and dignitaries from around the world." According to this source, "The queen has met a lot of people there until recently. But she is weeks away from her 94th birthday and advisers believe it is best to get her out of harm's way. Buckingham Palace is in the middle of London and also has a bigger staff than other estates." Windsor Castle, meanwhile, is located in Berkshire, about 60 miles away from the city.
Still, the palace maintains that the Queen's move to Windsor on Thursday was simply a regular weekend trip, although some of her royal visits — to Camden and Chesire next week — have been postponed as "a sensible precaution," according to Metro.
As of Sunday, the U.K.'s death toll had climbed to 35, while the total case count has climbed above 1,300. Health officials in the country are reportedly considering putting the elderly in a mandatory quarantine in coming weeks. So, especially considering the queen and Philip's advanced age, maybe a self-isolation stint isn't the worst idea. It is probably time for all of us to shore up our bean supplies and resign ourselves to simply being inside for a while.