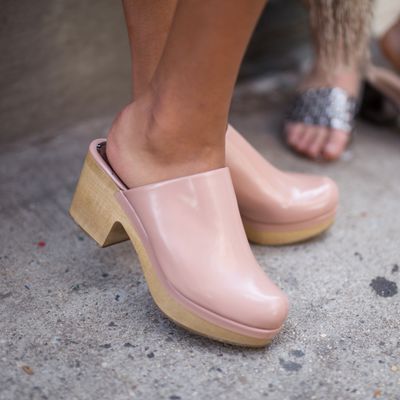 Photo: Matthew Sperzel/Getty Images
Twice a year, I look forward to crowding into the gym of St. Patrick's Church on Mulberry Street and joining my fellow Rachel Comey stans in a mad dash to try on as many clogs, flare jeans, and colorful earrings as I possibly can. Seriously, it's so much fun. If you've ever worked in fashion or women's media, you see everyone you know — your old boss, that yogi-slash-performance-artist-slash model you follow on Instagram, the occasional humble celebrity. (Last year, I waited in line outside behind an equally excited Beanie Feldstein.)
I was sad to think that the Rachel Comey sample sale wouldn't happen this season. The deals are part of it, but I was more worried about the future of Comey's business, now that she's been forced to temporarily close her stores. I was also bummed to remember what a communal experience feels like. But wait! On Thursday, the designer announced that she would be hosting her sample sale online for the first time ever. Starting today, archive collections are 60 percent off. "Take this opportunity to skip the line," the brand wrote on Instagram.
I've spent the last hour sending links back and forth with my friends, arguing about the merits of feathers and overalls and leopard print, and imagining where the heck we're going to wear any of this when we finally emerge from self-isolation. It's like we're right there in the gym, half-naked and high on the adrenaline of trying on nice things.
If you're moved to browse, click here.