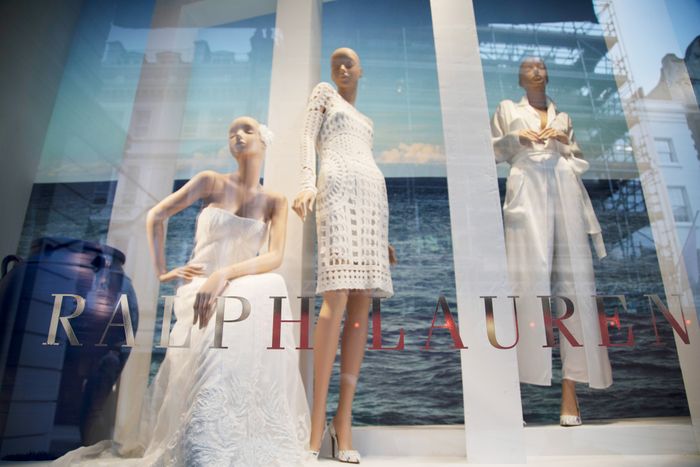 Photo: Mike Kemp/In Pictures via Getty Images
The fashion industry, like many others, has been hit hard by the COVID-19 pandemic with staff layoffs, closed storefronts, production largely halted, and consumers hesitant to spend tightening budgets on clothes. But in this time of crisis, brands are funneling their extensive resources to pandemic relief efforts for both their own employees and for people around the world. The latest to chip in is Ralph Lauren. The company announced today that it would be donating $10 million toward COVID-19 relief.
The donation is the largest so far among American fashion brands, but leaders throughout the global fashion industry are scrambling to redirect resources, making hand sanitizer, face masks, and other supplies. Ralph Lauren joins other big luxury businesses like Estée Lauder, LVMH, Kering, and Prada in these efforts, while smaller ones like Christian Siriano, Pyer Moss, Rachel Comey, Brandon Maxwell, and others have also found ways to help.
Lauren's donations will go to a variety of charitable organizations, including the World Health Organization's COVID-19 Solidarity Response Fund. Internally, the brand is also offering financial grants to Ralph Lauren employees facing special circumstances due to the coronavirus, like medical, elder-care, or child-care needs. Another portion will go to the company's own Pink Pony Fund to support cancer institutions that are caring for those who are especially vulnerable at this time. And the last of the proceeds benefit The Council of Fashion Designers of America (CFDA) and Vogue Fashion Fund's new initiative, A Common Thread, which will help distribute funds to people in the American fashion community who have been affected by COVID-19.
The brand is also working to assess the need and technical requirements for medical-grade masks and isolation gowns that guard against virus transmission, as it hopes to support the efforts to produce this equipment.
"At the heart of our company, there has always been a spirit of togetherness that inspires our creativity, our confidence and most importantly our support for one another. In the past weeks and months, that spirit has never wavered," Lauren said in a statement. "We believe that no matter who you are or where you are from, we are all connected. That is why we are taking significant action to help our teams and communities through this crisis."