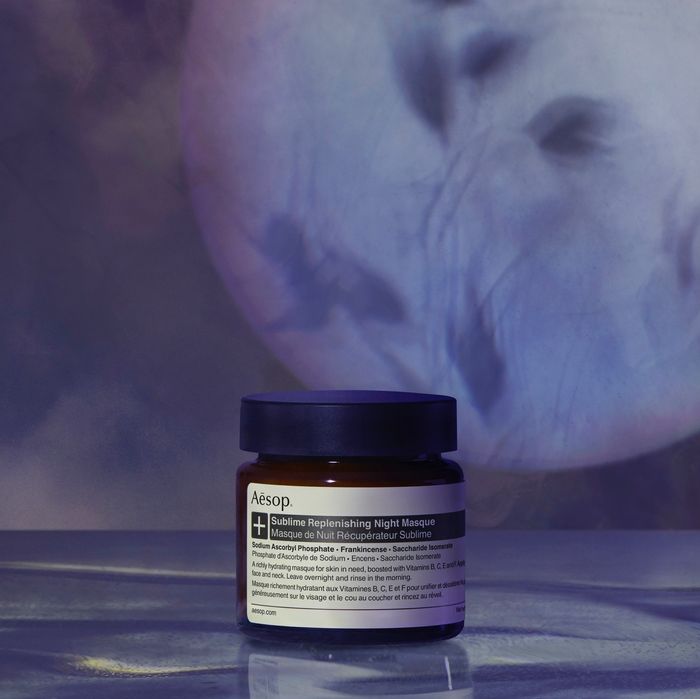 Aesop Sublime Replenishing Night Masque and the moon.
Photo: Courtesy of Aesop
You may have been more aware of your sleep (or lack thereof) lately due to the loss of that one hour, the existence of Sleep Awareness Week (this week), or an overall unsettling feeling. If you need to momentarily soothe your mind palace with something serene, aesthetically pleasing, and poetic, beauty brand Aesop made a new silky skin-care product: Sublime Replenishing Night Masque. It's a repairing, hydrating, overnight treatment in their vitamin-potent Skin Care+ range, and like the Phantom of the Opera, it's really, really into nighttime.
Sublime was inspired by "the mystery and potency of the midnight hour," and is meant to serve as "an occasion to honor the alchemy of the nocturnal hours, and of the creatures, plants and ideas that bloom at night." Such nocturnal creatures being praised include: scorpions, coyotes, bats, Noctiluca scintillans ("the microalgae that gives off a glittering blue glow when disturbed at night"), night-blooming plants that awaken after dark, and my personal favorite, "the incalculable artists, writers and thinkers who do their best work after dark."
If, like me, your "best work after dark" includes shower epiphanies and a dedicated nighttime skin-care routine, keep up the good work. "The nighttime is this extended period where your skin is resting, recuperating, and recovering, which is the best opportunity to deliver actives that can benefit your skin," says Dr. Kate Forbes, Aesop's lead scientist. That's precisely why she spent five years creating an overnight treatment that's like a healing, moisturizing Band-Aid for dry skin that just can't seem to get it together.
"Often, if your skin is dry or dehydrated, it's losing too much moisture because the barrier might be comprised," says Forbes. "That's why we're taking a dual approach, both reinforcing the barrier and delivering humectants and water to rehydrate the skin at the same time." This is done with a lineup of vitamins that would impress a muppet teaching you the alphabet. There's hydrating and soothing vitamin B in the form of panthenol (provitamin B5) and niacinamide (vitamin B3), vitamin C for its antioxidant properties and skin-tone-evening abilities, vitamin E for skin fortification, and Aesop newcomer vitamin F (welcome!), which helps support skin-barrier integrity.
Like this moisturizing face milk, Forbes says a lot of care was put into producing "a great skin-feel." Sublime's skin-feel is pretty great — a little goes a long way and it's not heavy at all despite being a "night" product. The luxurious gel texture quickly sinks into skin and leaves a soft-matte film that doesn't feel like it's going to slip off your face and into your pillow. It's meant to be used a couple of times a week, or as a special treat whenever your skin needs a little extra something-something. Inhale the plantlike, high-end hotel scent, and (try to) exhale your worries out. "The actual art and experience of massaging a product into your skin is a very mindful activity," says Forbes, "and it also helps stimulate activity within the skin as well."
Touching your face is now taboo, so don't dip your fingers into someone else's Sublime, and Forbes recommends you continue doing what you're a pro at by this point. "As our products are in jars, we recommend that you've always got clean hands before applying."
If you buy something through our links, New York may earn an affiliate commission.