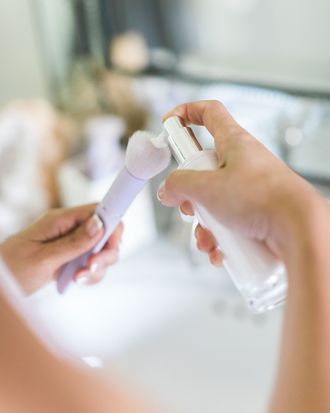 Photo: Courtesy of Anisa Beauty
Anisa Telwar Kaicker introduced me to her line of skin-care brushes in January, when most Americans had barely heard of this new virus called COVID-19. Back then, the notion of applying my moisturizer and serum with a brush seemed kind of silly. Why would you pay for a brush that does something you can do with your hands?
Anisa is the CEO of the world's only female-owned makeup brush company, which makes brushes for the likes of M.A.C. and Sephora. (There's also a standalone brush line under the name Anisa Beauty.) She explained that her Protect collection of synthetic-fiber-haired skin-care brushes is meant to spread product more evenly and effectively than fingers do.
I apply my foundation with a brush, so I saw her point. Still, it seemed like an extra step to me. But now that the world is upside down and we're all trying to keep our hands away from our faces, I decided to start brushing. And you know what? It's very calming.
My biggest struggle — if you could even call it that — was figuring out how to get my moisturizer from its jar onto the brush. Should I dip my finger in, then swab it onto the brush's tip? That seemed counterintuitive, so I've been gently dipping the brush into the jar. I'm working on skimming the surface to get the right amount. It's taken a little practice, but I'm confident I'll get there.
Does the brush spread my moisturizer more evenly? Yes, in the same way that painting with a paintbrush is more precise and less clumsy than finger-painting. Does it deliver my moisturizer more effectively? I can't really tell yet, because I've only been using it for about a week.
I do kind of miss the action of massaging my serum and moisturizer into my cheeks in firm upward strokes that will allegedly make my skin less saggy. But there's an ASMR aspect to the brushstrokes that's like an antidote to this week's headlines. The synthetic bristles contain what Anisa calls "a silicone component," which is, I'm guessing, what makes them feel so soft. It might also be why they clean so easily with a quick rinse or a towel wipe. (The brand also recommends more thorough cleaning twice a month with soap and water or Anisa brush cleaners.)
Now, skeptics might suggest that using a brush isn't much of an anti-germ precaution because our hands are cleanest when we apply skin care products anyway. I can cede that; certainly it's easy enough to wash your hands before touching your moisturizer. Still, the brushes are a nice treat. I'll admit that I sometimes forget to use them, but as with all new habits, it takes time to adjust. I'm wagering that I'll learn to automatically grab a brush around the same time I learn to stop touching my face.