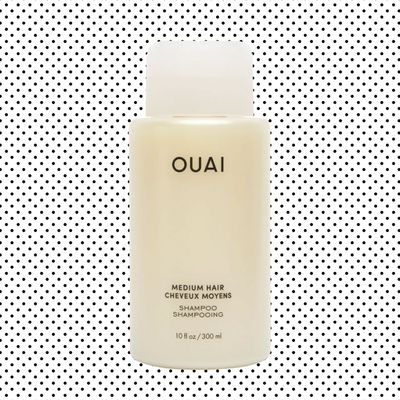 Photo: Courtesy of the Retailer
My nose has boogers leaking out of it. My voice has the rasp of Lauren Bacall, if she had also vaped. I haven't been outside in seven days. But my hair looks amazing.
It's not the result of any sort of extended effort. I have a bad cold (not, as far as I know, anything worse) and even putting on contacts feels like too much work. But I've been trying to wash my hair every two or three days, and every morning when I wake up, my hair looks downright pretty and shiny. I may have a bad case of Cold Face, but my hair is ready for a selfie, without a filter. Even the ends of my hair, which normally feel like timothy grass, currently resemble a manicured lawn in Connecticut.
I think it's all thanks to the newest release from Ouai, the hair-care line founded by hairstylist Jen Atkin, who's known for working with the Hadid, Kardashian, and Jenner sisters. Called Daily Care shampoo, it feels like a fancier version of your reliable Pantene Pro-V, or like a multi-vitamin that gives you lots of nice things at once. It's sulfate-free, so you can use it on colored hair. It contains kumquat fruit extract for shine and oils like babassu and coconut for moisture and strengthening, and it has a soft white floral scent, like a blossom you find in your suitcase two days after returning from a Hawaiian vacation.
My shower is full of shampoos for hydration, color-protection, and clarifying, which I alternate depending on my hair's mercurial moods. Daily Care has been a nice addition, something I reach for when I'm too tired to ask my hair how it's feeling and just want it to look slightly better than it normally does. There are three formulas, one for Fine, Medium, and Thick hair, with slightly different, tailored formulations for each.
Right now, sadly, the only audience for my bouncy and smooth hair is a mountain of tissues. But just wait till my nose stops dripping like a faucet.
If you buy something through our links, New York may earn an affiliate commission.