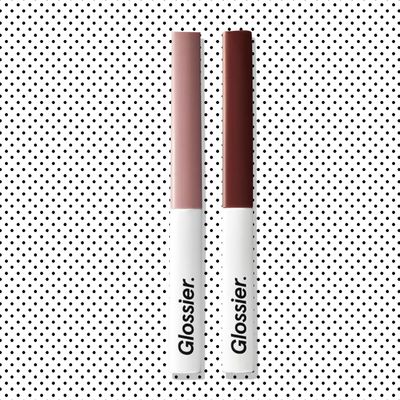 Photo: Courtesy of the Retailer
Glossier's first beauty product of 2020 wants you to be a little more grounded. The brand released Skywash, a matte, sheer eye shadow, in a series of sunset- and desert-inspired tones. Emily Weiss, Glossier's founder, called the tones David Hockney–ish on her Instagram. There's a pale blue, a pale slime green that probably resembles Billie Eilish's drain water when she shampoos, and a lot of browns. Here's what four Cut staffers thought about what it did to their eyes.
Erica Smith, Beauty Writer
I don't think I'm a liquid-to-powder shadow person, but I applaud people who are. When I first swiped this on, it looked very pigmented, almost exactly like the color on the cap. Once I started to blend it out with my fingers, however, it ghosted me. I layered more product on, which kind of helped, but it was hard for me to get an even finish, and harder for me to control where the color went.
I'm wearing Terra here because unlike the majority of the other shades, it didn't completely disappear into my skin tone. Terra's like part blush, part bruise for the eyes, which is weird, but when I paired it with a similarly Southwest-toned outfit, it made more sense in the name of being monochrome. Sadly, I checked back in on my face a couple of hours later, and Terra was nowhere to be found. I think these will look good on you if you're skilled in finger-blending and/or have less absorbent lids? But personally, this required too much tugging, rubbing, and face-touching for something that was barely there in the end.
Andrew Nguyen, Editorial Assistant
If eye-shadow palettes intimidate you, this is the product for you. It has a pretty low learning curve: Swipe it all over your eyelid and blend it out with your fingers. The end result, like the name suggests, is a sheer matte tint that didn't crease. Despite it being pretty glossy and streaky when you apply it, it looks seamless and sheer when you blend it out. The pigment faded a little bit into the evening even after two coats, but that wasn't a huge deal to me considering how convenient the little tube is. You could keep it in your everyday bag for quick color on the go.
Sangeeta Singh-Kurtz, Culture Writer
I layered the Skywash in "Terra" over the Tom Ford Cheek Duo/Highlighter I'd put on my eyelids earlier in the day, and I'm happy to report that I looked gorgeous. However, I think this shadow works best when layered over something with a bit of shimmer — the shades are just so sheer and matte they take two to three layers to build noticeable color. If I failed to do that, my eyelids just looked a little bit bruised. I'd definitely wear it again, though, because the color was extremely flattering and brought out the caramel in my eyes.
Kathleen Hou, Beauty Director
I think the rule for coronavirus also applies to using Skywash correctly: Try not to touch your face too much. The less you blend Skywash, the better it is. It's true that the Skywash colors are very sheer, so much so that some of them completely disappear. But if you just straight up don't blend, or blend them out only a little, you'll get that transparent wash of color that it promises.
Some shades are more pigmented than others, so you'll need to play around and find what best suits you. I found Terra, the burnt sienna–ish color, to be the strongest and easiest. I applied one coat over my eyelid, moved it around very little, and it was pleasingly nonsticky, creamy, or slimy. I liked that the color, which didn't crease or get feathery, made my boring brown eyes look a little warmer, like a shade found in a fancy chocolate box. It's not a bionic eye shadow — it will fade a little throughout the day, but it won't run down your face either. Eye shadow is not my personal makeup MVP, because you can only see it when I'm slightly glowering (as I am in my selfie), so for that reason, I wouldn't consider this to be a mainstay.
If you buy something through our links, New York may earn an affiliate commission.