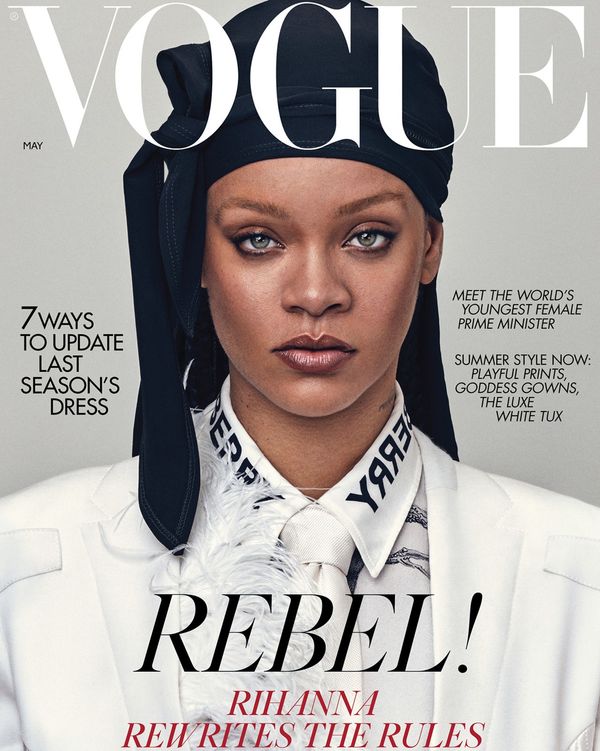 Photo: © Steven Klein/Vogue
The coronavirus pandemic has upended just about everything, including the fashion industry. Not only are storefronts closed and runway shows postponed, but fashion magazines have also had to cancel photo shoots and get creative about producing future issues remotely.
Life before coronavirus feels like another era, but there was a time when people were outside being extra. British Vogue reminded us of this on Monday afternoon when it revealed its new May issue double cover starring none other than Rihanna. A double cover! Starring Rihanna! We're twice as grateful.
"The May 2020 issue of British Vogue was created prior to the pandemic which has subsequently brought the world almost to a halt," wrote Edward Enninful from self-isolation in London. "But, as the Editor-in-Chief of a magazine that prides itself on entertaining, delighting and distracting even under the most difficult of circumstances, I am thrilled to announce the inimitable @BadGalRiri as our May 2020 cover star."
Bad Gal and Enninful go way back. She's covered British Vogue before, including Enninful's first September issue for the magazine in 2018. But these new images mark a milestone: The durag Rihanna wears, made in this case by the famed British milliner Stephen Jones, is the first one to ever grace the magazine's cover.
In an editor's letter, Enninful explains that the durag was Rihanna's idea. He received a WhatsApp message from her at 2 a.m. one night while they were prepping for the shoot saying: "How about we go with a durag?"
"Did I ever imagine that I would see a durag on the cover of Vogue? No, reader, I did not," Enninful wrote in Instagram. "Although this potent symbol of black life — of self-preservation, resistance and authenticity — has an important place in popular culture, it is rarely viewed through the prism of high fashion," he continued. "Yet, here we have the most fabulous, aspirational and beautiful durag, worn by a woman who is breaking every boundary she comes up against."
In these trying times, Rihanna is an all-around inspiration. Her foundation pledged $5 million to aid those on the front lines of the coronavirus fight before everyone else was doing it. She's also always been a style icon for staying in and dressing up.
The new issue of British Vogue will be on newsstands and available for free digital download on Friday, April 3.