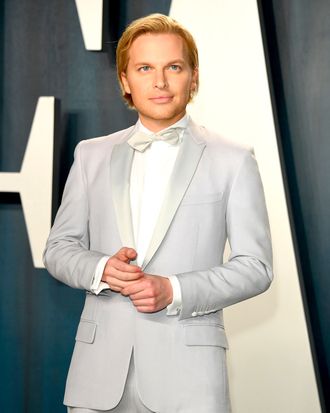 Ronan Farrow.
Photo: Daniele Venturelli/WireImage,
Journalist Ronan Farrow intimated that he may split with his publisher, Hachette Book Group, over its acquisition of Woody Allen's memoir.
On Monday, Grand Central Publishing announced that it would release Allen's Apropos of Nothing on April 7, calling it a "comprehensive account of his life, both personal and professional." That would, presumably, include the longstanding allegations of Allen's sexual abuse. According to Farrow, though, Hachette never contacted the person who accused Allen — Dylan Farrow, who maintains that the director, her father, sexually abused her when she was 7 years old — to confirm the author's narrative. Allen has always denied the allegation, and tells a very different story about the ensuing investigations.
On Tuesday, Ronan Farrow tweeted a statement on his father's forthcoming book, condemning the apparent lack of fact-checking as "wildly unprofessional." Further, Farrow said, Hachette appeared to have purposefully kept the acquisition from him while working to publish his best seller, Catch and Kill, about chasing the story of Harvey Weinstein's serial predation. Farrow's New Yorker exposé on the subject helped catalyze the Me Too movement.
For all those reasons and more, Farrow concluded, he "told Hachette that a publisher that would conduct itself in this way is one I can't work with in good conscience." (Little, Brown and Company, a Hachette imprint, published Farrow's book.) The full statement reads:
I was disappointed to learn through press reports that Hachette, my publisher, acquired Woody Allen's memoir after other major publishers refused to do so, and concealed the decision from me and its own employees while we were working on Catch and Kill — a book about how powerful men, including Woody Allen, avoid accountability for sexual abuse. Hachette did not fact check the Woody Allen book. My sister has never been contacted to respond to any denial or mischaracterization of the abuse she suffered at the hands of Woody Allen — a credible allegation, maintained for almost three decades, backed up by contemporaneous accounts and evidence. It's wildly unprofessional, in multiple obvious directions, for Hachette to behave this way. But it also shows a lack of ethics and compassion for victims of sexual abuse, regardless of any personal connection or breach of trust here. I've encouraged Hachette, out of respect for its readers, authors, and reputation, to conduct a thorough fact check of Woody Allen's account, in particular any claim that implies my sister is not telling the truth. I've also told Hachette that a publisher that would conduct itself in this way is one I can't work with in good conscience.
Yesterday, Dylan Farrow also slammed Hachette's decision, calling it "deeply unsettling" and "an utter betrayal of my brother whose brave reporting … gave voice to numerous survivors of sexual assault by powerful men."
"For the record, I was never contacted by any fact checkers to verify the information in this 'memoir,' demonstrating an egregious abdication of Hachette's most basic responsibility," she continued in a statement, posted to Twitter. "On the other hand, my story has undergone endless scrutiny and has never been published without extensive fact checking."