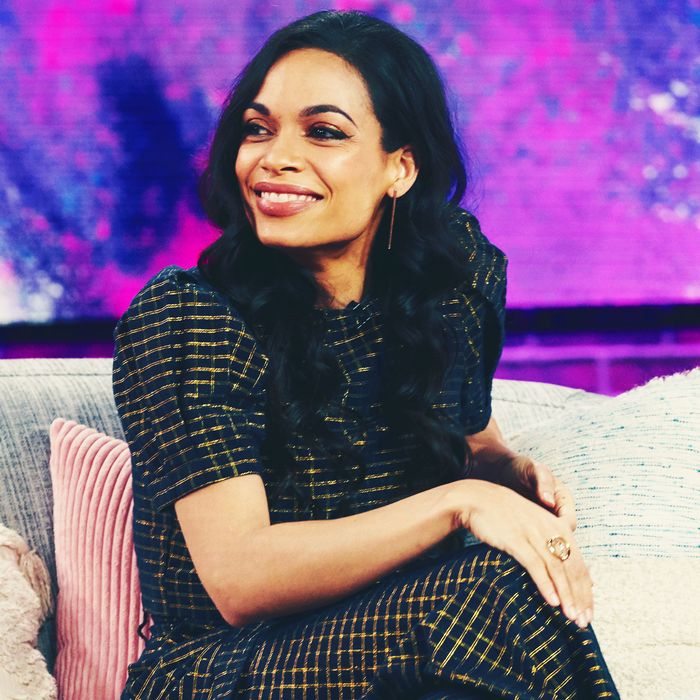 Rosario Dawson.
Photo: Adam Christopher/NBCUniversal/NBCU Photo Bank via Getty Images
It's no secret that actress Rosario Dawson is politically aligned with progressive flank of the Democratic Party; in 2016, she endorsed Bernie Sanders for the Democratic presidential nominee, speaking passionately at his rallies about how he was the only candidate who understood that "incremental change" wasn't working for the majority of the people. This election cycle, though, she endorsed someone notably more moderate: New Jersey senator Cory Booker, who also happens to be her boyfriend.
Now that Booker has dropped out, however, Dawson is once again feeling the Bern. In an Instagram post this morning, she wrote, "I got to vote for Bernie again," and went on to urge her followers to vote themselves, even if they've lost faith in the system; to "not bicker on social media"; and to fight to "improve conditions for each other and make the [future] that much brighter, healthier, and clearer for the generations to come." A beautiful message! And one that came just a few hours after Booker officially endorsed Joe Biden, Sanders's only real remaining opponent. (No offense, Tulsi.)
Tonight, as we head into primaries and caucuses in six more states, Booker and Dawson might been in for the same slightly tense conversation as untold divided Democratic couples around the country: What does "electability" even mean? Is it better, or even more pragmatic, to rally around the moderate candidate with Establishment backing? What even is Joe Biden's message? Are we doomed to repeat 2016? And then, endorsements made and the fate of our country in the balance, maybe they will read to each other to calm down.