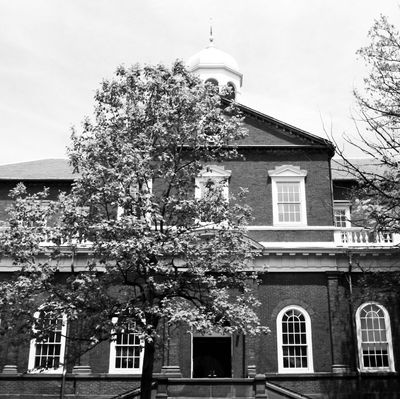 Photo: unknown/Getty Images
Please note the story you're reading was published more than a day ago. COVID-19 news and recommendations change fast: Read the latest here to stay up-to-date. We've lifted our paywall on all essential news and updates about the coronavirus.
An increasing number of colleges across the U.S. have announced that they are canceling in-person classes due to the threat of the coronavirus.
As of March 10, there were at least 730 confirmed cases of COVID-19, the respiratory infection caused by the new coronavirus, reported in the United States, though officials have warned that the number of infected individuals is likely much higher. So far, at least 26 Americans have died from the virus.
In the U.S., the largest outbreaks of COVID-19 have been reported in Washington state, California, and New York, and as a result, many colleges in those areas have suspended classes. Last week, the University of Washington announced that it would shift entirely to online classes for the remainder of the winter quarter, and Stanford University announced that classes would not meet in person. In New York, Yeshiva University canceled classes after a student tested positive for the virus. Now, an increasing number of colleges have canceled classes or announced that classes will be taught remotely, including Amherst College, UC Berkeley, Columbia University, Barnard College, Harvard University, Hofstra College, Ohio State University, Princeton University, Seattle University, University of Southern California, and UC San Diego.
For many schools, the closings coincide with spring break, which typically takes place in early or mid-March. Harvard announced today that it would be transitioning to online classes by March 23 — the first day of classes after spring break — and asked students not to return to campus following the break.
"The decision to move to virtual instruction was not made lightly," Harvard president Lawrence S. Bacow said in a statement. "To our students, especially those of you graduating this year, I know that this is not how you expected your time at Harvard to end. We are doing this not just to protect you but also to protect other members of our community who may be more vulnerable to this disease than you are."
According to the university's website, Harvard has asked all students to move out of their dorms by Sunday, March 15. (It remains unclear what will happen with graduation, which is scheduled for May 28.) On Twitter, many pointed out the challenges this sudden directive poses to students, particularly those who will need to book flights to return home:
Other colleges have encouraged students not to travel over spring break. The New York Times reports that Duke, NYU, and the University of Chicago have asked students and faculty to register their travel plans on a web-based form.
Meanwhile, as a number of private New York universities have canceled classes, the City University of New York has faced criticism for not doing the same. As of Tuesday, CUNY public colleges remained open. According to a statement on the University's website, while CUNY is "taking the threat of coronavirus very seriously," the school is "aware of no coronavirus cases involving anyone in the CUNY community."
Many have questioned the University's decision to remain open, especially in light of Mayor Bill de Blasio's advice that New Yorkers avoid using mass transportation during rush hour and to telecommute if their job allows it.
So far, all of New York City's approximately 1,800 public schools remain open. (Public schools in Scarsdale, a suburb of Westchester county, are closed through March 18 after a teacher tested positive for COVID-19). De Blasio has said that while individual schools may close for a temporary period if students or teachers are exposed to the virus, mass school closures will be a "last resort" due in part to the large number of low-income and homeless New York City students who rely on the school system for basic services, including food.