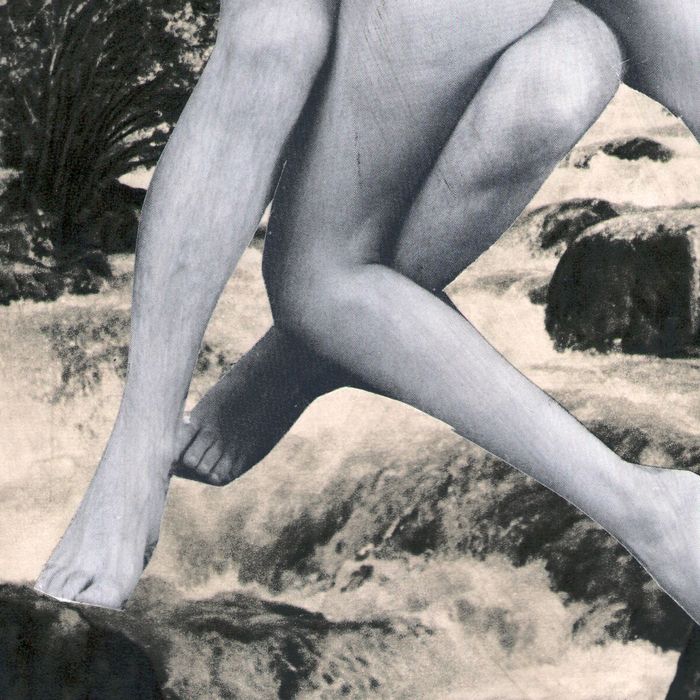 Photo-Illustration: James Gallagher
This week, an event planner doing everything she can to explore her sexuality: 36, single, Battery Park.
DAY ONE 
9:00 a.m. I love my job as a creative director. My career only recently started taking off. Before that, I was tied down taking care of my mother during the last years of her life. I hadn't realized what a toll it took on me. I've become happier as I try to figure out who I really am, according to my own definitions, and exploring my sexuality has been a big part of that process.
7:00 p.m. I attend a fancy charity benefit I helped produce and catch up with Natalya, my beautiful friend. I've never thought of myself as bi, but she is a woman who stirs desire and playfulness within me. We take some cute pictures together and catch up about my meditation retreat this winter. Some intense self-reflection since my mother's death has made me realize I repressed a lot of my sexuality to fit her Judeo-Christian conservative standards.
11:00 p.m. I get home and WhatsApp Carlos, a man I met last year, in Chile. Carlos was my only lay during the 18 months after the breakup with the man I nearly married. Carlos is polyamorous, which I couldn't accept at the time. But I realize we have a genuine rapport, and I tell him I'd be open to friendship with benefits if he ever came back to the U.S.
DAY TWO
12:00 p.m. I am messaging back and forth with a cute start-up founder, Alex, whom I met through friends last year. The flirty texts quickly turn sexual, much to my delight. I remember a poly woman I met on my retreat who encouraged me to create a harem of men this year. I get giddy thinking about it. I wonder if Alex's messages are a sign of more sexiness showing up in my life?
3:00 p.m. I'm researching sex fantasies for a new commission at a prominent museum. I wonder if it's prepping me for some action in my own life. I'm surprised to learn that most people share the same seven sex fantasies. Why are we so ashamed of what makes us simply human then?
8:30 p.m. I meet up with Scotty, who I've been chatting with on a dating app. He's a total goofball and yet super into sex, while being conscientious and intentional about it. We have great physical chemistry and soon start making out at the bar. I love his lips, and he's a great kisser. I ask him more about the threesomes he's had. While I used to be more judgmental, I'm now intrigued. I decide not to go to his apartment tonight, but I know we'll see each other again.
DAY THREE
3:00 p.m. I meet up for a quick coffee with my friend Talia, who I haven't seen for a while. She's one of the least judgmental people I know, and it's always nice to catch up with her. I tell her that I'm exploring sex; she's amused.
4:15 p.m. Head to a quick meeting at the museum with my work partner and a new technician I'm brainstorming a new event with.
6:00 p.m. I'm in an Uber, running late to meet another date, Sun. Based on how he's communicated, he seems pretty introverted, but I've long learned that online rapport can play out differently in person. I hope he's cute in real life.
6:15 p.m. Turns out he's way more confident and communicative in person. The man I nearly married was not, and now I only want to date emotionally expressive men. The more confident men are, the more they are able to show their vulnerability, in my opinion.
6:30 p.m. Sun has gotten tickets to a science museum exhibition focused on sex. I roll my eyes at how the exhibition has tried a bit too hard to make jellyfish reproduction sexy. As we listen to a talk, I wonder what kind of kisser he might be.
10:00 p.m. We have a romantic dinner, and I get ready to head home. I'm hoping we'll kiss, but unlike Scotty, Sun is reserved and gives me a hug. Fine by me. We exchange texts when I get home.
10:15 p.m. Alex sends me pictures of himself jerking off. The old me is offended, the new me mildly amused that this hot guy is turned on by me. But I decide I'm still uncomfortable, since we don't really know each other.
DAY FOUR
9:00 a.m. I've signed up for a personal development workshop all weekend and roll in bleary-eyed. Sun texts to thank me for a good time. Alex and I are in a standoff as to whether his pics were appropriate. When I told him I was uncomfortable, he apologized but then was chilly and unresponsive. I don't know whether it's because of ego, immaturity, or a combination of both.
10:00 a.m. Scott sends a sweet message. I write back.
5:00 p.m. During a workshop, we're asked to turn to the person next to us and declare what we want out of life. I want a great sex life, I tell the person next to me.
DAY FIVE
7:00 a.m. I inadvertently invite Scott to meet me for the last session of my workshop. He shows up! And brings a care package. It makes me realize what I was missing with Carlos, who never showed up for me when my mom died.
10:00 p.m. We go to midtown for some drinks and make out some more. He wants to take me home but we decide not to; we have plans tomorrow anyway, and I have to be up early. Instead, he sucks my breasts and tries to finger me in the back of the cab, and we suspect the cabbie knows. We're both turned on by it.
DAY SIX
7:00 p.m. Another full day of the workshop. Yesterday I invited Sun to meet up again tomorrow, but he tells me he has too much work to do.
10:00 p.m. My treat tonight is a full-body massage Scott wants to give me. He's pretty good at it, and then we have sex. It's been too long for me, but I still don't come, which is frustrating.
2:30 a.m. I stay over at Scott's but find I'm not able to fall asleep next to him, although I like spooning. He's adorable. I've learned he's slept with over 100 people, which surprises and intrigues me. He also tells me he's monogamish, which my formerly monogamous-by-default self finds appealing. Before falling asleep, he texts his friend to set up a threesome for us.
DAY SEVEN
3:00 p.m. My first meeting with a somatic-sensing therapist, who I've been wanting to see since I've realized I'm disconnected from my body. I can't really feel my vagina sometimes and have a fear of climaxing. As I talk to her, I realize that my sex journey will involve integrating my mind, body, and spirit. I've been living in a lofty headspace with an ascetic spiritual life for far too long and have been completely divorced from my body. I need to have more sex to ground myself.
7:00 p.m. My cousin comes to town, and we get sushi at a restaurant Sun has recommended. While we splurge on the fancy meal, Sun texts to apologize that he has too much going on right now with board meetings. He's sweet about it. I still want to see him at some point. He has good taste; the restaurant is divine. I know my family would like him.
8:00 p.m. I see Alex has posted on social media that he's back in town. I send him a DM, but he doesn't acknowledge it. I let it go.
10:00 p.m. I invite Scott over to my place and we fuck. He's just attended a drinks-mingling thing with a lot of poly people, and though he doesn't want to be poly himself, he is endlessly curious. He's a straightforward guy, sweet and naughty at the same time.
5:00 a.m. He stays over and we start touching each other again in the middle of the night. I finally come with the added help of a vibrator while we have sex. I don't know where this will all go, but I'm happy to live in the moment for now.
Want to submit a sex diary? Email sexdiaries@nymag.com and tell us a little about yourself.