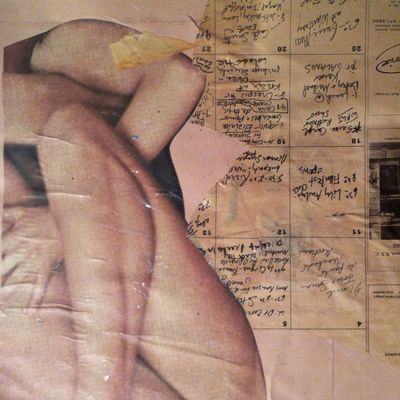 This week, a woman having sex with a Jesus lookalike and worrying about a broken condom: 32, single, Copenhagen.
DAY ONE
9 a.m. "I want you to fuck me," I say over WhatsApp. I'm messaging an Italian guy I went out with once, but didn't sleep with. He was really hot though, and I've been thinking about him. I moved to Copenhagen from New York last year, and my European sex life isn't nearly as exciting as I thought it would be, so I might as well be direct. He suggests we get together tonight.
3 p.m. This French dude texts me to suggest I come over this weekend so he can cook for me. He's really nice, but I decide to be honest with him and tell him that we are better off as friends. But I'm not being honest. Not really. The thing is, he looks too much like Drake. He knows it too and brought it up during our date. I can't fuck someone who looks so much like Drake but is not Drake. It's too distracting.
9 p.m. I haven't heard anything from the Italian guy and know it's not happening. I start trolling Tinder. I've never started talking to someone and fucked them on the same night. A guy messages me, and we start chatting about our plans for the evening.
9:30 p.m. I get a call from a co-worker asking me to come back to the office as we're having issues delivering some files. I think about it, but decide to say I'll just review them from home. I had the second panic attack of my life a few days ago, and I know I need to look out for myself right now. But I also need to fuck strangers.
10 p.m. I'm at a bar with the Tinder guy. He's a little shorter than me and not very attractive in person. And he's awkward. I mull over whether he's fuckable. I wonder how many drinks I have to have before I can leave.
12:00 a.m.  The guy is growing on me. He tells me I'm the best Tinder date he's ever had. He calls my personality a treasure. I'm reeling from the validation. I decide maybe I can fuck him.
1 a.m. We're walking back toward my apartment. It's time to make the call.  It's around the corner from the bar. But I can't fuck him. I'd feel gross about it after. I have one last drink at the bar by my apartment and chat with the cute bartender who's always nice to me. I wonder if he'd fuck me. I go home.
DAY TWO
11 a.m. I wake up and check Tinder. I hate how much I have to rely on it in this town, but it's hard to meet guys in person here. I notice one guy unmatched me after saying he wanted to meet up. I don't unmatch with people unless they're being creeps. It fascinates me the way guys seem to get off on unmatching girls. Weird flex, but I try not to take it personally.
11:15 a.m. I have a date later and want to stay horny. But you never know. I watch porn and come.
7:15 p.m.  I get to the bar. My date shows up a few minutes after. He's tall. He has long black hair and a beard. Dark eyes. Big nose. He's Portuguese Jesus. He tells me that the first depictions of Jesus actually featured a beardless and shorthaired man. Art history major.
11 p.m.  I'm fucking Portuguese Jesus, and the condom breaks. He cuddles with me after, and a couple of hot tears involuntarily escape me. I'm thinking about a bartender that was holding me last week and then ended up being kind of a dick. I catch the tears before they touch his skin so he won't notice.
3 a.m. I'm fucking Portuguese Jesus again. No condom this time, but I tell him to pull out.
DAY THREE 
11 a.m. We're going again. Gotta make the Plan B worth it.
1:30 p.m. We fuck one last time. The sex is really good. I've come each time but don't think I can keep up with his drive.
3:30 p.m. I go get Plan B while he's sleeping in my bed. I know he doesn't give a shit. He tries to fuck me when I'm back, but I'm done for the day.
5:00 p.m. PJ goes to look at an apartment. I'm a little nauseous from the pill. I just received a written offer for a dream job in Hong Kong, and it's not settling my stomach. I try to weigh Hong Kong as I fall asleep. I'm bad at making decisions.
DAY FOUR 
10 a.m. I find a sizable piece of the broken condom in my vagina as I'm showering. It's both horrifying and hilarious.
7 p.m. I meet up with A. He just moved back to Paris but is here for a meeting. I talk to him about Hong Kong. He always gives me really good advice, and I can fully be myself around him. He told me he was in love with me last month before he went back home. But he has a girlfriend and a daughter, so it was never an option. Plus I love him in a platonic way. This is my first time seeing him since, but it's thankfully not awkward.
1 a.m. A and I are sitting in S's kitchen drinking beers and smoking cigarettes. A is crashing there. Smoking indoors is a rare indulgence, and I love it. S and I work together and recently traveled together for a project, where we really bonded. I realized after the trip that I've developed a crush on him, but he has a girlfriend so it has to stay platonic. I hope A doesn't notice the way I look at S. At some point, S casually kisses the top of my head. I'm pretty sure it's in a brotherly way, but it just feels really nice.
DAY FIVE 
7 p.m. A has decided to stay here an extra day. He asks if I want to hang out, and says I shouldn't feel obligated to, but I know he'll be hurt if I don't see him again. I'm happy to have seen him and also relieved that we didn't revisit the topic of his feelings for me.
9:00 p.m. Lay in bed thinking about things. When guys ask "what I'm looking for" I usually say "nothing in particular," and I think I really do mean that. Being single the past couple of years has made it easy for me to make decisions like picking up and moving to Europe. I enjoy the thrill of sleeping with someone new and I think more is more when it comes to sexual partners. That said, I would love to get married at some point in the next few years. But right now, I at least would like to form some genuine connections.
It's getting old going through the motions of talking to someone, going on a date, telling the same stories, cracking the same jokes, having sex, and it never really going anywhere. It doesn't have to be a longterm thing right now, especially as I won't settle down here, but it's always nice to feel seen and appreciated. Dating and sex were generally more interesting in New York than here, so I feel like I'm stuck in a loop, but I would hate to become jaded. So until someone loves me again, I'm just gonna get some dick.
DAY SIX
2 p.m. S and I are in a meeting at work, and I'm sad he didn't sit next to me.
9 p.m. I'm at a going away party for a co-worker. S tells me he just bought some coke. I go into the bathroom with him and another co-worker and do a key bump. The other co-worker leaves the bathroom. S and I are about to leave when we exchange "that" look. Next thing I know, he's kissing me. It's intoxicating. "I've been waiting to meet someone like you," he says. But he also says what we both know, which is that he can't give me more than this.
10:30 p.m. S is outside smoking a cigarette, and I join. As I walk up, I see some girl is trying to flirt with him. I ask her why she's talking to him. I know how insane (and mean) that interaction is, but it's also kind of funny. I'm not normally the jealous type, but guilt manifests in odd ways.
2 a.m. S walks me home, we hold hands and kiss good-bye before he leaves. This is as far as either of us wants to take this. It's all tinged with sadness, for me at least. Even if things changed in the future, and we were both single, how could I trust him now that we've done this?
DAY SEVEN
9 a.m. I take too long to get out of bed because I'm thinking about S. I don't regret last night, but I don't want to be the kind of girl that guys cheat on their girlfriends with. Is that a type of girl?
11:30 a.m. I have to take a half-day to get a visa for an upcoming trip, and the embassy is in another city. The guy who approves the visas uses this as an opportunity to flirt with me. He makes a show of giving me the discounted visa rate, even though I brought in the necessary paperwork. I know what kind of man he is. And he knows I have to play along. Eventually, I mention a meeting at work, and he finally gives me the visa. He also gives me his card and tells me not to be a stranger.
6 p.m. My friend back in the U.S. tells me she's pregnant and needs to get an abortion. I was considering fucking Portuguese Jesus without a condom again, but this brings me back to my senses. I really hope the Plan B worked.
11:30 p.m. PJ comes over later than expected, and I'm too tired to have sex. Maybe in the morning. We cuddle in bed. In the dark, he says he needs to tell me something. He says that he has a girlfriend back in Portugal, and that they're in an open relationship. I ask him why he didn't tell me this upfront. He says it never came up. I say I actually would have been open to it if he were honest. At best, he's a coward. At worst, he was misleading me into having sex with him. I ask him to leave.
1 a.m. I ignore an apologetic message from PJ and try to go to sleep. The irony of being offended by him but not with A or S, who are outright physically and emotionally cheating, is not lost on me. I guess the difference is they're not doing it to me. One of these days, I'll meet an interesting guy who doesn't have a girlfriend, as rare as that's beginning to feel. Maybe in Hong Kong.
Want to submit a sex diary? Email sexdiaries@nymag.com and tell us a little about yourself.