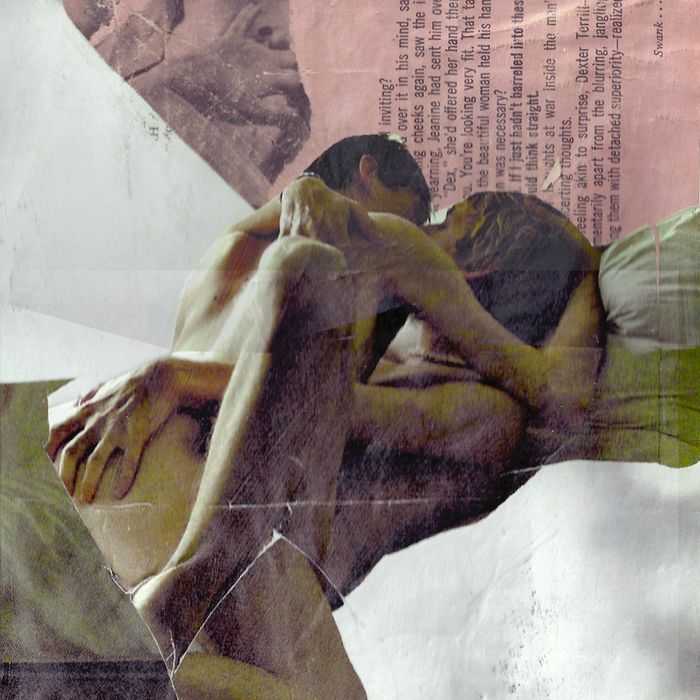 Photo-Illustration: James Gallagher
This week, a woman wrestles with an intense long-distance crush: 24, single, Sunset Park. 
DAY ONE
7:30 a.m. I watch porn and squeeze my legs together while fantasizing about P fucking me. I'm visiting him in Houston this weekend. We hooked up six months ago when he was in town for a business trip; since then we've had two blissful weekend rendezvous. I already know this trip is going to be emotionally charged for me, since he told me he's started dating someone and if things get serious, I might not see him again.
11 a.m. At work. Browsing journalism job boards on incognito mode. I moved to New York last summer to take a job as a news producer, which is not nearly as exciting a job as I thought it would be. I zone out and think about P.
I've developed uncharacteristically strong feelings for him but I know that the chances of us ending up together are slim. He just got promoted at his job in Houston and I work in the media capital of the country. This kind of commitment would require some serious passion, which he apparently doesn't have for me. Having met him only three times, I shouldn't have any for him either. But he is everything I ever wanted! I feel like a hopeless romantic, and a total fool.
I'm wondering if I should go through with the trip or just drop it. Yesterday I sent him a seductive video of me at Victoria's Secret trying on a bra, asking him if I should buy it. He still hasn't responded, which upsets me because he used to text back right away.
8:30 p.m. A Tinder date bails so I go straight home after dinner with a friend. I want to meet someone before I visit P, just to remind myself of the abundance of nearby prospects. I look at my phone; the video I sent him is still sitting quietly above the text box. I wonder what he's doing right now. The thought of him holding another girl's face and kissing her gently the way he'd kiss me makes my stomach churn.
DAY TWO
9:30 a.m. On the train to work, still debating if I should go to Houston. I start thinking about making a wax appointment; maybe that will make me feel more assured.
1:17 p.m. P texts! He says he just saw my message from two days ago and I should buy the bra. How can he just reply two days later and act like nothing happened? He asks if he is allowed to buy me a slutty dress and if I would like to try toys. The idea of toys intrigues me, since I haven't tried any, but I hate that I'm delighted by his smallest gestures. Is he just making a last minute offer to cover up his lack of effort?
The first time we hooked up, P had a serious girlfriend back home. I didn't think we would see each other after that, but a week later, he told me that he'd broken up with her, and that he would be visiting New York soon. I should know he's bad since he cheated on her with me. But I've never had this kind of profound connection with anyone else before. It's hard to give up.
I reply and tell him to buy the toys and the dress. I want to indulge just one last time, then I'll get my shit together.
7:00 p.m. On the train back home after my wax appointment. I text M to see if he wants to meet up tonight; he's 35 and polyamorous. We hooked up a few times and I'm okay with him wanting to keep it casual.
8:30 p.m. M's available tonight, so I head over to his place. After a few glasses of wine I tell him about P and my upcoming trip. He says that I'm seeking salvation from yet another unavailable man who guarantees to fail me eventually. Feeling seen by an almost-stranger is relieving, but realizing he's right makes me a little uncomfortable. I try to divert the heavy conversation and end up finishing the bottle of wine. We make out a little and I head home; no sex for me tonight!
DAY THREE
9:15 a.m. "One more day," P texts with the hugging-face emoji. I keep reminding myself not to let this drag on; my anxiety really has flared up as my feelings for him progress. I write up a script and prepare to have the "talk" with him to define our relationship, although I feel like I know what he's going to say. I just need closure.
1 a.m. Still haven't finished packing. P texted earlier to confirm my flight and tells me the packages he got me have arrived. As I drift off to sleep listening to my Harry Potter audiobook, I think about whether I should really go to see him. I could still change my mind in the morning.
DAY FOUR
11:15 a.m. I made it to the airport! My window of opportunity has closed; I will definitely be seeing him again. Unless the plane crashes then I die for a romantic cause. Wouldn't be a bad way to go.
5:40 p.m. My flight lands and I Uber to his place. He's outside waiting for me by the garage, and we share a passionate kiss on the sidewalk. He tastes like beer and I feel drunk on him already. We can barely wait to get back to his apartment. We hook up on the kitchen counter before moving to the bedroom. Knowing that he lusts after me is comforting.
7:00 p.m. As I primp and get ready for dinner, he puts his arms around me and stares into the mirror. I can't help but feel like the intense physical chemistry between us is worth it.
8:00 p.m. At the restaurant we sit side by side, talking, laughing and furtively feeling each other up under the table. He looks delicious as fuck, making the nice dinner seem bland. An intimate dinner, the man of my dreams, and knowing there's still so much to look forward to is all I ever wanted. He gives me a quick peck on my cheek. I am over the moon.
9 p.m. After dinner we head back to the parking lot and start hooking up in his truck. Cars are driving around in the parking lot but neither of us care. He tells me he's only had car sex once, a long time ago, and I feel smug. I love the idea of sharing exclusive memories with him.
DAY FIVE
9 a.m. Waking up next to him feels unreal. Knowing that I still have him for two more mornings, and that after this trip I might never see him again makes me feel dizzy. But I'm overwhelmed by affection when I look at him. Why can't he be mine? When he wakes up we have sex in front of the bathroom mirror, then in the shower.
12 p.m. We're planning to take molly tonight so we take things easy before the big night out. We head out for a boozy brunch.
2:30 p.m. Back at his place, he can't wait to bend me over the kitchen counter. As we catch our breath, I tell him my hesitation about this trip but he says he doesn't think it'll be our last time seeing each other; he's only casually dating the local girl, and his company has a charity event in New York in three weeks. I try to curb the joy I feel rising inside of me and don't say anything. I can't let myself fall for his inconsistency and hang onto some false hope.
10:30 p.m. After dinner we head to a club and the molly starts to kick in. I vaguely remember going into the photo booth and seeing P grooving on the dance floor. He's so sexy.
12:00 p.m. I'm fucked up and my eyeballs are rolling to the back of my skull. When P picks my fried ass up off the dance floor, a girl comes up and asks if I need any help. God, I love it when girls look out for each other! I tell her I'm okay, that P's my boyfriend. I'm surprised how naturally that came out.
DAY SIX
11 a.m. My cheeks hurt from all the teeth grinding. I tell P about the girl from the club, and how I told her he's my boyfriend. "I pretty much am," he says, nonchalantly. I'm angry. Who does he think he is to play with my feelings?
2 p.m. We visit the zoo in the hope of petting some goats. We're both in recovery from last night so we don't talk as much. It's my last night in Houston; I'm dreading it but also looking forward to it.
9 p.m. We arrive at one of the last things on our agenda: the maid costume he bought me. Roleplaying is uncharted territory for both of us. After a short but impressively pornographic intro, in which he pushes me away and says he loves his wife too much to do this to his marriage, he genuinely surprises me with his devotion as he starts to tell me how much sexier and tighter I am than "his wife." I guess all the porn he's watched finally paid off.
10 p.m. Afterward we snuggle on the couch, split a joint and watch Blue Planet as he nibbles at my ear.
11:30 p.m. Ideally, we would go sit by the fireplace in the common area of his apartment building, drink wine and talk our feelings out. I would tell him I want something serious with him and would consider moving to Houston eventually. But it's too late; I can't say anything. We light the sparklers on his balcony and call it a night.
DAY SEVEN
6:50 a.m. I wake up at his first alarm. A wave of sadness washes over me and I start crying while he sleeps next to me. I don't want to say good-bye.
9 a.m. It's time. He doesn't say a word, just holds me tight until my tears are all over his dress shirt. He looks at me with the saddest eyes and gives me one last kiss; then he's out the door, on his way to work.
10:50 a.m. As I'm waiting for my flight, he texts me, "Have a safe trip back. Was awesome to host you again and glad you got to see more of Houston :)"  He sounds distantly polite over text. Whatever. We're moving on, I say to myself, aren't we?
7:20 p.m. Back home in Brooklyn. I drift off, feeling sad and thinking about the weekend. I have dreams about him, the things he whispered to me during roleplay. When I wake up I realize that I'm 2,000 miles away, alone in my bed.
Want to submit a sex diary? Email sexdiaries@nymag.com and tell us a little about yourself.