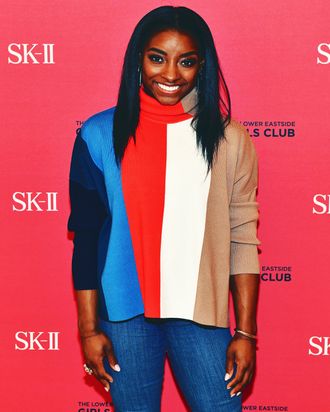 Simone Biles.
Photo: Craig Barritt/Getty Images for SK-II
Imagine opening social media and being barraged with hundreds of negative comments about your appearance. For Simone Biles (and many public figures), this isn't out of the ordinary — in fact, it's a daily occurrence.
"I've gotten a lot of comments over the past couple of years about how my hair looks, how my calves are too big, my arms are too big, I don't look like the average girl in today's age, I have too many muscles," Biles said, speaking at the Crosby Street Hotel in Soho on Wednesday.
Biles is speaking out about hurtful online comments and being subject to beauty standards on behalf of SK-II's new campaign, #NOCOMPETITION. Just before the 2020 Olympics in Tokyo, the campaign has enlisted athletes to get behind the idea that they should only face competition in their respective sports — not based on how they look.
In conversation with Katie Couric and alongside special guest, Japanese actress Haruka Ayase, Biles broke down what it's like to be constantly critiqued by strangers and how she's worked to overcome it.
"I would cry a lot and I'd try not to look at the comments," Biles said. She said that her friends would ask her why she felt so upset by comments from people that she didn't even know. "I feel like if they got to know who I really was, then they wouldn't say those things."
Biles was constantly competing in the gym, but she was also thrust into a beauty competition that she never asked to be a part of. Biles also acknowledged that there aren't many black gymnasts, which added another layer of pressure for her.
Biles emphasized that it doesn't matter what anyone looks like to be good at what they do — whether they're an athlete, a student, or anyone going to work in the morning who's been told that they'd look so much better if they just smiled more.
In the upcoming SK-II Studio series, "VS," the brand transforms athletes into avatars fighting for the idea that beauty is no competition. Biles is one of six female athletes who fight different monsters in the series.
In Biles's video, her avatar battles "trolls," which take the form of a monster made up of negative online comments. The video debuted in Times Square on Tuesday night, as Biles watched her animated self defeat the negativity.
Over the years, Biles has come up with her own tactics for fighting against online trolls in real life. "I like to write my favorite features or my goals down," Biles said.
As Biles gears up to compete in the 2020 Olympics, she's also working to take herself out of another competition entirely — the competition of beauty standards that she never tried to be in in the first place.