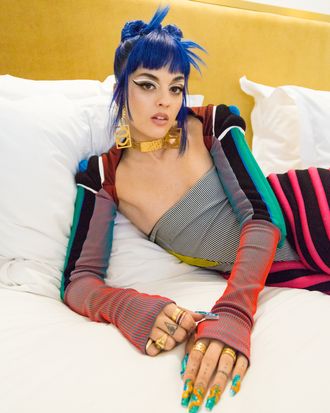 Sita Abellán in a face full of Dior Beauty.
Photo: Esther Boyarizo
You've seen Sita Abellán before. Maybe in her recurring role in our best-party-looks roundups, her recurring role in our street-style roundups, her breakout role as cool henchwoman in Rihanna's "Bitch Better Have My Money" music video, her supporting role as the stylist behind J Balvin's outfits, or as the only person at Dior's fall 2020 show in Paris with electric-blue bangs.
The Spain-born Abellán's whole beauty look for the show rivaled the ones created backstage. She showed up in two-tone graphic eyeliner (Diorshow On Stage Liquid Liner in matte white and black) painted on by Damian Garozzo, her lips coated in Dior's new Dior Addict Stellar Gloss, and masterpiece nails, all topped off with bright-blue ear drapes.
As we bid adieu to a more stressful than usual Fashion Month, the Cut caught up with the nocturnal DJ–model–designer–walking mood board while she was in Paris to talk sleep deprivation, nail art, and the best way to pose on Instagram.
What's your beauty routine typically like? 
First, I take off my makeup with some of Bioderma cleansing water, and then I use a cleansing gel by Klapp. After that, I use a Barbara Sturm serum and cream, and … actually, that's all I apply at night.
In the morning, I clean my face with water only, use the same Barbara Sturm products, and then I do my makeup. The foundation from Dior is one of my favorites because there is the more shiny one and the more matte one, so you can choose your own adventure. I use the more shiny one for a natural effect, and then I use a lot of blue eyeliner to match my hair. I also use Kim Kardashian's lip liners. I just contour my lips so they look bigger, and then I apply Dior glosses. They have this minty-ness inside, and you feel some tingles; I like it because it feels like my lips are plumped.
What time do you typically go to bed, and what time do you get up?
Oh my God. Generally, it depends, but usually I go to bed around 2 a.m., and then I wake up no later than 9, 10 a.m. I try to have eight hours of sleep at least. During Fashion Week, I definitely don't, though. I'm really tired. I have to DJ at 4 a.m., so I'll go to bed at 7 a.m. and then wake up around noon, but no later than that.
I like to sleep, but I can stay awake a whole day; it's mad, but sometimes I have to do it and I have to go to work with no sleep. That's why every time I travel, I try to sleep through it. I always eat before getting on the plane, I put my phone away, and I don't get Wi-Fi onboard. Every time, I'll wake up after nine hours and the flight attendants are always like, Oh my God, you slept the whole flight, are you okay? Do you need some sugar?!
It doesn't take me super-long to fall asleep on a train or plane; I don't know why. When I'm in my actual bed, it takes so much longer.
You feel a cold coming on. What's the first thing you do?
I make an infusion. I'll cut three or four lemons, a piece of fresh ginger, and water, and put it on super-low heat until it boils, so it's cooking for like 40 minutes. I'll continue this for three days; pouring more water into the mixture and boiling it again so it gets more and more intense.
I also take something that is called Moringa. It's a plant from Africa that comes in a dust. It's very, very nasty to drink, so I mix it with a little bit of orange juice and drink it once, like a shot, and that's very nice for the immune system. I also try to not take any medicine unless it's really, really an emergency, because I feel like if you take a lot of medicine, your body gets weak, and I don't want to be dependent on medicine.
What color are your nails right now and why?
They're green, blue, and orange. The background is like snake scales, and then I have an orange 3-D snake on top, because my logo for my jewelry line is a snake.
Do you prefer life with bangs or without bangs and why?
Lately, I don't know what to tell you, because I've been with bangs for like five or six years now. For the past two months, I've been wearing braids and my bangs back, and I really like it because I'm not used to seeing myself without them. It depends on the location, actually. If I'm in a hot place, no, but a cold, wintery place, probably yes. Also, with this hair color, bangs are very difficult to wear because the blue really bleeds a lot, so when my hair is on my face, it's gonna be a disaster, you know? My whole forehead will be blue.
What's the last song that was stuck in your head?
"Like Me," by Rework.
What's on your phone's lock screen?
Let me see. It's a picture of my campaign for my line Lilith, from the spring/ summer collection, shot by Filip Custic, a good friend of mine. It's basically a picture of my body, and I'm holding a big bowl with a mini-me under it also holding the big bowl, and a mini-me on the middle of my chest holding two bowls, and two mini-me's in the middle of my stomach looking at each other. It's really surrealistic.
What's your favorite Instagram pose?
I like to put one leg up, always — wherever I am, on the sofa, especially in front of the mirror. I don't like standing normally; I kind of always open my legs when I take a picture [laughs]. It sounds weird, but it probably started because I like to show my shoes in pictures, but with the earlier version of Instagram, it wasn't possible; it would cut them off. You had to upload the photo with the white borders added, so I'd put my leg up. I like showing my shoes; I think they're often more important than the clothes.
What's your favorite snack?
Oof, my God. I'm a snack girl, I love snacks. I love tropical Haribo, but they only sell them in certain countries. But it's like different shapes and colors and they're very nice; the passion-fruit one is my favorite. And then I love sunflower seeds, I'm obsessed. And I love cacahuates. What is it in English? Peanuts. Green peanuts. And then I love edamame so much. Actually, I think that's my favorite one.
If you buy something through our links, New York may earn an affiliate commission.