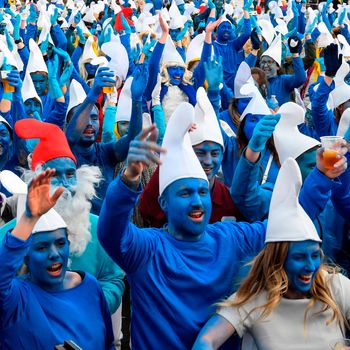 Photo: DAMIEN MEYER/AFP via Getty Images
Please note the story you're reading was published more than a day ago. COVID-19 news and recommendations change fast: Read the latest here to stay up-to-date. We've lifted our paywall on all essential news and updates about the coronavirus.
I don't know about you, but if I had plans to attend the world's largest gathering of Smurfs last weekend, I probably would've reconsidered. Instead, I think I would've put on my blue body paint and my white hat and done my Smurf cosplay in the comfort of my home, where I may have felt slightly disappointed but ultimately safe from the spread of coronavirus.
This past Saturday, more than 3,500 French people said non to this precaution and gathered in Landerneau to break the Guinness World Record for the most people dressed up together as Smurfs — one day before the French government banned events with more than 1,000 people. Since France reported its first coronavirus case in late January, the country has confirmed nearly 2,300 more cases, making it the second-largest outbreak in Europe, behind Italy.
But the Schtroumpfs, the French word for Smurf, were seemingly unconcerned. In an AFP video of the event, one-half of a particularly fearless Schtroumpf pair said, "We figured we wouldn't worry, and that as French people we wouldn't give up on our attempt to break the record." In response, the other chimed in that the "coronavirus is no big deal," compelling the former to proclaim, "There's no risk — we're Smurfs!"
The Smurfs refuse to be shamed for their apparently jovial gathering. In fact, Landerneau mayor Patrick Leclerc defended the Smurf meetup, which he told AFP alleviated the "ambient gloom" across France. "We must not stop living," he continued, adding that the event was "the chance to say that we are alive."
Hmm, "we"? Sounds like the mayor may have put on his blue paint and white hat on Saturday, alongside his constituents.
This post has been updated.