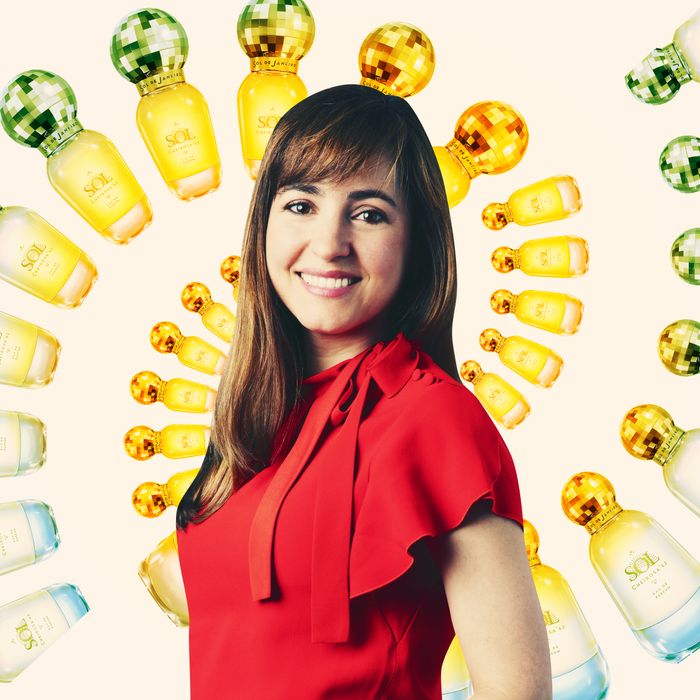 Photo: Courtesy of Sol de Janeiro
Scientific studies confirm that, of all the senses, smell offers the best recall. In Scent Memories, the Cut asks people about the scents they associate with different times in their lives.
Next up is Camila Pierotti, founding partner of Brazilian beauty brand Sol de Janeiro. Pierotti worked in global marketing for prestige beauty brands like Clinique and NARS before helping found the brand inspired by the beauty secrets of her native Brazil. Earlier this month, Sol de Janeiro launched the highly anticipated SOL Cheirosa '62, a spritz-able, fine fragrance version of the beloved scent found in their cult-favorite Brazilian Bum Bum Cream — also known as the best-smelling lotion in the world. The Cut caught up with Pierotti to talk chocolate truffles, migraine relief, and buying yourself bouquets.
My first scent memory: It comes from parents; it's that German cologne, 4711. I think they call themselves "the original eau de cologne." I always smelled it on my parents because they would splash it on all the time, after a shower, in the morning. It's not a fancy perfume or anything, you can buy it at a drugstore, but as a young girl, I always thought that bottle was so striking with the gold and teal label, and the rounded shape. It just smelled so refreshing.
Happiness smells like: Sunshine and warmth. It smells like when it's summertime and it's that picture-perfect weather that's just asking you to go outside.
Love smells like: The soft breath of my loved ones. When my husband, daughter, and son, when they whisper in my ear, their soft breath makes my heart melt.
Friendship smells like: Dinner or brunch at a restaurant. I haven't gone out that recently because of the current situation, but going out to eat is my favorite way to socialize. I obviously love a great party, but what makes me feel close to my friends is sitting down in a small group or one-on-one over a meal and just chatting and catching up.
Heartbreak or loss smells like: Tears. Or nothing at all, because my nose is too stuffy from crying and I can't smell anything.
Success smells like: Flowers, any kind of flowers. Every week I buy flowers for my home from whatever deli I'm walking by — just enough for one vase. But when I feel especially accomplished in a week, I'll buy even more. To me, that's success; it doesn't have to be this huge milestone. If I've had a productive week, or everything went smoothly, or I accomplished everything on my list, I'll buy a small bouquet for my bedside table, or more lilacs and roses for around the house. In this world of chaos, and even just with usual work, it kind of makes me feel like I have my life together when I have flowers at home.
My favorite food smells like: There's this one Brazilian dessert that I love called brigadeiro. It's like a chocolate truffle and basically all you're doing is cooking condensed milk and putting chocolate in it. It takes a really long time. So for about half an hour, you're stirring this pot of condensed milk and slowly bringing it to a boil, and it just has this yummy, milky smell that fills the entire house. It always sparks the memory of the day of your birthday party, because every birthday party has brigadeiros. It smells like anticipation of a celebration and having people over.
Sunday morning smells like: Earl Grey tea and toast with butter. That's my indulgent breakfast, and I only have it once a week on Sundays.
Monday morning smells like: Coffee and eggs, so I'm back to business.
The worst smell is: The smell of gasoline. That will make my stomach turn.
My home smells like: So many things. It smells like dinner being prepared, because I have two small kids, and dryer sheets because I'm constantly doing laundry. It smells like all the flowers I buy, and candles, which I change seasonally. During spring and summer I'll burn our Cheirosa 62, and the NARS Oren candle. During the holidays, when winter is starting, I like burning the NEST holiday candle.
If I could have one smell on my hands forever, it would be: Lavender, for sure. I used to suffer from migraines and the smell of lavender always made me feel better. To me, lavender is much more than a relaxing scent, because it makes me feel safe and like I'm going to get better eventually.
I smell like: I wish I was the kind of person who had a signature scent, but I don't. I love fragrance and wearing all different types. I don't even have one type of fragrance that marks a moment in my life because I switch it up so much. But some of my favorites are Byredo Sunday, Atelier Cologne Clementine California, Jo Malone Nectarine Blossom & Honey, and obviously I love our Sol de Janeiro fragrance and I love to wear that together with the Bum Bum Cream. When my kids were babies and while I was pregnant, I would actually wear this Brazilian perfume from Natura. They have a mommy and me perfume. It's a very light, soft lavender, so while I was pregnant and very sensitive to smell, I'd wear it on myself and put it on them, too.
If you buy something through our links, New York may earn an affiliate commission.