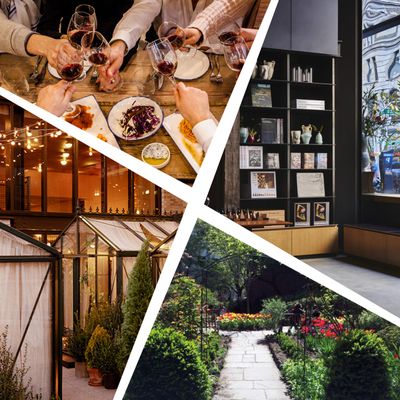 Photo: Courtesy of the retailers
There's always that day in April in New York: when the temperature approaches 70°F, the trees seem to flower overnight, and the entire city bursts open. Restaurants become open-air cafés. The streets swell as each one of NYC's 8.5 million residents goes for a walk, and every neighborhood hums with possibility. This is when you drop your to-do list, put on the spring clothes you've been stockpiling since February, and go outside with one goal: to enjoy the weather.
That day might not be here yet, but when it comes, we'll be ready. It's why we've asked two in-the-know New Yorkers where they can't wait to go when the weather warms up, and what they can't wait to wear once they're there. Are we hyping a season? Maybe. But spring is magic. It deserves it.
Engagement Editor at Vox Media
Elspeth moved to New York after graduating from college 15 years ago, and today the 37-year-old lives in Williamsburg with her husband and children. Her favorite thing about spring in New York is the air of optimism that seizes the city. People are happier. They come out of hibernation, talk about their plans for the summer, and start wearing light, brighter clothes. For her, that usually looks like ankle-length jeans, white sneakers, a blouse or sleek T-shirt, and trench coat.
For a Remote Office With a View
The Hoxton
When I can work remotely, I absolutely love walking over to The Hoxton in Williamsburg. It has a gorgeous (and large) outdoor terrace that's an extension of its restaurant, Klein's, where laptops and dogs are welcome (a combo I can get behind). Summerly, a rooftop bar that's also in the hotel, is perfect for after-work drinks and bites, and it has some of the best views overlooking NYC from Brooklyn.
For Playing Tourist Without Feeling Like One
Bar Wayō
Bar Wayō was one of my go-tos in 2019, and I'm looking forward to going back. It's right on the water in a newly revamped section of the South Street Seaport, and it has unique takes on traditional bar fare and inventive cocktails (like a spicy marg with aji amarillo peppers and yuzu). It's a little off the beaten path in an otherwise touristy area, so it's a perfect combo of being in a great spot without the bustle.
For a Museum You Haven't Visited 10 Times
Fotografiska
I'd love to visit the new Fotografiska photography museum that recently opened and then head to its restaurant, Verōnika, for what's supposed to be an incredible dinner. It feels pretty rare for a new gallery to open in such a large downtown space, and I'm looking forward to seeing its rotation of exhibitions.
To Wow Out-of-Town Guests
The Gardens at the Church of Saint Luke in the Fields
I love walking friends who are visiting through the West Village to get a quintessential tour of old NYC. A little "secret" spot I love showing them are the Gardens at Saint Luke in the Fields. It's hard to believe you're in NYC. If it's time for happy hour, then I'll scoot us over to Blue Ribbon Downing Street Bar for a glass of wine and small plates. Blue Ribbon is just another New York institution.
Senior Integrated Marketing Manager at Vox Media
Kiefer, 31, has lived in West Harlem for the past five years, but he spends plenty of time downtown. He loves the freedom and spontaneity spring brings. People take impromptu yoga classes, eat dinner outside, and go on longer walks with their dogs — longer walks everywhere, something for which, he notes, a comfy pair of shoes is essential. There's a sense of relief that hits the city in spring, a collective feeling of "we made it," he says.
For a Non-Divey Gay Bar
No Bar
I love to grab drinks with friends at No Bar at the Standard Hotel in the East Village. Its cocktails are amazing — my favorite is a tropical one called Man After Midnight, which is made with mezcal, grapefruit, and cinnamon — and its open-air seating as well as its open and inclusive attitudes make it a must for when I have visitors (and even when I don't).
For Photo-Ready Tiki Cocktails
The Happiest Hour
Look, @ me if you want, but the place has a good vibe, good drinks, and usually a good DJ. I have zero regrets about dancing circles with my friends around the clientele and the palm-frond wallpaper. Afterward, I like to walk across the street to Olio e Piú afterward for dinner, as that's one of my favorite restaurants in NYC.
For Italian That's Just the Right Amount of Traditional
Coco Pazzo
This Italian restaurant on the corner of Prince and Thompson in SoHo is cozy, chic, and delicious. I'd go there any time of year, but while there's no outdoor seating — I'd love it if there was — spring is the season I find SoHo at its buzziest while still being walkable.
For a Long Downtown Stroll
Battery Park
When I used to live on the Lower East Side, my roommates and I would walk across town to go and spend time in Battery Park, right by River Terrace. It was always clean, full of dogs, and was the nicest reprieve from some of the…less desirable aspects of living in the LES. Walking there also led me to Postmasters Gallery in Tribeca. What originated as a reprieve from the heat one day turned into a love of the multimedia exhibits there. Everything I see there is different from any of the other galleries I've been to; loved it then, love it now.
Kiefer's Shoes for Springtime
All images courtesy of the retailers.
This advertising content was produced in collaboration between Vox Creative and our sponsor, without involvement from Vox Media editorial staff.