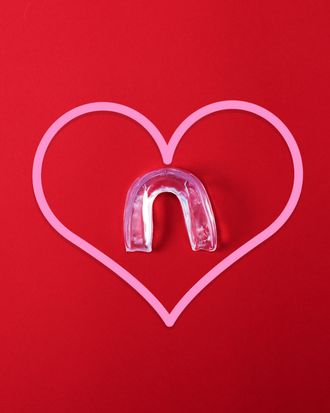 Please note the story you're reading was published more than a day ago. COVID-19 news and recommendations change fast: Read the latest here to stay up-to-date. We've lifted our paywall on all essential news and updates about the coronavirus.
One thing the COVID-19 outbreak has made abundantly clear to me is that I am lucky. I have health and relative youth. I have the ability to work from home. I have enough money to stock up on nonperishables. I have friends to text with and a dog to keep me company. And I have the proclivities of a recluse, so much so that being under "quarantine" has changed my life basically not at all. This includes the use of certain tools now used to relieve the effects of pandemic-induced stress: a daily at-home yoga practice, meditation. And one that actually works: my mouthguard.
A few of my co-workers commented this morning that the stress of COVID-19 has caused them to take up the unfortunate habit of nightly teeth grinding. I understand. In addition to waking up with headaches, a clicking jaw, and teeth a little nubbier than usual, I assume they are also waking up with clenched fists and worse complexions. The stress has to go somewhere. This is particularly true now that we can't "work out" anymore, the way we "used to." (This is a lie for me — I never did, but I have to imagine it's true for some people.)
I highly recommend a mouthguard.
I starting using one a few years ago after a dentist, horrified after looking into my mouth, told me I needed to start using a mouthguard immediately. She also told me that, because of my grinding, I needed a root canal that would cost thousands of dollars. Well. Whether or not I eventually got that root canal several years later is another story. But that day I, appropriately frightened, went directly from the dentist's office to the drugstore, to buy a cheaper version of the dentist-made version she recommended. (I had one of the custom ones in high school, for the same grinding reason, but eventually lost it. As an adult, I now know that dentist-made mouthguard probably cost about a million dollars. Damn. I wish I had it now.)
The one I bought was this one, which you can order online using that link. (There are also others for sale online, if you don't trust my recommendation.) You boil it at home and fit its then-moldable plastic to your mouth, like you're on a sports team. And voilà, you have a mouthguard, perfect for use during my favorite sport: wresting sleep away from unending anxiety. Now you are protected. Now you have a large chunk of plastic fitted for your teeth specifically. Now you can rest easy, literally and figuratively. Now you are prepared.
I love my mouthguard for many reasons, primarily because it does its job. When I don't take it out of my mouth during sleep, which used to happen more but now happens almost never, it prevents me from grinding. And if I do grind my teeth, it at least stops me from damaging them. When I wear my mouthguard, I wake up without a grinding-induced headache, which always feels like magic. How did I fall asleep and not wake up in pain? It's an incredible invention.
"But I'm quarantining with my partner," you might think, worried. "Will they think I'm a dork with my nighttime mouthguard?" Possibly, but what are they going to do? Find someone cooler? In a pandemic? Yeah, right. Good luck.
I also like my mouthguard because, like a pajama set, it gives me a sense of control and order. I brush my teeth, I drink a glass of water, I put in my mouthguard, I put on chapstick. Then the bottom half of my head is ready for bed. Unlike a pajama set, though, the feeling of control is not totally false. The stress of enduring a global pandemic may ruin a lot of things — your skin, your social life, your idea that certain friends feel any sort of social responsibility, your trust in political leadership, which was already basically nonexistent — but it can't ruin one thing: the crowns of your teeth that would be ground away due to nighttime gnashing. Those are protected by your friend: mouthguard.
Thank you, mouthguard.