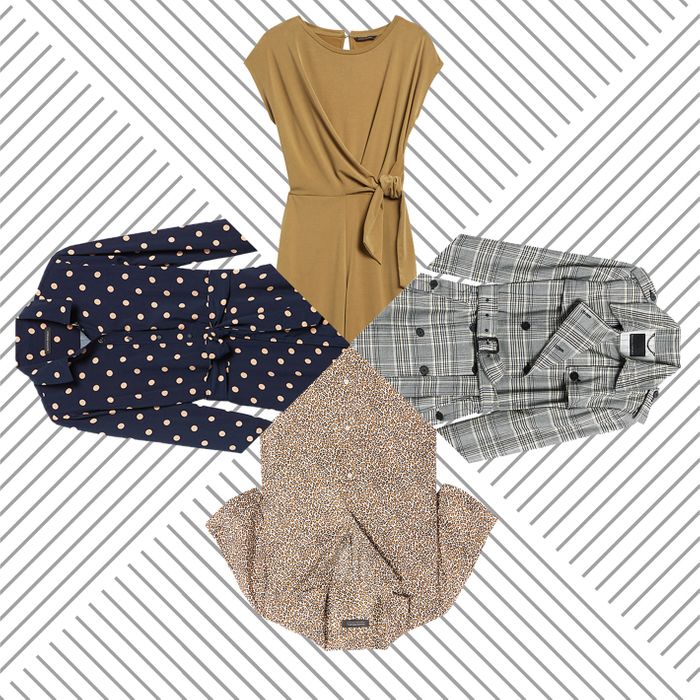 Photo: Courtesy of Banana Republic
A weird thing happens when you say the words "work wear" — almost everyone pictures the same stuff: the basic button-down, the black slacks, the sensible flats. But in 2020, most of us have a lot more leeway in dressing for the 9 to 5 than this HR manual of an outfit would suggest. If you work in tech, design, media, or any vaguely creative field, coloring outside the sensible-cardigan lines isn't only allowed, it's actually expected. Work has changed — consider the hyper-relaxed dress code a small tradeoff for the fact that your boss can now text you on the subway platform.
If your work wardrobe is still catching up to the new rules, we're here to help. With a few fashion-forward pieces from Banana Republic — the cool-girl jumpsuit, the dramatic shirtdress — it's easy to evolve beyond the clichés, and create looks you actually want to wear from the boardroom, to Sunday brunch and beyond.
Read on for four brand-new ways to do the office outfit — each one completely worthy of your 8 p.m. dinner plans — and head to The Work Shop at Banana Republic for even more head-turning takes on your typical work wear.
The Tie-Front Jumpsuit
The problem: You're in a shift-dress rut, and you can't get out. The solution: Make Banana Republic's chic jumpsuit your new go-to. You can style it the exact same way as your standard office dress — add a clean-lined blazer, a trendy mule — but its tie-front detail and slightly cropped leg adds a whole new level of soignée charm. There's just something about a jumpsuit that always feels cool.
2. Banana Republic Leather Pointy-Toe Flat Mule, $108 at Banana Republic. 3. Danse Lente Mini Lorna Bag, $555 at Danse Lente. 4. Hillier Bartley Leopard-Print Hair Scarf, $125 at Matches Fashion. 5. Banana Republic Collarless Linen-Cotton Blazer, $159 at Banana Republic.
The Perfectly Tailored Trench
The trench coat — a stone classic with borrowed-from-the-boys appeal — gets a very au courant update in Glen plaid, and the result is the sharpest you've ever felt on a gray, rainy day. Lean into the menswear vibes with flattering, subtly flared trousers and minimalist accessories.
2. Jason Wu Ribbed-Knit Polo Shirt, $325 at Net-A-Porter. 3. Banana Republic High-Rise Flare Pant, $98 at Banana Republic. 4. Mansur Gavriel Everyday Crocodile-Embossed Leather Tote Bag, $695 at Matches Fashion. 5. Banana Republic Leather Buckle-Strap Mule, $118 at Banana Republic.
The Cheetah-Print Blouse
Every office worker has at least one: the plain, white button-down shirt. But you know what you don't have? A cool cheetah-print blouse with a slightly cropped fit that feels a little flirty and retro in all the right ways. Pair it with a twill skirt and — wait, did we just make business casual actually look cool?
2. Banana Republic Madison 12-Hour Low Slingback Pump, $118 at Banana Republic. 3. Banana Republic Chunky Pavé Chain Necklace, $47 at Banana Republic. 4. Loewe Top Handle Gate Tote, $2,250 at Farfetch. 5. Banana Republic Paper Bag Midi Skirt, $98 at Banana Republic.
The Weekend-Worthy Shirt Dress
In our humble opinion, the whole "work clothes / real-life clothes" divide needs to stop. Stepping up to bridge the gap? This seriously stylish Banana Republic maxi dress. Its dramatic length and playful polka dots make it a natural fit for your most fashion-forward accessories. But it's a shirt dress — which is always a win at work. Fair warning: You will be tempted to wear this every day.
2. Rachel Comey Stroller Earrings, $125 at MoMA Design Store. 3. Wilfred Little Cropped Jacket, $99 at Aritzia. 4. Banana Republic Mini Suede Bucket Bag, $148 at Banana Republic. 5. Banana Republic Mule Slide, $108 at Banana Republic.
This advertising content was produced in collaboration between Vox Creative and our sponsor, without involvement from Vox Media editorial staff.