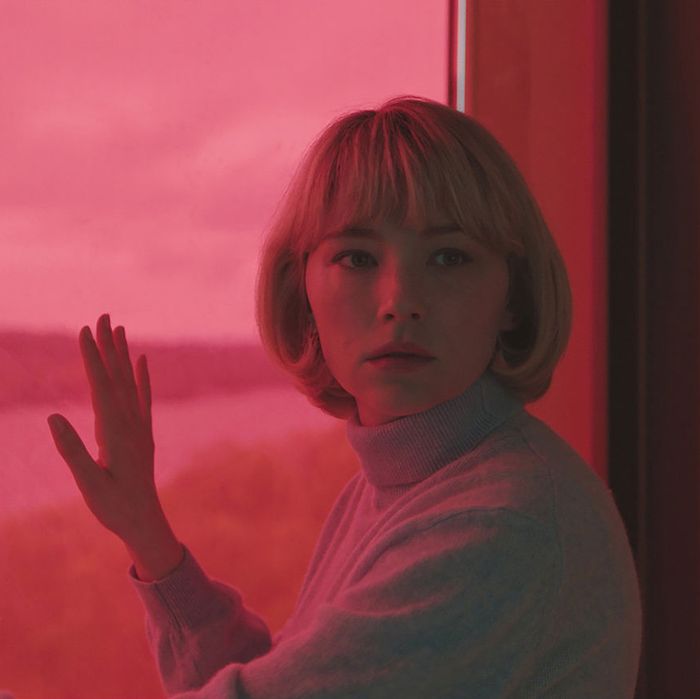 I'm usually not very squeamish, but I had to steel myself to watch all 90 minutes of Carlos Mirabella-Davis's new film Swallow, which chronicles the mental breakdown of a newly pregnant housewife who develops a habit of eating dangerous objects — needles, batteries, thumbtacks, etc.
The movie stars Haley Bennett as Hunter, a picture-perfect housewife in a stifling marriage to a wealthy asshole (Austin Stowell). It starts to fall apart after she develops pica, an eating disorder that involves imbibing nonfood items, such as hair, dirt, and metal objects. She's diagnosed with pica at the hospital after a routine ultrasound finds foreign objects in her stomach. As the film progresses, we watch her eat a marble, and later, a chess piece. Soon, she's swallowing safety pins and stuffing pages from her self-help book into her mouth. She almost dies after choking on a five-inch serrated screw.
The tone of Swallow is taut and terrifying; it lives somewhere in the woman-on-the-verge-of-a-nervous-breakdown genre and is aesthetically rich, colored in pinks and jade and china blue. But in spite of its drama and beauty, the film ultimately treats Hunter's disorder as pure spectacle, and the exploration of her trauma is brief and reductive. Instead of leaning into pure body horror, Mirabella-Davis attempts to trace the psychological reason for Hunter's disorder, a narrative add-on that is shoehorned into the last quarter of the film.
The half-baked analysis of Hunter's condition begins when she reveals a "dark secret" from her past to a friend-of-the-family psychiatrist, which viewers are supposed to accept as the source of her disorder. Hunter's confrontation of this secret, which plays out as a brief exchange in the last ten minutes of the film, is offered as a resolution to her lifetime of trauma. The movie ends on a triumphant note, and Hunter is assumed to be recovered with little to no professional intervention.
The film's perfunctory, sensational treatment of Hunter's diagnosis reminded me a little bit of that old TLC show My Strange Addiction. It ran in the 2010s and profiled "shocking addictions and obsessions!" by showcasing, reality-show style, people with dangerous (often life-threatening) compulsive habits. The subjects' "addictions" usually involved imbibing substances and objects, ranging from glass to used diapers to a dead relative's ashes.
It was voyeuristic and tonally deranged; episodes would open with a chirpy narrator saying something like "15 years ago, Karen began eating cat hair!" Its intent was to entertain rather than inform. And it achieved that, in a morbid, rubbernecking sort of way, with little time spent considering how psychologically unwell its subjects were.
Swallow is a fictionalized portrayal of a real disorder, and Mirabella-Davis treats Hunter with more empathy than a TLC showrunner ever gave its real-life paint-drinkers and glass-eaters. But by the end of the film, I'd still spent most of my time ogling the subject's self-torment than I did understanding the reason for it. And in that way, the film did feel a little bit like an episode of My Strange Addiction; just an elevated and lush version with a powerful, ennui-filled lead performance by Bennet. That said, I can't say that Swallow's art house veneer makes its cursory look at the mental state of its subject any easier to stomach than a TLC approximate.