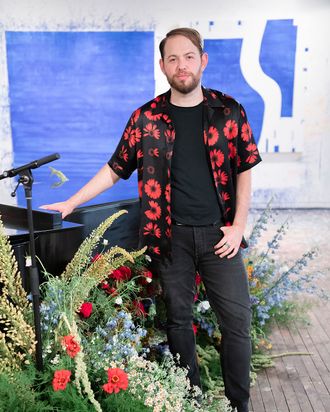 Jonathan Cohen.
Photo: Courtesy of Jonathan Cohen
Jonathan Cohen is perhaps best known for his use of textiles. The designer's spring/summer 2020 show featured bright, colorful outfits with patchwork coats and fringe dresses. And it included pieces from his line The Studio, which only uses fabric that was discarded in previous seasons — meaning trimmings from last season's dress could become this season's statement coat. Cohen designs almost every textile in the collection, and feels he should put the same care into his choices of fabric.
Cohen has wanted to be a designer since he was a kid sketching his favorite anime characters' outfits. But he says that he's generally much more focused on his collection than on his personal style. "I like to mix a lot of textures and blur the line between day and evening," he said. "For example, when I wear a suit, I love to make it feel a bit more relaxed by wearing a nice tailored T-shirt. Or an unexpected shoe that is less traditional, like Converse." We spoke with him about Birkenstocks, whiskey, and care packages.
How do you thank someone for a gift?
I always find a personal illustration with a note goes a long way. It feels unique to each individual. A bottle of whiskey goes a long way too!
What would you never wear? 
Never say never! I thought I would never wear Birkenstocks again after age 14, but that changed.
What's your dream vacation?
I have always wanted to go to Africa. I have always dreamed about going on a safari in the Serengeti.
What's a good book on your coffee table right now? 
My dad always sends me nice care packages from back home. He recently sent me an old copy of Brave New World. I haven't read it since I was a teenager, so it was fun to read as an adult with new perspective.
Last show you binge-watched?
Succession. SO GOOD.
Secret to hosting a good party?
I make a killer ceviche that always is a hit. Also whiskey! Music is always very important; I love creating mixes before I have people over. Sets a nice mood to the evening.
What is a trend that you like right now?
Individuality.
One you don't understand?
I have never understood trends, in all honesty. To me, fashion is such a personal journey. I also believe in investing into pieces that will last in your closet. Not something that you will toss out after a season because it might not fit the current mold of what is on trend.
Favorite restaurant in New York?
ABCV. And I am not even vegan! Also, I love Evelyn in Fort Greene.
Shoes you wear most often?
I am forever a California boy, so I love Dr. Martens and Vans. Always have a pair in my closet.
What's your favorite… 
Pajamas?
#mycalvins.
Candle?
Aesop.
Scent?
Aesop deodorant spray.
Socks?
Black formal socks.
T-shirt?
James Perse.
What are two photos that define your style?
I like to invest into pieces that will last. I have a Dior leather jacket that I bought on my 21st birthday that I still wear to this day. I actually wore it to this year's CFDA/Vogue Fashion Fund Gala with my Jonathan Cohen printed Hawaiian shirt. I love items that you can dress up and down, which is why I have been living in my JC shirts. I can wear them casually or dress them up with a suit. It's great.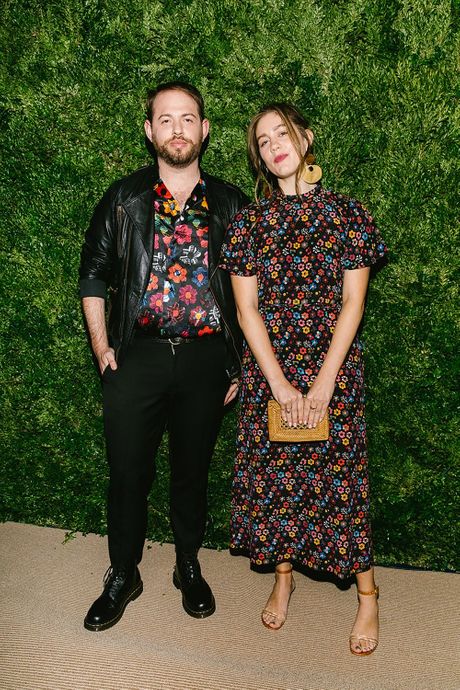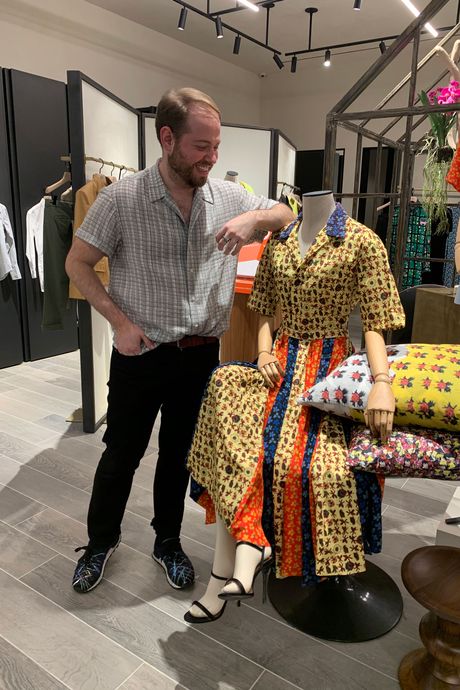 What is your favorite space in your studio/office/home?
I love my desk by the window that overlooks the Bowery. It's one of my favorite areas of New York. I've always wanted to have a studio here. It's where I sketch, research, and work on the prints for the collection, so it is a very special corner for me.
Shop the Story
Available in men's sizes S–XL.
If you buy something through our links, New York may earn an affiliate commission.