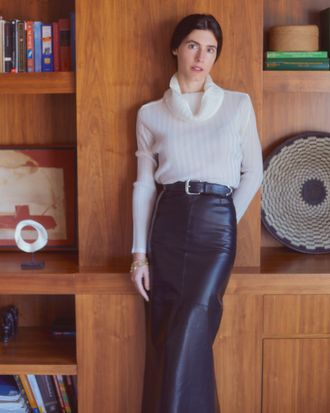 Danielle Corona.
Photo: Oliver Fernandez
Danielle Corona's accessory brand, Hunting Season, is a fresh breath of refinement in a time when maximalism gets all the attention. Rather than solely concerning herself with the final product, Corona approaches the design process thoughtfully. A community of artisans in Colombia use local techniques passed down through generations, handcrafting every handbag with ethically sourced materials like exotic skins, Italian nappa leather, and banana leaf. Even the hardware is handmade in Florence. In fact, the handbags are so luxurious that the New York Times called the brand "Hermès Junior," noting that despite the fine craftsmanship, they won't break the bank.
Corona has always been drawn to design — studying accessory design before interning in Rome for Valentino. "I realized my path would be rooted in accessories," she told the Cut. In 2006, she launched Hunting Season, and 12 years later was a finalist for the CFDA/Vogue Fashion Fund in 2018. We spoke with Corona about wabi-sabi, Saint Laurent, and sexy pajamas.
How do you thank someone for a gift?
A handwritten note on my personal stationery.
What would you never wear?
Logos have always felt very awkward to me. I believe in the individual. You are your own brand.
What's your dream vacation?
Nature. Preferably by the sea with good food, good company, good music, and no cell phone.
What's a good book on your coffee table right now? 
Wabi-Sabi for Artists, Designers, Poets & Philosophers.
Last show you binge-watched?
Ottoman Empire.
Secret to hosting a good party?
A good playlist, lighting, and a well-stocked bar.
What is a trend that you like right now?
Sustainability, which I believe is not just going to be a trend.
One you don't understand?
Trends in general.
Favorite restaurant in New York?
Sant Ambroeus West Village. Cozy, good food, and reminds me of when I first moved to New York City.
Shoes you wear most often?
Every year I buy a pair of Saint Laurent boots in black and brown. They have a thick, short-stacked heel and a small belt with a buckle. They are comfortable and have a bit of a Western feel. I wear them every day. Otherwise it's The Row boots or Venetian slippers.
What's your favorite… 
Pajamas?
La Perla when I'm turning it on. For very soft PJs, I love Hanro.
Candle?
Loto del Sur. It's my favorite Columbian brand of soaps and candles made from natural botanicals found in this part of the world.
Scent?
Santa Maria Novella incense I received as a gift once and now always stock at home.
Socks?
Falke.
T-shirt?
I don't really wear T-shirts. I have a collection of a few that have been collected over the years from different occasions. I will wear these especially if I am doing something sporty.
Shop the Story
Photo: DANIEL ROUSSELOT/©DANIEL ROUSSELOT 4, cité Leclaire 75020 Paris Tel: +33 6 61 99 17 34 Daniel Rousselot est titulaire de tous droits d'utilisat
If you buy something through our links, New York may earn an affiliate commission.