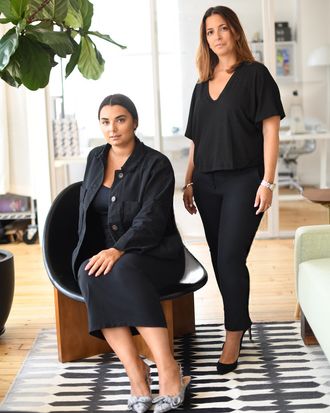 Apparis makes black and brown coats that look so much like real fur, you almost have to worry that someone will throw a bucket of paint on you. Thankfully, the brand also makes neon orange and patterned furs that are a bit more obviously faux. Founders Lauren Nouchi and Amélie Brick wanted to make a vegan fashion brand that still looked and felt high-end. They tested their faux-fur coats at a pop-up in Williamsburg, and soon after, started their label. "It felt obsolete to continue to kill or harm animals to make fashion," said Brick, the brand's creative director.
Brick and Nouchi hit on a growing trend. Muppet-like coats were popping up on the runway everywhere from J.Crew to Raf Simons's Calvin Klein. And both founders are French, with all of the sartorial connotations that come with that — their furs are often the final flourish on a classic outfit. We spoke with them about their love of loafers, vintage tees, and anything that feels timeless.
How would you describe your style? 
Lauren Nouchi: I would say my personal style is clean and modern. I love a crisp white shirt, jeans, loafers, and a sleek, colorful bag to pull everything together. In a way, our Apparis coats are just like my accessories — a beautiful pop of color to make everything feel cohesive.
Amélie Brick: My style is a mix of bold and timeless pieces. I love to mix a good suit with a colorful pair of sneakers. As the creative director of Apparis, I would say that my style is definitely aligned with our brand and products. I am all about making a statement and being bold with my fashion.
What would you never wear? 
Both: Real fur.
What's your dream vacation?
LN: Bali for three weeks.
AB: A city where I can not only learn about a new culture but also relax and recharge.
What's a good book on your coffee table right now? 
LN: New York Club Kids by Waltpaper. I love his point of view into the underground club scene of the late '80s and through the '90s.
AB: Ellen von Unwerth's Devotion! — about her 30 years of photographing women.
Last show you binge-watched?
LN: You. I just couldn't get enough!
AB: Euphoria. 
Secret to hosting a good party?
LN: Lots of yummy snacks.
AB: Wine.
What is a trend that you like right now?
LN: Oversized blazers.
AB: Chunky headbands.
One you don't understand?
LN: The VERY oversized bag.
AB: Puff shoulders.
Favorite restaurant in New York?
LN: Ilili.
AB: ABCV Kitchen.
Shoes you wear most often?
LN: Gucci Jordaan loafers. They go with everything.
AB: My chunky Prada black boots.
What's your favorite … 
Pajamas?
LN: Lunya's organic pima shorts and muscle tee.
AB: Morgan Lane cotton pajama set.
Candle?
LN: Le Labo Santal 26.
AB: Boy Smells.
T-shirt?
LN: Frankie Shop muscle tee.
AB: A vintage NASCAR T-shirt I got in a vintage store in L.A.
What's your favorite place in your home/office/studio?
LN: My garden in the Hamptons. It's so quiet and peaceful, I can really relax and unwind.
AB: The entrance of our office is my favorite space because I get to remember every day why I am working so hard toward building Apparis and our community.
Shop the Story
Photo: Courtesy of the Retailer
If you buy something through our links, New York may earn an affiliate commission.