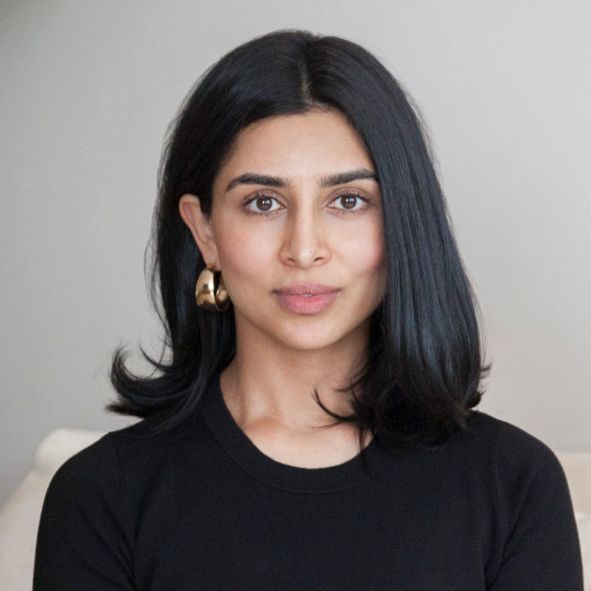 Sarah Abbasi
Photo: Romer Pedron
Sarah Abbasi's bridal line, Sahroo, is inspired by what she sees women wearing in Pakistan, where she grew up — lots of two-piece sets with pretty appliqués and crystal beads. Abbasi started her career at IBM, then moved to Ernst & Young. Craving creativity, she started Sahroo, but not as a bridal brand. It wasn't until her white pantsuit outsold all the other clothes five to one that she realized bridal was her niche.
Everything in her line is made of silk, embellished with glass crystals and feathers, and handmade in Pakistan. In an effort to be as environmentally friendly as possible, the brand is carbon neutral through offsets. The silk gets sun-dried after dyeing, and the factories are low waste. Oh, and if you're looking for a special wedding gown, these are a good bet considering each garment is only produced in a batch of 100. We spoke with Abbasi about synthetic fibers, her favorite florist, and the best place to get Pakistani food in New York.
How do you thank someone for a gift? I am a big fan of everything Fox Fodder Farm does. They are my go-to for everything "thank-you" related because of their quirky aesthetic and beautiful use of dried flowers (that feels like they last you forever!).
What would you never wear? Synthetic fabrics. Most synthetic fabrics have microplastics in them, which are horrendous for the environment and your body. The Sahroo artisans will pull one silk thread from the edge of their bolt of fabric and set it alight in front of the team. If it burns cleanly into ash, it's pure silk. But if it's heat resistant and melts into a plastic, that means it's impure or mixed with synthetics, or even processed alongside harmful chemicals — none of which is perfection, and none of which we'll tolerate in our garments or in my day-to-day wardrobe.
What's your dream vacation? At a Six Senses resort! They are sustainable, luxury resorts. Their beautiful resort in Bali has been crafted from sustainable materials and aims to be plastic free by this year.
What's a good book on your coffee table right now?
Women: The National Geographic Image Collection. I went to a really wonderful event hosted by Women in the World x National Geographic at the Prada store in Soho. They gifted us these beautiful books. I could not wait to get home and see all these images of women around the globe. It was deeply inspiring to peek into their private lives, their accomplishments, joys, and heartbreaks. I really admire the work that they do.
Last show you binge-watched?
The Crown season three and The Durrells in Corfu season four. Both shows tell rich, engaging stories and have the most incredible cinematography — especially The Durrells in Corfu, which is set in the beautiful Greek island of Corfu.
Secret to hosting a good party?
If the hosts are relaxed and having a great time, that significantly influences the vibe of the party. I never keep anything in the home that I would fuss about and then we're able to really just focus on getting to know each other and have fun. Also, a fun little trick I've learned is serving the food straight on the table — no serving plates, utensils, etc. It creates a family vibe as we come together to eat.
What is a trend that you like right now?
Matching sets! I think they are here to stay.
One you don't understand?
Super, super-tiny sunglasses. Where is the sun protection?
Favorite restaurant in New York?
Ah, I have two: Omen Azen and The Masalawala. Omen has the most delicious organic fish, and Masalawala has the absolute best subcontinental (Indian and Pakistani) food. I always order three of their "Pani Puri" without batting an eye. Masalawala also donates a portion of their sales to women who are survivors of domestic abuse.
Shoes you wear most often?
Sneakers. Most days I am working and constantly on the move, so I love wearing comfy sneakers, which more often than not end up being hideous dad sneakers. I love Stella McCartney's or Gucci's Off-White Vintage Logo Rhyton Sneakers.
What's your favorite…
Pajamas?
Lunya organic cooltouch cotton
Candle?
Mrs. Meyer's candles — they are superclean and smell incredible.
Scent?
I love the way the Tata Harper products smell. I wish they would make a fragrance. I also love Tom Ford Jasmin Rouge.
Socks?
Comme Si — they are so gorgeous and luxurious.
T-shirt?
Les Girls Les Boys shirts!
What's your favorite place in your home/office/studio?
My bookshelf. It reminds me of all my goals, and it inspires me. Among the books displayed are ones on how to learn French, beautiful homes across the world, interesting cookbooks, etc. I also love, love color. One of my girlfriends came over, when I first moved in, and she told me how she had color coded her bookshelf — then that night, I stayed up all night and arranged all my books to look like the colors of the rainbow. The entire wooden cupboard next to the bookshelf is filled with books that didn't make the color coding cut but that I also adore.
Shop the Story
If you buy something through our links, New York may earn an affiliate commission.