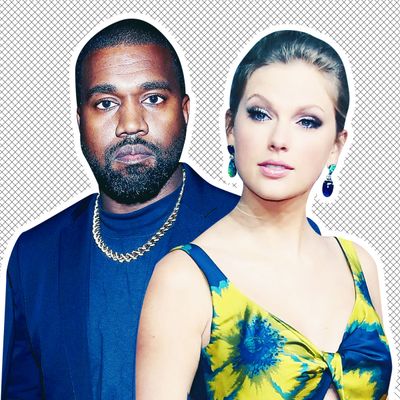 In the midst of the coronavirus pandemic, many aspects of American society have come to a standstill as citizens self-isolate to prevent the spread of the virus. Nonessential businesses in several states have temporarily shut down; churches have closed their doors; talk shows have started filming before empty audiences, or stopped shooting altogether. But amid all this chaos, one thing remains constant: The immemorial feud between Taylor Swift and Kanye West churns on, having taken yet another turn this weekend.
Late on Friday night, nearly half an hour of footage from a 2016 phone call between Swift and West leaked online and began to spread across Twitter. The phone call was at the center of an argument between Swift, West, and his wife, Kim Kardashian West, in 2016; until now, it has only been heard in snippets, leading to confusion about what was said.
Specifically, it's a discussion between Swift and West about the latter's song, "Famous," released in February 2016. The song's lyrics kicked off an argument between the two in 2016 because it featured the controversial line: "I feel like me and Taylor might still have sex. / Why? I made that bitch famous." (This is a reference to the infamous moment between West and Swift at the 2009 MTV VMAs, in which West interrupted Swift's acceptance speech, for the year's best female video, to say that the award should have gone to Beyoncé.)
To recap, briefly: After the song's release, TMZ reported that West had cleared the lyrics with Swift, a claim that West echoed on Twitter. Swift's publicist, Tree Paine, denied this on Swift's behalf, telling the New York Times, "Kanye did not call for approval, but to ask Taylor to release his single 'Famous' on her Twitter account." Paine added, "She declined and cautioned him about releasing a song with such a strong misogynistic message … Taylor was never made aware of the actual lyric, 'I made that bitch famous.'" Shortly after, in a feminism-tinted Grammy's speech, Swift seemingly addressed the drama with West, speaking vaguely about "people along the way who will try to undercut your success, or take credit for your accomplishments or your fame." The situation further devolved when he released a music video for "Famous" that contained nude waxworks of various celebrities, including Swift.
The phone call of it all came in the summer of 2016, when Kim Kardashian West released a series of videos on Snapchat that showed her husband speaking with Swift on speaker, in an attempt to vindicate his side of the story: that he'd cleared the lyrics with Swift, and that she was playing victim after-the-fact. In the footage Kardashian West posted, the artists discuss the line "I feel like me and Taylor might still have sex," which Swift ultimately approves and describes as "tongue-in-cheek." The release of these videos initiated a social-media takedown of Swift, who, in a now-deleted Instagram post, reiterated that she never approved the "that bitch" lyric. (Swift revisited the fallout of the feud in her recently released Netflix documentary Miss Americana, explaining that it led to a year-long period of reclusion and prompted her Reputation album and tour.)
And now, the new-new footage from the phone call complicates the story once again. (The source of the leak is unknown; Variety has a transcript here.) It shows West asking Swift if she would debut "Famous" on her Twitter account, as Paine told the Times in 2016. He also informs her that the song contains an "extremely controversial line" about her, and he goes onto describe a few versions of what became the line: "I feel like me and Taylor might still have sex."
He begins by telling her the line is: "To all my Southside [N-word] that know me best, I feel like Taylor Swift might owe me sex," which elicits a laugh from Swift, who says, "That's not mean."
West brings up the idea of her releasing the song on Twitter again, which Swift says she has to think about, adding "[The line] is absolutely crazy. I'm glad it's not mean, though. It doesn't feel mean. But oh my God, the buildup you gave it, I thought it was going to be like, 'That stupid, dumb bitch.' But it's not. So I don't know."
They discuss different versions of the line and the Twitter release for a few more minutes. Then, West asks: "Okay, now what if later in the song I was also to have said, uh … 'I made her famous'?" They have the following exchange:
Swift: [Apprehensively.] Did you say that?




West: Yes, it might've happened. [Laughs.]




Swift: Well, what am I going to do about it?




West: Uh, like, do the hair flip?




Swift: Yeah. I mean … Um … It's just kind of like, whatever, at this point. But I mean, you've got to tell the story the way that it happened to you and the way that you've experienced it. Like, you honestly didn't know who I was before that. Like, it doesn't matter if I sold 7 million of that album ["Fearless"] before you did that, which is what happened. You didn't know who I was before that. It's fine. But, um, yeah. I can't wait to hear it.



They go on to discuss unrelated topics, and the conversation closes with West promising to send Swift the song with "the exact wording and everything about it." Swift maintains that West never followed up.
The full video seems to vindicate pieces of both accounts: West did ask Swift to release the song via her Twitter, as Paine said in 2016, but Swift did not decline, rather telling West she would need to think about it. What's more, West did ask for Swift's approval of the lyrics, although never raised the specific idea of calling Swift "that bitch" in the song. And while Swift never gives full-throated approval to the line West did share with her, she doesn't try to argue that it's misogynistic, nor does she discourage him from releasing the song.
So far, neither Swift nor West have commented on that new footage. Guess we'll just have to wait for the Kanye West Netflix documentary to hear the next installment in this never-ending story.