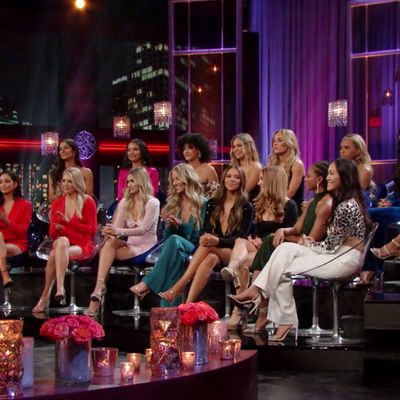 Over the course of this season of The Bachelor, roughly 500 barrel-curled women competing for Pilot Peter's love have been eliminated, and never heard from again. Until now, for Women Tell All, the episode where eliminated contestants get together to air their grievances.
Women Tell All is sort of an empty week, to be honest, a bulky, flavorless filler that they feed us to trick us into feeling full even though we're not really consuming anything of nutritional value, content-wise. Mostly, it's an opportunity to watch a bunch of women who have apparently appeared on this season (?) scream unintelligibly at each other. This week, producers tried to beef it up a little bit by giving us the remainder of last week's Fantasy Suite episode, and a PSA about harassment. Here were the most notable moments.
Hannah Ann Blankly Applying Lip Gloss
Before we get to hear what the legion of eliminated women have to say, we travel back to Australia, for the rose ceremony portion of the televised mating ritual known as Fantasy Suite week. As she gets ready for the ceremony, Hannah Ann, the Sonic Drive In model, stares blankly into a mirror and applies lip gloss with all the vim and vigor of a doorknob. Her brain in that moment seemed completely smooth — a glossy surface across which no thought, negative or otherwise, could gain purchase. As I watched her, I yearned to experience that level of serenity.
The Rose Ceremony


The big question left over from last week's episode was whether Madison, who is saving herself for marriage, could stomach continuing her relationship with Peter even though he boned two other women in the same week. At the rose ceremony, which is on a very windy hill, Peter cries and tells Chris Harrison he doesn't know if he handled this week the right way. On a raised ceremonial platform, Hannah Ann with her perfect lip gloss, and Victoria F. with her bad attitude, shiver, waiting for Madison to show up. At first, it seems like she won't, but then she does. She's clearly still upset about Peter's fantasy suite activities (sex) but she accepts Peter's rose nonetheless. Hannah Ann also gets a rose, and Victoria F., who, as you may recall, once modeled for a clothing company that used white supremacist slogans, is sent home. About time.
Rehashing Victoria P and Alayah
With the rose ceremony sorted out, we travel back to the studio for all the women we've forgotten about to yell at each other. First up: Victoria P. and Alayah. They were the ones who fought earlier this season because they were both in the Miss America pageant before the show, but for some reason Alayah told Victoria P. not to tell producers that they knew each other, and then Peter got mad at them for lying, and eliminated Alayah and then brought her back and then eliminated her again. Or something like that. Both Chris Harrison and I agree that the whole drama was "confusing." A lot of women I don't remember take this opportunity to talk shit about Alayah and Victoria P., and good for them for finally getting airtime, I guess. Someone named Lexi says Alayah treated the season like a pageant, and someone named Savannah shouts at Victoria P. Nothing is resolved, but everyone gets to shout.
Rehashing Champagne Gate
Next, we get to revisit "Champagne Gate" — the night when Hannah Ann opened a bottle of Champagne that Kelsey had been saving for over a year to open on the show, and then Kelsey completely lost her shit, and then a different bottle of Champagne exploded in her face. Kelsey laughs about it now, and admits that she overreacted. "I'm not gonna say I was justified in my reaction, but I was justified in my emotion," she says. Sure. The other women bring up the time Tammy accused Kelsey of being a pill popper, and that person Savannah, who triples her total airtime in this episode , comes again for Victoria P., who also apparently suggested Kelsey was on pills. This leads to the following perfect exchange:
Victoria P.: "From a medical standpoint, I'm a nurse…"
Savannah: "From a medical standpoint, you're a dermatologist."
Gorgeous.
Rehashing Mykenna and Tammy
Mykenna and Tammy's fighting was boring when it happened (Tammy questioned whether Mykenna was on the show for the right reasons; Mykenna cried), and it's boring to look back on. Mykenna still talks to Tammy like she's the protagonist of a Disney channel original movie finally confronting her high school bully. "Why don't you come to Canada and learn how to treat people with love and respect and kindness," she says. Tammy rolls her eyes, and so do I.
Kelsey in the Hot Seat
Chris Harrison calls Kelsey up to talk about Champagne Gate some more. What else is there to say? Nothing much, is the answer. As a surprise, Chris brings out Ashley Iaconneti, a contestant on Ben Higgins's season of the Bachelor in 2015, who, much like Kelsey, also cried constantly. She thanks Kelsey for "representing us emotional girls," and gives her a bottle of Champagne the size of a Honda Civic.
Victoria F. in the Hot Seat
Victoria F., dressed head to toe in bright red to embody her truest form — an enormous red flag — tells Chris Harrison there's a lot she would have done differently this season, though she denies ever having broken up any marriages, despite what that woman said during her hometown visit. Chris says he can finally see why Peter fell in love with her, which I guess is an okay consolation prize.
Peter Crashing Bachelor Watch Parties
Before Peter comes face to face with the girls he's eliminated, Chris Harrison shows some clips of him, Peter, and Peter's parents crashing Bachelor watch parties around Los Angeles. All of the party hosts lose their minds when Peter walks in. At one party, there are a bunch of babies dressed as pilots. At another, a woman says Peter crashing her party is better than her wedding. This makes me really sad. The segment ends with a bit where Peter and Chris Harrison walk up to the SUV they're driving in, but Peter's parents seem to be having sex in the back? It's clearly just a joke, but it's still really weird.
After the party-crashing segment, Peter comes out to see the women. Chris Harrison brings up that a lot of people have criticized Peter for being so obsessed with drama, and Peter says that criticism is good, and he can learn from it. I bet he loves the drama of criticism.
Rachel Lindsay's Anti-Harassment Segment
Before the episode ends, Chris Harrison brings out former Bachelorette Rachel Lindsay to talk about the harassment Bachelor contestants face. She reads out some of the vile, racist, misogynistic, and threatening messages this season's contestants have gotten. Tammy says that, since being on the show, she's gotten death threats sent to her work email. It's an upsetting segment, but sadly, not entirely surprising.
Next Week's Preview
The episode ends with a preview of next week's finale. Chris Harrison says this season has "one of the most surprising and complicated endings" he's ever seen. We see, again, the clip of Peter's mom sobbing and saying, "Don't let her go. Bring her home." Who could she be talking about? We'll see next week, but here are a couple of people's theories.