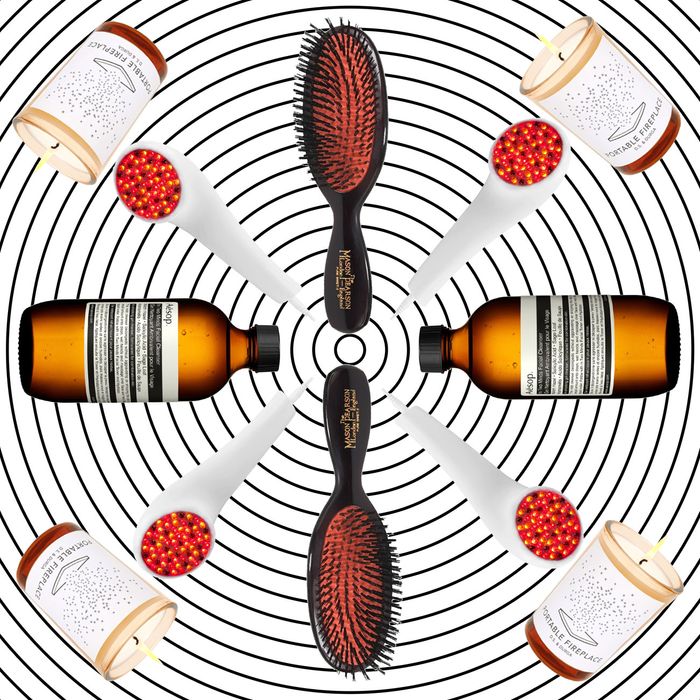 Photo: Courtesy of the Retailer
The Nordstrom sales gods are kind, and they've decided to bequeath us with a massive 25 percent sitewide sale. Incredible, rarely-on-sale things are now on sale (although, sadly, Good Genes and all the Dyson products are already sold out). You'll want to act fast on this one. From a legendary hairbrush to a fireplace candle that isn't Diptyque to an at-home light-therapy device, here are some of the best things to scoop up now.
A Heavy-duty Cream
There's an excellent chance your hands are really freaking dry at this point, so pick up this heavy-duty skin protectant. Its moisturizing powers are legend and transcend species — rumor has it Elizabeth Arden herself used this to soothe the legs of her thoroughbred horses after races, so it should suffice for your raw hands. It creates a protective "glove" that seals moisture in for, yes, eight hours.
Slinky Pajamas for Your Pillow
These pure-silk pillowcases will make you feel luxurious regardless of which position you plop down in. Side sleepers will wake up with fewer pillow creases on their faces and less skin-care product on their pillows, and back sleepers will experience a decrease in incidents of morning bedhead and tangled curls. Throw a slip Sleep Mask in there while you're at it — those are on sale, too.
Burning Embers Enclosed in Glass
Having a fireplace is a luxury. Fortunately, this candle — fragranced with pine, cedar, birch, and smoke — provides all the comforts of a cozy fire without any of the hassle. Just make sure you're well stocked on matches.
A Beautiful Face Cleanser
Everything in Aesop's world is muted, calm, and restrained. You might not feel like that right now. But a little of its soothing, gentle face cleanser might transport some of that calmness to your world. (It's worth mentioning that it's rarely, if never, on sale.)
Help for Infiltrating Roots
If you're not quite ready to reveal your natural hair color, a few blasts of this tinted spray says your secret's safe for the time being. Those whose color falls in the lighter shades might want to order sooner versus later, as there are only a few cans left in the different shades.
A Retinol That Isn't Messing Around
If you've been hesitant to dip your toe in the retinol pool due to fear of public redness and getting your skin blasted by the sun's rays, now's a great time to jump on in. This award winning formula will slough off all the things (bumps, breakouts, sun damage) that have been keeping your face from looking smooth. Still nervous? This treatment also has a time-release formula that was designed to gradually release retinol into the skin to reduce irritation.
A Cheerful Tinted Lip Balm
This is one of the best tinted lip balms around. It feels positively silky without sliding around your lips. The colors are also great, ranging from soft cashmerelike nudes to bright look-at-me pinks and reds. It's a lipstick that actually feels moisturizing without compromising on color payoff or moisture.
The Legendary Brush Is Finally on Sale
This brush is a legend. It's in the kit of every famous hairstylist (they all praise its durability), and its fans include Charlotte Tilbury and Kate Middleton. It's pricey for a hairbrush, but prized for its unparalleled ability to smooth and shine hair. If you want fancy pony hair, you need this.
Some Extra Light During Difficult Times
In this age of videoconferencing, that Zoom filter may be helpful, but it's not a complete miracle worker, so this at-home gadget is ready to pick up where the filter left off. Multiple wavelengths of LED light work together to help make your skin texture smoother and more even, and de-puff under your eyes. And while it makes no claims to do so, we suspect ten minutes of this light probably provides a little SAD therapy as well.
If you buy something through our links, New York may earn an affiliate commission.