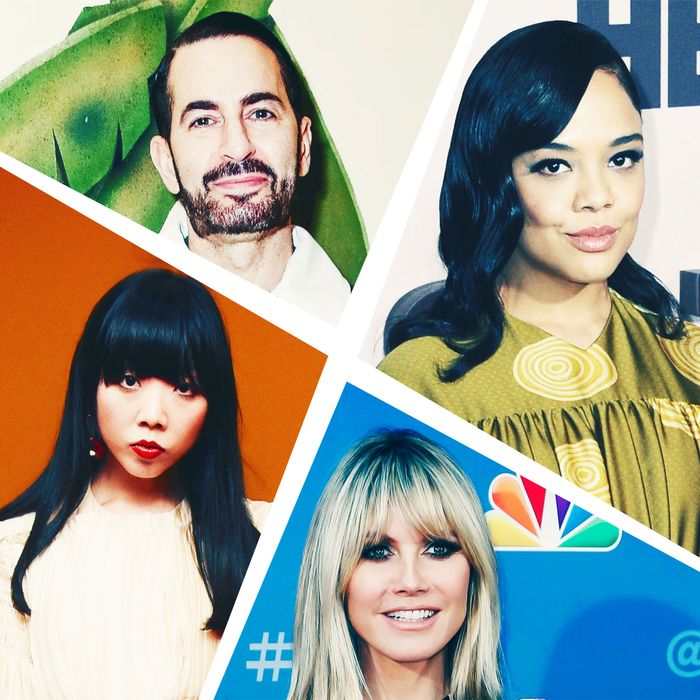 Fashion Month may have finally come to a close this week, but that doesn't mean that the parties have. Susie Lau made a bold statement in a dress with a uterus embroidered on it. Tessa Thompson looked fittingly dramatic at the Westworld season three premiere, and Marc Jacobs wore head-to-toe leather in a fabulous skirt suit. Who wore the best look? Scroll to see everyone, below.
Best Situational Camouflage: Michaela Dangelo
At the celebration of the Paco Rabanne store opening in Paris.
Coolest Ski Jacket: Adesuwa Aighewi
At the celebration of the release of the book The New Black Vanguard at Gucci Wooster.
Best Blazer Dress: Delilah Belle Hamlin
At the launch of her style edit with ASOS in Los Angeles.
Best Skirt Suit: Marc Jacobs
At the Dior Contemporary Curated auction cocktail celebration at Sotheby's.
Most Feminine Details: Susie Lau
At the Launch of The New Gucci Mascara L'Obscur in Los Angeles at Gucci Beauty Network Studios.
Most Elegant Polka Dots: Tessa Thompson
At the Premiere Of HBO's Westworld season three.
Prettiest Print: Heidi Klum
At the "America's Got Talent" season 15 Kickoff at Pasadena Civic Auditorium.
Best in Black: Sydney Park
At the American Vanity Skincare Launch Party.
Most Angelic: Julia Sinelnikova
At the Armory Show 2020 Preview Day.
Most Likely to Be a Detective: Valerie Macauley
At the MZ Wallace x Lingua Franca Launch Party.
Most Subtle Color Coordination: Joan Smalls
At Rothy's Launch of the Bag Collection at La Mercerie.