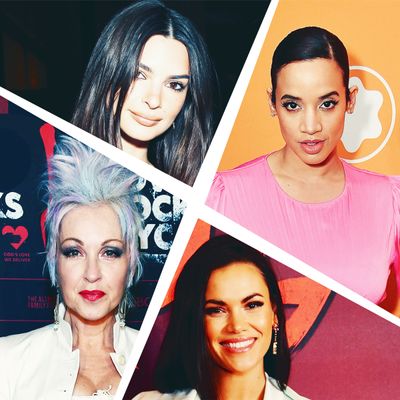 Turns out you can still look great at a party without shaking anyone's hand (hopefully). This week, Dascha Polanco looked pretty in hot pink, while Cyndi Lauper's all-white ensemble made her pastel hair pop. Sinéad Harnett draped a silky overcoat over an equally silky suit. And Emily Ratajkowski added a chain accent to her low-rise pants. Who wore the best look? Scroll to see everyone, below.
Best Tiger Print Combo: Jennifer Nettles
At Diane von Furstenberg's InCharge Conversations 2020 presented by Mastercard.
Best Ballerina Interpretation: Lilah Ramzi
At the School of American Ballet's annual Winter Ball.
Most Daring Cutouts: Emily Ratajkowski and Sarah Hoover
At the Art Production Fund Gala.
Most Likely to Sparkle in the Spotlight: Rachel Zoe
At Rachel Zoe's celebration of her spring Box of Style.
Best Printed Set: Adeline
At the "Studio 54: Night Magic" opening night at the Brooklyn Museum.
Silkiest Suit: Sinéad Harnett
At the Mulan photocall at Trafalgar Hotel.
Best Monochrome: Cyndi Lauper
At the fourth annual LOVE ROCKS NYC Benefit Concert for God's Love We Deliver.
Best Over-the-Top Ruffles: Lamia Khashoggi
At the "Children For Peace" Auction Gala Dinner.
Prettiest Pink Pleats: Dascha Polanco
At the Montblanc MB01 Headphones & Summit 2+ Launch Party.
Best Matching Outfits: Neil Blumenthal and Dave Gilboa
At Warby Parker's 10th Birthday Party.