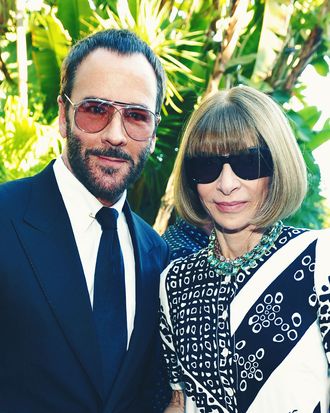 Tom Ford and Anna Wintour.
Photo: Donato Sardella/Getty Images
Like much of the economy, the fashion retail industry has been hit hard by the COVID-19 pandemic. Stores have closed, events have been canceled, and Americans who are rapidly losing their jobs and staying indoors probably won't be shopping for cute outfits. The Council of Fashion Designers of America (CFDA) and Vogue's Fashion Fund is hoping to provide a spot of relief with its announcement on Tuesday that they are jointly launching a new initiative called A Common Thread to help distribute funds to people in the American fashion community who have been affected by COVID-19.
The CFDA and Vogue's Fashion Fund was created in 2003 in response to the 9/11 attacks as a way to support emerging talent in the fashion industry with substantial cash prizes. Though the press release doesn't get into the particulars of funding sources, the New York Times reports that approximately $700,000 in grant money typically reserved for the Fashion Fund's winner and runner-up will now "presumably" be redirected toward A Common Thread.
The fundraising effort will be accompanied by a video series, set to launch on March 25, which will highlight "the stories of those in the fashion industry whose businesses and livelihoods have been affected by the pandemic and its economic impact … not only designers, but those who work tirelessly behind the scenes in the country's incredibly strong and vibrant fashion industry."
The size of A Common Thread's grants and the criteria for receiving them are not yet known. Sources told the Times that the initiative's two leaders, Vogue editor Anna Wintour and CFDA chairman Tom Ford, "felt it was imperative that they act as soon as possible to support their community" and "figure out the specifics later."
Click here to apply on CFDA.com.