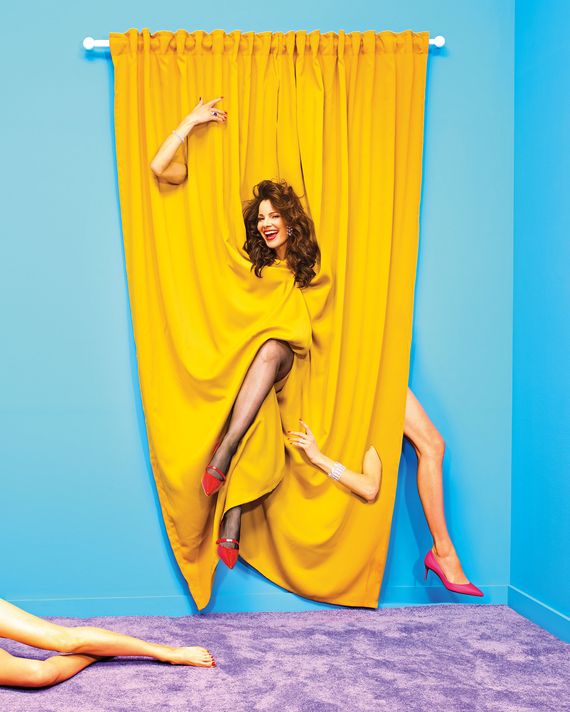 Fran Drescher. On Fran:
Manolo Blahnik
pumps,
at manoloblahnik.com
.
Wolford
stockings,
at saks.com.
Chopard
earrings,
at 709 Madison Ave.
Arm, at left:
David Yurman
ring,
at 5 E. 57th St. De Beers
bracelet,
at 716 Madison Ave.
Arm, at right:
Cartier
ring,
available by appointment at 653 Fifth Ave
.
Chopard
bracelet. Foot, at right:
Jimmy Choo
shoe,
at jimmychoo.com.
Photo: Maurizio Cattelan and Pierpaolo Ferrari
What you first need to understand is that I learned joie de vivre from The Nanny. Literally, as in the phrase: It sneaked into the theme song to describe the stock-in-trade of the flashy girl from Flushing, as the Nanny was, and as Fran Drescher, its star and creator, was. Ann Hampton Callaway wrote that song for her and did its jazzy performance, a stepping-stone on the way to writing hits for Barbra Streisand, which, if you're a Jewish girl from the boroughs, as Drescher is, is a little like saying Callaway wrote for some little yeshiva Yentl before ascending, pen in hand, to work for G-d Herself.
The joy of Fran! The Jewish girl onscreen who wasn't a meeskite but a bombshell, who turned what could have been a career-killer — a face that could launch a thousand ships paired with a voice that could sink them — and made it, through gale-force charm, a selling point, a calling card. Thirty years' worth of journalists have struggled to describe her nasal whinny. I like Los Angeles magazine's version: the voice of "a Bloomies perfume spritzer in heat." Teachers told her to lose it, and she tried. But when she trained it out of herself, she lost her whole personality and spoke at a snail's pace. She remembers drawling her way through an audition for a part in an epic television drama and losing out to Jane Seymour. "They said to my manager, 'You know, she did fine, but she talked too slow, and it's only an 18-hour miniseries,' " Drescher says. "So that was kind of the end of that."
If you are of the generation that grew up on Drescher — those of us who were impressionable, and often latchkey, kids during her nannying days, from 1993 to 1999 — it is more than a little surreal to find yourself suddenly in communication with her, like meeting a former babysitter years later, each of you older, wiser, and a little wider, the dynamics of your relationship subtly changed. At 62, Drescher is both a whole new woman — a cancer survivor with a foundation to advocate for early detection, prevention, and policy; a marijuana evangelist; and a fiery political opinionator with a snappy anti-capitalist bent — and exactly the one you feel you know. Her text messages are spangled with kiss-print emoji. She loves an espresso martini, the height of '90s elegance.
Back home on the Upper West Side after a stop at a Columbus Avenue bodega for $186 worth of fresh flowers, which she arranges and distributes across a number of vases, Drescher has quick-changed into a terrycloth robe and UGGs, a diamond tennis bracelet on her wrist, while her ever-present assistant, Jordan, lights a fire in the living-room hearth. Drescher's company is called Uh-Oh Productions, and emails from Jordan, dispatches from and about Fran, have been popping up on my phone for days as simply "Uh-Oh."
Drescher spends most of her time in Malibu, where she has a house on the ocean and a regular table at Nobu. But she keeps an apartment in New York in an Arts and Crafts–style building just off the park, where she once shared a wall with Madonna. Here, among rattan chairs and Asian antiques, most of which predate her in the apartment — she bought it furnished from a decorator — Drescher lives softly, a star in temporary residence. Framed photos of her with potentates — Barack Obama, Hillary Clinton, Joe Biden — grace a side table. (She hasn't yet chosen a 2020 candidate, though fans who have been stoked by her anti-capitalist sallies may be surprised to hear that, while she's Bernie-curious, "I do like Amy, and I do think that Joe has a lot of experience.") In the kitchen is a framed cover of New York Dog magazine featuring Drescher with Esther, one of her late, beloved Pomeranians. Esther's predecessor Chester was a guest star on The Nanny.
The line between her lives onscreen and off can feel blurry. When a phone call from her mother interrupts for a few minutes — a periodontal appointment is discussed — I have to remind myself that the person on the other end is Sylvia Drescher, whom I have never seen, not Sylvia Fine, her Nanny equivalent on the plastic-covered couch. Fran isn't Fran Fine, the door-to-door makeup saleswoman turned nanny to three sad, spoiled, Anglo-American scamps and their blustery British father ("Mistuhhh Sheffield!"), but her characters tend to be avatars of their creator. Most of them, she points out, are called Fran. "I have the good fortune of being recognizable," she says. "For people to roll out the red carpet for me wherever I go in the world, it's such heaven. Sometimes people say, 'I don't like Paris. They're not nice to me.' And it's like, 'Really? I'm like Jerry Lewis there.' " She is Une Nounou d'Enfer — "A Nanny From Hell," as the show was titled in France — and La Tata, as it was called in Italy. The Nanny has been syndicated and adapted around the world, both dubbed in its original version and recast in remakes. In more than 25 years, it has never not been showing somewhere.
The Fran Generation is now grown up, and its members have carried Drescher with them. "I watched a lot of TV as a kid, at night when my parents were working," says Broad City's Ilana Glazer, one of Drescher's spiritual descendants. "Fran as the nanny was like my nanny." Glazer cast and directed her on an episode of Broad City as her character's aunt. "I have watched so many hours, every episode of the show," says Glazer. "She makes up part of the structure of my brain."
"The Nanny was very formative," says Rachel Bloom, the Emmy-winning composer, lyricist, and star of Crazy Ex-Girlfriend, who is working with Drescher on a Nanny musical headed to Broadway. Dan Levy, a producer and writer for the ABC show The Goldbergs, created a "Fran Drescher–type" mother figure in his new NBC sitcom, Indebted, which premiered last month; he told every development executive that he'd pictured Fran Drescher in the part and then, bowing to Occam's razor, cast Fran Drescher. Indebted gives Drescher her first starring network role in years, and one, she says with relief, that her elderly parents in Florida and their friends can find in the newspaper TV listings. She is even working on a cabaret act that will take her to Café Carlyle in New York, the first in its history, said Carlyle's Jennifer Cooke, that will not include singing.
It's worth asking why, 21 years after the end of The Nanny, we're still in her thrall. It's not just that those who are overwhelmed by the chaos of the internet — which is to say, all of us — see the feel-good sitcoms of the '90s as sort of a cultural balm, much of it accessible now, ironically enough, on the internet. (The Nanny remains confoundingly hard to stream, though it is a mark of digital glut that I discovered the first two seasons are available on something called the Roku Channel, which it turns out I have.) It's also Drescher herself. The Nanny's rags-to-riches story — which is also her rags-to-riches story — gave us a Borscht Belt Maria von Trapp with an exuberance, even a vulgarity, that wasn't an obstacle to overcome. It was the whole point. She was gorgeous, she was clever, she was outer-borough middle class — she fairly honked. Drescher is not unapprised of the singularity of Fran. "I was never going to have Meryl Streep's career," she says. "I was going to have Fran Drescher's career, and that's what I did."
She couldn't have had anyone else's. She made her film debut coming on to John Travolta in Saturday Night Fever. "Hey, are you as good in bed as you are on that dance floor?" is her adenoidal purr, and he leads her there, her proprietary hand on his polyester ass. She kicked around in some other movies; she did pilots for TV. But she realized early on that she'd have to make her own opportunities. You can still see a few episodes of the last sitcom she did before breaking out, the now-forgotten Princesses, on YouTube: She and Julie Hagerty and the '60s model Twiggy shack up together as wacky roommates with wildly divergent styles. But the show failed to catch on. "On TV, a New York Flavor May Be Poison," ran the headline in the New York Times.
After its cancellation, Drescher wound up on an international flight with Jeff Sagansky, then-president of entertainment at CBS. Seizing her chance, she buttonholed him. "I thought, Thank you, Lord, and I ran into the bathroom to put some makeup on," she says. "I remember the movie was starting—back then, everybody watched the same movie — and it was The Prince of Tides with Barbra Streisand. And he said, 'Oh, I want to watch this. It's my favorite.' And I thought to myself, Oh, this guy is so ripe for me." She told him that, because of her voice, networks had always gotten her wrong. She wasn't sitcom seasoning. She was the main course.
Sagansky agreed to a meeting and eventually to what would become The Nanny, the idea Drescher and her then-husband, now-out gay ex-husband, and now-and-forever writing partner, Peter Marc Jacobson, came up with for her. It was sparked by her experience schlepping Twiggy's daughter, Carly, around London. They'd spent years working as frustrated actors in L.A. and suddenly had the chance to write their own ticket. The studio brought in Prudence Fraser and Robert Sternin to help guide the writing process, but Drescher "was doing stories every single day," Jacobson says. "We were so young, I think we did things that if I was getting into it now I'd be afraid to do. Who brings Yiddish into a CBS eight-o'clock show in 1993?"
But the gamble worked. The Nanny was a major hit and, with it, Drescher, who had been a bit player for Miloš Forman and a standout as a brassy publicist in Spinal Tap, became not only a star but a durable icon. A New York flavor, no longer poison, was now a bragging right. The New York Times: "For Queens, a Place in the Sun; Hollywood Is Suddenly Zooming In, With a Vengeance." Queens's other most famous modern export, Donald J. Trump, was a frequent punch line and onetime guest star. They were once two comic actors, one playing a souped-up fantasy version of her younger self, the other playing a souped-up, fantasy version of his father. Now they are president and guru, sitting on the opposite ends of the emotional spectrum. He bellows with inchoate rage. Drescher remains a foghorn of joy.
Drescher likes to point out that, until the show aired, there hadn't been a Jewish actress playing a Jewish main character on an American comedy for decades — not since Molly Goldberg, the echt Jewish mama of early broadcasting, appeared on CBS in the late 1940s. (Rhoda, the canonical sassy Jewish gal of '70s TV, was played by Valerie Harper, who wasn't.) The Nanny was "the only show where someone being Jewish was a major part of the show," Bloom says. "You'd think there'd be a lot more shows where people were overtly Jewish, considering the disproportionate amount of Jewish people writing and creating shows. But there's this idea of 'We don't want to alienate Middle America.' "
Drescher and Jacobson based Fran Fine on the young Fran and insisted on her being Jewish even when a major conglomerate offered to sponsor the show provided Fran be rewritten as Italian. "We thought about it because we knew it was our big break," Drescher says, "and we didn't want to be difficult. But I thought of Neil Simon because he said, 'Write what you know.' I didn't know Italian like I know Jewish. So I mustered up my chutzpah and told them Fran Fine must be Jewish. And they said, 'Okay.' "
There were occasional complaints that Nanny Fine and her Queens clan — a domineering, guilt-tripping Jewish mother and a yenta grandmother, Yetta, named after Drescher's grandmother — didn't represent the best of Jewish womanhood. The L.A. Times published an opinion piece to this effect, then Drescher's rebuttal. But the archetype she incarnated was both hyperspecific and hyperrelatable — if not in its details, then in its values — to women, and non-women, used to being told to turn it down. The shock of The Nanny was "not only the Judaism," Bloom says. "It was being too much, being loud, being different. It was a lot of things that I hadn't seen before."
Since The Nanny, Drescher has never fallen out of the cultural mainstream, though she has, project by project, drifted toward the outer boroughs of the television landscape. There was Living With Fran, on the now-defunct WB, about a Fran who juggles family and a younger boyfriend (2005–6). Then Happily Divorced, on TV Land, about a Fran still living with her newly out, newly gay ex-husband (2011–13), another show she created with Jacobson. After their divorce, they didn't speak for a year — he hadn't wanted to get divorced and was angry. They've since come back together professionally and personally, and they're both single again now. "I always used to joke and say if I do have a relationship, they're going to have to be happy sitting, when we're 70 watching The Nanny on television, between me and Fran," he says.
Her life hasn't all been sitcom rosy. "I've been very candid about my personal life," she says. She has written two memoirs (fun fact: Fran loves Phish). The second, Cancer Schmancer, details her fight to correctly diagnose and ultimately beat uterine cancer. Drescher's relationship after Jacobson, with a producer on The Nanny, ended following her cancer treatment, and a second marriage, to the tech entrepreneur Shiva Ayyadurai, ended in divorce. Ayyadurai is internet infamous for his claim that he invented email, though he sued Gawker for its posts debunking the claim, a suit the company settled for $750,000; he also ran unsuccessfully against Elizabeth Warren for a Massachusetts Senate seat. "In my second marriage, we were together for three years. The first year was bliss, the second year was agony and ecstasy, and the third year was just agony, and I said, 'Enough,' " Drescher has said. Some of her flowers go into vases they received as wedding gifts. She underwent a hysterectomy as part of her cancer treatment and never had kids. "I think I would have been a good mom," she says, "and sometimes I think I kind of missed out on that."
That makes Indebted's Debbie, a doting grandmother and a frisky mate to a graying husband (Steven Weber), a different type of Drescher character and a slightly bittersweet one as well. On the show, Debbie hovers over Adam Pally and Abby Elliott, who play its central characters, a youngish married couple who are tending to both their own kids and their regressing, neo-adolescent parents. Drescher took care to insert enough Fran into the character to make it her own; early scripts, she said, made Debbie more of a traditional, hectoring mother-in-law type. "I'm not that actress. I cannot get away with that," she says. "I'm a star. People are tuning in to see who they're used to seeing. You want to get some heavy character actress, older woman, to be this pain in the ass in the house and have this, you know, antagonistic relationship with the daughter-in-law like they did in Everybody Loves Raymond, be my guest. But that's not me." Drescher turned out to be a bright spot in Indebted's otherwise rough rollout. Reviews so far have been grim. The exception is Drescher, whom Variety singled out as "the only person who seems to be trying," in a performance that is "a reminder of an old-fashioned sitcom sparkle."
"Old-fashioned" may be a tell. The show is a sitcom in the kid-friendly, yuks-and-shticks mold (multi-camera, guffawing studio audience), which has not fared well critically in the age of single-cam auteurs and HBO gore. It is the safest of network TV. "I think we're going to see them coming back," Drescher says. Her characters are lovable and stylish; unlike most Emmy bait, she is proudly, unapologetically uncontroversial. ("You can't sit down with your family and watch Game of Thrones," Bloom says. "I mean, I'm sure some people do. I wouldn't recommend it.") Family-friendly fare syndicates, and it performs worldwide. Drescher is living proof. "From the studio standpoint, that's where the money is," she says. "Sony has done very well by The Nanny. I mean, something that is this popular a quarter of a century later, that's pretty decent."
Pretty decent has made Drescher a wealthy woman. She loves to work, she says, but she doesn't  have to. "I don't need the money," she says.
"And if you don't need the money, that takes a little bit of fire out of your belly." But stardom agrees with her, and shows like Indebted offer, if they catch on, a pathway back to the televised mainstream. Drescher has already made her peace with whatever the show's fate may be. "As a Buddhist — or a Bu-Jew, which is more to the point of what I am, really — balance is a big part of your daily practice," she says. "And I try and find balance in everything. I never forget where I come from. And inside, I'm still a chubby girl from Queens, anyway."
The commissary at The Wing does not offer espresso martinis, but for Drescher, they are inclined to make an exception. So it was that on a recent Tuesday night, a few empty glasses were on a side table, drained but for the telltale damp coffee beans. Drescher was on hand to screen the pilot episode of Indebted for a crowd of 200 and hold a Q&A after. She is one of The Wing's presiding spirits; Fran Fine has a phone booth named in her honor there. (Fellow honorees include Ramona Quimby and Lisa Simpson.) Audrey Gelman, The Wing's co-founder (smart, ambitious, Jewish) loves Fran Drescher (smart, ambitious, Jewish). "Im crying ok," she wrote on Instagram when they met.
But the crowd at The Wing testified that Fran's appeal is not limited to those most categorically similar to her. The too-muchness of The Nanny, from Fran's wardrobe of leopard, sequins, and skintight to her clarion call, didn't alienate Middle America: America, and the world, ate it up. Her appeal cut across age, race, and creed. Shanae Brown, who runs the Instagram account @WhatFranWore, which is dedicated to tracking down and identifying Fran Fine's outfits for an audience of almost 300,000, isn't a young, Jewish striver from the city. She's a 30-year-old Jamaican patient-care technician living in Atlanta.
Brown doesn't wear the sequined vests, the hourglass cocktail dresses, the Todd Oldham and Moschino and Ferré and, Lord have mercy, Allen Schwartz that Fran Fine did. But then neither does Fran Drescher. The show's costumes were a fantasy creation, a TV-land exaggeration, by the costume designer Brenda Cooper, who won an Emmy for her efforts. The studio, Jacobson recalled, originally pushed for Fran to wear T-shirts and jeans in an effort to be relatable; he and Drescher doubled down on the brights, even making the sets a polite, neutral cream to make the costumes pop. What they telegraphed was an irrepressible presence. "She was such a strong person," Brown said in an interview. "She was kind of this irreverent woman who didn't care what people thought about her. I feel like that's the energy we have now." Brown has occasionally tried posting the outfits of another 1990s TV heroine, Sabrina the Teenage Witch, but she didn't get the response Fran has.
At The Wing, the crowd laughed politely through Indebted, then roared for Drescher's onstage Q&A. Afterward, she took questions from the audience.
"I'm not going to stand, because I think if I stand, I'm going to pass out," said a young woman up front when handed the microphone. "You're such a hero of mine. I grew up watching you; I've seen every episode a million times. I can't believe I'm in the same room as you. Thank you so much for all the work you've put out into the world." She went on, "While I'm not Jewish, I'm Latina, to see a woman really use her ethnicity, especially in the '90s, meant so much, and I really resonated with it so much."
After her, a young man — rare for The Wing but never for Fran — with sunglasses perched on his close-cropped skull, was briefer. "I went through a lot of trauma in high school," he said, quavering. "And watching you really got me through a lot."
Before the event ended, Drescher led the room in a recitation of the mantra a spiritual adviser once taught her: "I love you, Fran," she was to repeat to herself. "I know how wonderful you are. It's Fran and Fran till the end of time." She encouraged everyone to insert their own name to self-love their way to spiritual enlightenment, but the response that came back still echoed with Frans.
*This article appears in the March 2, 2020, issue of New York Magazine. Subscribe Now!
More From the spring 2020 fashion issue
See All