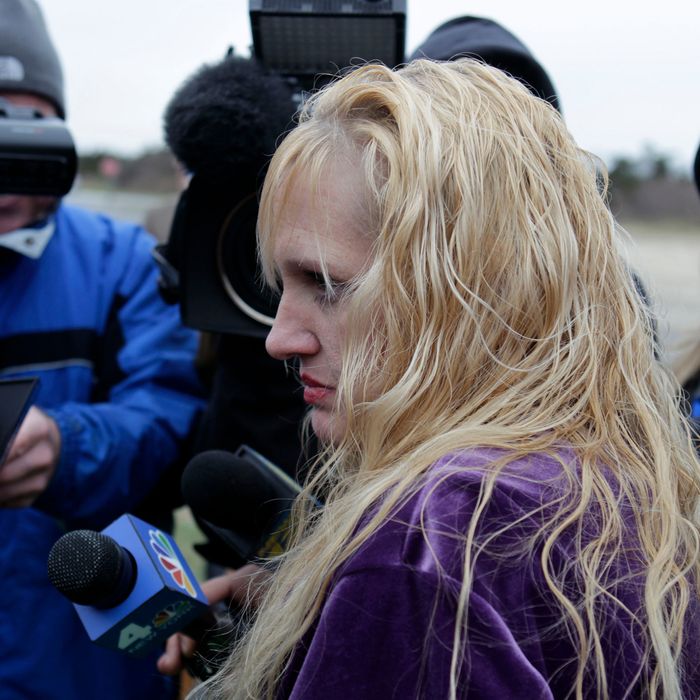 Photo: Seth Wenig/AP/Shutterstock
Receiving a scathing email from Mari Gilbert was not entirely unexpected. She was a confrontational person, not just brusque, but antagonistic even with those closest to her.
"I can not believe all the LIES you wrote about my family, and I. You should be ashamed at yourself," she wrote in a 2013 email, a month before my book about her daughter's disappearance was published. "How dare you write such trash!! May karma slam you when you least expect it!!"
By then, Mari had become the most visible, and most combustible, figure in a unsolved multiple murder case with many as 16 victims, many of them still unidentified. Even today, there have been no arrests, no suspects, and no persons of interest in the search for the Long Island serial killer. But there would have been no case at all if it hadn't been for Mari's eldest daughter, Shannan, who disappeared on May 1, 2010, in the middle of an escort call in the remote South Shore community of Oak Beach. Months later, the search for Shannan turned up four other sets of bones—skeletons with no clothing or jewelry, all wrapped in burlap and deposited near one another just off the shoulder of Ocean Parkway. Like Shannan, all four of these victims were escorts who had advertised on Craigslist.
I wrote about Mari and the family members of the other victims, first for New York Magazine in 2011 and then in my 2013 book, Lost Girls, which now has been adapted into a Netflix feature by director Liz Garbus. The film focuses on Mari, played by Amy Ryan, as she struggles to get justice for her daughter and end the victim-blaming of all the women in the case. As a real person and as a movie protagonist, Mari was as compelling as she was mysterious. I'd seen her blow up relationships more than once without warning, even with the family members of other victims. She seemed uncomfortable with good feelings—ill at ease the moment things seemed most peaceful. There were any number of possible explanations for why she was this way. Perhaps it was immaturity; perhaps it was restlessness. But as with her daughter Shannan, no single thing would ever explain what happened to Mari.
In the early days of the case, she had come, at my invitation, to New York City from Ellenville to participate in the profile. Mari was unique among those who came because her daughter Shannan technically was still missing. She didn't want to be a part of this group. She felt superior to them in a way, insisting under her breath, more than once, that Shannan was not like those other girls—that she fought back against her assailant, that she wasn't a victim. But, being shrewd, Mari also saw the utility of having allies in the struggle to find her daughter. She had active theories about what had happened to Shannan, and she craved support. Within a few weeks, she participated in a vigil at Oak Beach with the other families, and then she developed her own following—people who had read about the case and seen her on TV. These people—most of them women, but not all—became useful tools. Mari was good at harnessing the energy of others to achieve her goals, even if that sometimes meant pitting her new friends against one another—or vilifying the media that was giving her the attention she needed.
After that first meeting, Mari kept me at a distance. A book about her and her daughters was not the kind of exposure she wanted. The circumstances of her family's life before Shannan disappeared might have been the last thing in the world she would want to make public. As she'd said on the day we met, "I told my kids what happens in the house stays in the house. That's, like, a basic given rule." I couldn't begrudge Mari that. It was so clear, beyond everything else, that she was in terrible pain. To shout from the rooftops that your daughter is missing when everyone in law enforcement is saying she's dead has to be one of the most anguished things any parent could endure. This emotional dilemma was what drew me to write about Mari and every mother and sister linked to this unsolved case—Sherre, Lorraine, Muriel, Melissa, Lynn, Kim—as much as the murder mystery. What must it have been like to have strangers calling your daughter a prostitute, when you knew she was more than that—that she could have been anything, that if she were still alive she could prove to everyone how that word meant nothing, had nothing to do with who she was?
I shadowed the families of the missing women for a year, and in all that time, Mari communicated with me only through intermediaries. She finally agreed to be interviewed on August 3, 2012, several months after Shannan's remains had been found. That event had seemed to change her. Mari was still guarded, but also strangely sanguine, ready to let the chips fall where they may. What she told me that day went a long way toward helping me understand her better: her vagabond childhood, tragic relationships with men, determined self-sufficiency as a mother, and troubles raising Shannan. An interview eleven days later with Shannan's sister Sherre shed even more light on Mari and the family, what they went through, why there was so much conflict in Shannan's life.
Mari never told me what she found objectionable about Lost Girls. No one she knew raised any issues with it, and so I pushed on. By then, nothing Mari did surprised me. But pretty much everything Mari went through afterwards did.
Of Mari's four daughters, it was Sarra Gilbert—third in the birth order, after Shannan and Sherre but before the baby, Stevie—whom Mari had always considered the reliable one. She was the rock, the unfussy one, the child who parented the other children when Mari wasn't around. The Sarra I saw during the reporting of Lost Girls was a quiet presence, uninterested in publicity. She was the family's archivist, the one gathering notes and following the particulars of the case with a hungry eye for detail. But she had experienced the same terrible abuse as her older sister Sherre: She too had been molested by her mother's boyfriend, and she too was simmering with resentment and torment over it. Shannan had been in foster care at the time.
Once Mari's boyfriend was out of the picture, Sarra's difficulties only intensified. She had an abortion at the age of fourteen, dropped out of school at sixteen, and moved in with her boyfriend, a twenty-two-year-old drug dealer named Manny. The two had a son in 2009, a boy named Hayden. Things weren't the same after the baby. The couple would serially break up and reconcile. Manny served time for drug arrests. At least once, Sarra ended up in a shelter for victims of domestic violence. In the years following Shannan's disappearance, Sarra became more dependent on her family, and on Mari especially, than ever before. Mari stepped up by all accounts, taking in the baby when needed and becoming Sarra's emotional support system.
But by the time the bodies were uncovered at Gilgo Beach, Sarra was hardly in a position to sustain another trauma. At least one psychiatrist who examined Sarra, a forensic specialist named Alexander Bardey, said the eventual discovery of her sister's remains re-traumatized her, activating what, until then, had been largely suppressed vulnerability and rage. It didn't take long, several months after the second examination of Shannan's remains questioning the cause of her death, for Sarra to experience her first profound mental collapse.
In late 2013, Sarra was watching the American Music Awards on television and became consumed with the belief that she and Shannan had cowritten several hit songs for Rihanna, Beyoncé, and Jay-Z. Not long after that, she developed a second, more ominous set of delusions, involving the people she loved becoming possessed by demons. She would insist that Shannan wasn't dead, and that she could tell by looking into someone's eyes if they were possessed. She told people she was a god, and her job was to defeat all evil gods, and that quite often the evil gods took the form of her sisters and mother.
In January 2014, Mari and Sherre visited Sarra at her house. Sarra announced that they both were demons and tried to attack Mari before the police came and hospitalized Sarra at Orange Regional Medical Center. She returned there in February, and again in July after she'd become convinced that her son was a demon. Sarra spent a summer at that hospital before being transferred to Rockland Psychiatric Center, where she stayed until December. Diagnosed with paranoid schizophrenia and compelled by a court order, she began receiving a long-acting injectable antipsychotic medication called Haldol Decanoate. That kept her out of hospitals for all of 2015. But soon enough, she was failing to comply with her mental-health treatment and regularly using illegal drugs, mostly pot but also ecstasy. The demons were back, too.
On February 19, 2016, with her son in the house, Sarra drowned the family dog in a bathtub, and then called Mari and said Mari was the reason why the dog had to die. Mari lived just a few minutes away. She rushed over and grabbed Hayden; then she called the police, who brought Sarra to another hospital, St. Mary's, where she was so combative that the police took her to Mid-Hudson Forensic Psychiatric Center, a law-enforcement facility. Hayden stayed at Mari's, and while Mari visited her daughter in the new facility, she decided not to intervene on her behalf for an early release. "Sometimes a mom has to be tough in her love," she said. The mother and daughter embraced. But that spring when she was released, Sarra found out that for the foreseeable future her son would live with Mari. The state would no longer allow Hayden to be in her care.
Without Hayden at home, Sarra no longer received government checks to help her pay the bills. She was angry, broke, and stubborn, refusing to take her medication. At the beginning of July, she overdosed—she believed she was taking ecstasy, while others say it was likely LSD—and landed at Albany Medical Center. The drug had brought her body temperature up to 107.1 ̊F, forcing doctors to pack her in ice. Once awake, Sarra was so delirious and combative that the staff induced a coma to prevent her from harming herself. By the time she was released, Sarra had skipped her monthly Haldol shot. There was nothing to keep her now from becoming actively psychotic.
Mari and Sherre tried visiting Sarra at home, but Sarra wouldn't open the door. Mari left a cup of coffee for her. Sarra believed it had been poisoned and dumped it in the trash. And as July progressed, Sarra became increasingly isolated. Between court-supervised visits with her son, she realized what she had to do next.
On the morning of July 23, 2016, Sarra, after a sleepless night, texted Sherre to say she was hearing voices again. Sherre told her sister to call 911, or at least to call her mom for help. Unwilling to go back to the hospital, Sarra decided to call Mari, who said she was coming right over. But sometime between the end of that call and Mari's arrival, Sarra became convinced that Mari wasn't coming to help her. She grabbed a 15-inch kitchen knife she'd bought at Kmart and placed it beside her on the sofa, under a pillow. She also placed a fire extinguisher within reach. Then she waited.
Mari walked in at about 10:30 a.m. and sat down next to Sarra on the couch, where the two would have their last conversation. Sarra would later recall asking her mother if she was an evil god. In some of her explanations of what happened, Sarra said her mother denied it; in others, Mari admitted it. But in every version, Sarra remembered that as they talked, Mari noticed a nearby photograph of Sarra and Hayden. It was when Mari smiled and reached for the photo, Sarra said, that she first stabbed Mari in the chest.
Mari tried to stand. Sarra kept stabbing. Mari grunted for her daughter to stop, then bent over, fell to the floor, and tried to inch under a coffee table to protect herself. Sarra pulled Mari out from under the table, sat on top of her, and kept stabbing, aiming for Mari's heart, lungs, midsection, everywhere where Sarra thought it would be lethal.
Mari's phone buzzed. It was Sherre. Sarra shut off the phone. Then she picked up the fire extinguisher and struck Mari in the head, more than once. Sarra became convinced Mari was still breathing, and so she sprayed the extinguisher into Mari's mouth, too, trying to drown her. Then she stabbed at Mari's neck, perhaps trying to decapitate her, though she was most certainly dead by then.
Sarra was soaked in blood. She took off her pants and went to her bedroom to lie down. She smoked a cigarette and listened to music before the police arrived at 1:45 p.m.—summoned by Sherre, who had come to the house, pounded on the doors and windows, and tried to look inside. Sherre told the police that her sister had been hearing voices. But Sarra's first words upon being discovered inside the apartment showed she knew why they were there: "I am under arrest."
The knife's tip had snapped off, its end bent at a 90-degree angle. The medical examiner would count 227 different stab wounds on the body, many of them defensive wounds on the hands and arms. Mari's life, transformed by the death of one daughter, had been ended by another.
John Ray, the lawyer mounting Shannan's family's ongoing civil suit against Dr. Peter Hackett, represented Sarra at her murder trial at the Ulster County courthouse in spring of 2017. Ray mounted an insanity defense, and everything about his opening statement suggested that Sarra's actions made mental illness the obvious explanation for what had happened to Mari. He made it clear that Sarra hadn't taken her antipsychotic medication for close to eight weeks before the killing took place. And then there was the killing itself. "Two hundred twenty-seven stab wounds," Ray said. "Does that sound like something that somebody is responsible for? If you think that, I guess you can think anything."
The American legal system, however, sets an extraordinarily high bar for proving insanity. To acquit Sarra, the jury would have to believe not just that she was delusional (which she most certainly was) and that she suffered from schizophrenia (which her doctors generally agreed was the case); they would also have to believe, unanimously, that Sarra had no concept of right and wrong, and therefore could not have been responsible for her actions.
The prosecutor, Emmanuel Nneji, wasted no time attacking that notion. How could Sarra not know right from wrong, Nneji said, if, over many years while her illness was at a crescendo, she walked her son to school every day, cared for him, fed him, paid the rent for their home? How could she be completely unstable, he said, if she went to the same place every day for coffee, never causing the slightest commotion? How could she be uncontrollably homicidal, he said, if she never once tried to kill Sherre or Stevie—even though they, too, were supposedly demons in disguise?
In the prosecutor's view, the killing of Mari Gilbert was a crime of passion, quite likely drug-fueled, against a mother whom Sarra resented for years. Mari had engineered the taking of Sarra's son, and with him the government support payments. Mari had committed historical sins, too—her absentee parenting, allowing Sarra and Sherre's abuse, letting Shannan be raised elsewhere. What happened on July 23, 2016, was a reckoning Sarra had been planning in advance, the prosecutor said. It couldn't be anything other than that, he argued, when she had placed that knife and fire extinguisher within reach before having asked her mother if she was good or evil—before, in fact, Mari even walked through the door.
Mari's answer to that question hadn't mattered. Her fate was sealed. Sarra said as much on the witness stand. "My intention was to kill my mom," she said coolly. "She's evil."
The jury heard a recording of a jailhouse phone conversation between Sarra and Stevie, revealing Sarra's tone to be even, her mood controlled, perhaps even calculating. Sarra seemed the same way on the witness stand—unmoved by the most upsetting questions, defiant in the face of the prospect of life imprisonment. Such impassiveness could also be a sign of the antipsychotic drugs she was now taking. But aside from a psychiatrist, she had no one testifying to her character, not even her sisters. Sherre was too distraught to take the stand. And Stevie appeared for the prosecution, testifying that she believed it was drugs, not mental illness, that drove her sister to kill their mother. She called the act, "the result of long term hate and not a mental breakdown."
In his summation, Ray made one last plea for Sarra, whom he called "a true psychotic," let down by a mental-health system that should never have allowed her out without her medication. "None of these poor people in this case deserve this," Ray said. "Certainly not Mari, certainly not Stevie, not Sherre, certainly not this broken, poor psychotic little girl."
The jury found Sarra guilty. The judge, Donald Williams, declared Sarra's sentence to be motivated by "an overwhelming desire to protect other people by taking you off the streets for as long as I can." Sarra is currently serving twenty-five years in state prison, and her son is living with relatives of his father. Ray is appealing the case.
In the ten years since they first began looking for Shannan Gilbert, the Suffolk County Police Department has found itself mired in scandal. The chief, James Burke, Suffolk's highest-ranking uniformed officer, was brought down in a federal corruption probe. At least one report suggested it was Burke who had kept the FBI away from the serial-killer case for so long, out of concern that the federal agents would see what he was up to.
The district attorney, Thomas Spota, is no longer in office, pressured out after his own role in helping Burke's cover-up became public. Richard Dormer, the former police commissioner, died of cancer in 2019, insisting until the end that the department did what it could for the girls, for Shannan, for Mari. The case remains unsolved, a stain on Suffolk County law-enforcement.
But its notoriety, its legacy, speaks volumes. Whether she was a victim of the serial killer or not, Shannan Gilbert has accomplished something extraordinary in our society. From the Green River Killer in Washington and Oregon to the Southside Slayer in Los Angeles, the victims in serial-killer cases are often escorts—people overlooked by police. As far as the authorities are concerned, their profession still seals their fate.
Shannan puts a face on these women. She lives on as a symbol of a system that lets down those who are vulnerable. For that, there are many people to thank, but chief among them is Mari Gilbert.
What I learned in observing her is what I also learned in writing about her daughter and the other victims. There is more than one thing to know about a person. We all are good and bad, wise and foolish, noble and self-defeating. Of all the family members, Mari was the one who got the most out of the police, forced them to do things they otherwise wouldn't. And she didn't just make a lot of noise; the experience of fighting on behalf of her daughter Shannan transformed Mari, too.
I spoke with two people who knew Mari—one a close friend, another someone who knew her well but never liked her—and they both had the same impression of her in her final years: She'd found purpose, coherence, a cause. She mended fences with the daughter with whom she had the most fraught relationship, Sherre. And she divided her time between helping the daughter who was struggling the most, Sarra, and the daughter whom she'd lost, Shannan, continuing the court battle to get the police to recognize her death as a homicide.
"I think the fact that Mari was trying to find the killer—or trying to get justice—actually stirred a certain virtue with her," John Ray told me. "By any human standard, she redeemed herself in the end."
It's quite a thing to contemplate—a truth too painful and powerful to ignore. But Mari spent the last years of her life becoming the person she'd always wanted to be.
This piece is adapted from the new afterword of Robert Kolker's book, Lost Girls, published by HarperCollins.