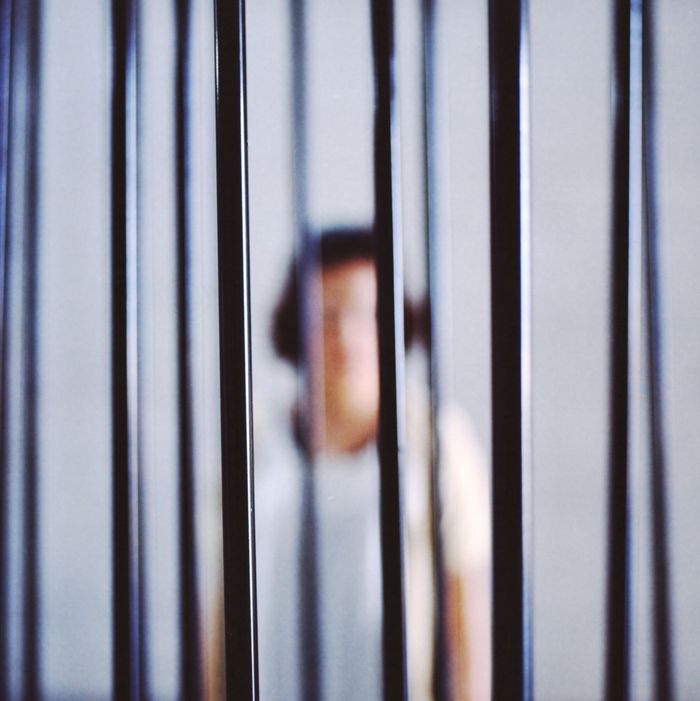 Photo: _hijiki_/Getty Images
Jessica Kent was detoxing off methamphetamine and oxycodone in an Arkansas jail when she found out she was pregnant. Three months later, the guards took her to a doctor's office for a prenatal check-up where people took pictures of her in the waiting room, the chained-up inmate with a baby bump. Now, she's a sober mom of two living in the suburbs of Chicago and tells the whole story in her YouTube video, "I Had a Baby in Prison," which currently has over a million views. People can still gawk, but every eyeball puts more money in her pocket.
Although it's a niche topic, covered by less than a hundred channels, "Prison YouTube" is turning some ex-cons into influencers. Millions of people watch these YouTubers demonstrate workout routines using bags of water in pillow cases, brew bootleg wine with Jolly Ranchers and make tattoo guns with electric beard trimmers. Even Jersey Shore's Mike "The Situation" Sorrentino is dipping a toe in the prison YouTube waters after spending eight months in federal prison for tax evasion. It's a chance to learn what prison is really like — at least what it's like for men. The female inmate experience is largely absent. Very few women have channels that draw in the kind of audiences that the male ones do, but those that do take a meaningfully different approach to sharing their stories.
"I didn't know about other prison YouTube accounts when I started," says Kent when I spoke to her over video chat. "After I uploaded my first video, YouTube was like, 'Oh, you're into prison? Here are a bunch of men screaming at the camera talking about prison gangs.' I was frustrated. My story was completely different from those guys. I felt like the lone girl, floating by myself in the ocean."
While men on Prison YouTube tend to focus on survival, and how to navigate the unspoken rules of a dangerous environment, the women-run channels talk more about the trauma they've endured in prison and how they're healing. They disclose mental-health struggles, talk about their families, and sometimes even cry on camera. On the surface, the women of Prison YouTube are rewarded for marketing vulnerability, not unlike other YouTubers that focus on, say, beauty or wellness.
As her subscribers grew by thousands, Kent realized the power of her perspective. There are very few women on YouTube talking about life behind bars, and she felt that she could shed light on women's issues, like pregnancy, that are largely being ignored by the prison system. Women are the fastest-growing segment of the incarcerated population in America, increasing 834 percent between 1978 and 2015, yet much of the attention to curbing mass incarceration has focused on men. The Prison Policy Initiative reports this issue in many states, most notably Michigan, which reduced the male prison population by 8 percent between 2009-2015, but incarcerated 30 percent more women over the same period.
"How society perceives incarcerated women is key to establishing programs of intervention," writes Dr. Kenneth Elvis Jones, vice provost at Fisk University. If we don't know about issues or conditions throughout the prison experience that women face, we're less likely to be empathetic toward them or advocate for change. For example, a 2006 report found that two-thirds of incarcerated women have a substance abuse disorder and more than half of female offenses are for drug-related crimes, yet there's a dearth of drug rehabilitation programs in prisons. Sexual abuse by male guards is "rampant" and a 2020 federal report found that women are disproportionately punished for minor violations while in prison. Women are also more likely to be primary caretakers of their children, and both mother and child are often traumatized by the separation and limited access. Such was the case for Jessica Kent.
In another video, she explains the process of bonding with her daughter after foster care. The 30-year-old had done multiple stints in jail since her teen years, before the most recent drug charge that landed her locked up and pregnant. When she got out, her daughter was 18 months old, and it took another year before regaining full custody. "I did hair follicle tests, drug and alcohol counseling, therapy, parenting classes … I visited my daughter every single weekend [the year after I got out]," she says. "She was placed four hours away from me. I had no money, no car, no shoes. I was living in a halfway house and I still had to find a way to make it work, but I did it."
Despite the following she's amassed, things on YouTube didn't start off exactly as planned for Kent. "The first couple months were rough. I was harassed so badly. I got called a crackhead every day, which is ironic because that was [one] drug I didn't do," she says. "About five months after I uploaded the 'I Had a Baby in Prison' video, I almost deleted it. I was lying in bed with my finger hovering over the button, but I decided to sleep on it and see how I felt in the morning. When I woke up, there was a comment under that video from Christina Randall that said, 'Hey baby girl, I've been binge watching your videos. My heart goes out to you. I want to see you make it.'"
Kent didn't know who Christina Randall was, but watching her videos like "My Experience in Juvenile As a Child," "My First Day in Prison," and "6 Ways Women Disrespect You in Prison" made Kent realize she wasn't alone. Someone else was talking about the specific struggles of being a woman in prison. She slid into Randall's DMs and they've been friends ever since. "I'm so grateful to her because she understands what I've been through," says Kent.
More than the chance to hustle up income and a following, these YouTube channels give formerly incarcerated women a way to develop support systems that may be too uncomfortable to forge in the real world. And without them, there's a much higher chance they'll reoffend and go back to prison. That need for community is often difficult to fulfill, as some newly released female offenders are likely to isolate themselves from others due to stigma and shame. Many women feel pressure to be perfect— an "ideal woman" who is beautiful and spontaneous and high-achieving — and the ex-cons are no exception. It's still somewhat revolutionary for a model to reveal that they have bad acne, let alone for a woman to publicly admit she's been to prison. Criminal behavior is still seen as a both a personal failing and violation of female norms that dictate women should be unerringly polite and respectable.
These transgressions can inspire harsh judgement from others — especially on the Internet. It's easy to understand why many would prefer to keep their past a secret. "When I first got out of prison, I didn't want anyone to know about that part of my life," says Randall. "I was so determined to build a new me that I didn't want to look backwards. But I was still struggling with an eating disorder and, while I was still in outpatient therapy, I found a lot of comfort in watching YouTube videos of women who overcame their disorder. That's when I started to think, 'What if I could help someone with my story?' I've been kidnapped, did time in prison, was homeless, and all these other things … and I still made it. Maybe if people see that, they'll get hope for their situation."
For many inmates, coming back to the "real world" is more challenging than surviving prison in some ways. First and foremost, getting a job. A 2005 study on women released from New York City jails found that about a third were unemployed after fifteen months and others didn't make enough to support themselves without family support or illegal money-making activities to supplement their meager incomes. Randall experienced this firsthand. After she was released from prison, her goal was to become a social worker. She saved up money from minimum-wage jobs, went to college, and was offered her dream job at a children's hospital — and then they ran a background check.
"The manager said I'd never be able to work anywhere with children, and I lost it. I had been out of prison for seven years," Randall said. "I hadn't been in trouble, not even a speeding ticket. It didn't matter that I did volunteer community work or looked after children at my church for years. No matter what I do, no matter how much education I have, no matter how much time it's been since my prison time, I'll never be able to be a social worker. I'm very thankful that there was another way, on YouTube."
It worked out for Randall, who makes a living wage off video views, plus her Patreon, which offers extra videos and Skype calls for a range of monthly fees. She's also made the jump from YouTube to be cast on Bravo's new competition reality show Spy Games. This will not be the case for everyone that gets out of prison and starts a YouTube channel. You need at least 4,000 hours of watch time over the last 12 months and 1,000 subscribers before you can be eligible for monetization. Even then, it's usually about a cent for every view. Sure, you might eventually make money on the platform, but for many women the appeal has much more to do with narrative control.
Some of the most popular movies about women in prison that date back to the 1970s (ex. The Big Doll House and Caged Heat) reinforced negative stereotypes and pandered to a male gaze through gratuitous sexuality. Today, the most common reference is Netflix's Orange is the New Black. Although OITNB highlights a broader range issues within women's prisons, it's still a TV show that sells with sex. The steamy shower scenes deviate both from the original memoir's assertion that "there did not seem to be any lesbian activity" and common descriptions of prison bathrooms that seem way too gross to romp around in. The goal clearly isn't authentic representation and even when the stories aren't fiction — in documentaries, reality TV shows, and news stories, for example — what viewers see is often skewed by producers and editors. Rarely do we hear from women themselves, unfiltered and uncensored.
Lizzie Kommes knows the struggle of being misunderstood on TV. After starring in Love After Lockup, a docuseries about prison pen-pal relationships, she started her own YouTube channel last year. "On the TV show, there was a storyline and I was the villain. Now, I can show people that I'm not a bad person. Yes, I made mistakes and spent ten years in prison, but that's not who I am today," she told me.
Her videos lack the animated intros and professional lighting of other channels, but Kommes manages by simply propping up her phone and filming herself. She lets her fans know that she's sober, has a full-time job and goes to school for drug and alcohol counseling. The TV fame is nice, she says, but it doesn't capture her whole message. She doesn't want people to go through what she went through. "I was a party girl from Wisconsin and ended up in a level five maximum prison in California. I was scared. I had no friends. A lifer took me under her wing and took care of me. You need that, or else you'll be eaten alive. Now I'm paying that forward, by putting it on YouTube."