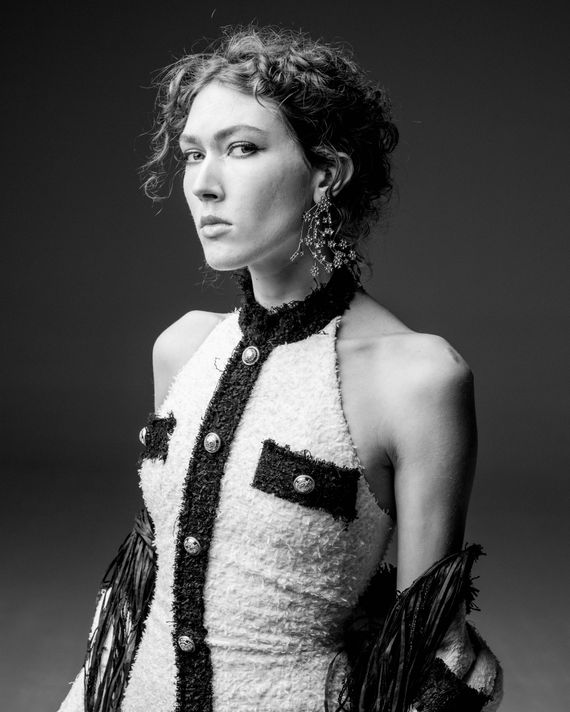 Miles Grover is a Boston native, but she says New York City feels more like home to her because "the people are good." Grover is a model and works as a server in Brooklyn. She's modeled for Christopher John Rogers, Barragán, and The Face magazine. The three people who have impacted her life the most are her mother, who is a painter and photographer; RuPaul for being "unapologetically beautiful and absurd, but in a self-serving way, rather than in a way that caters to others"; and comedian Margaret Cho for her comic take on the pain of growing up feeling different. We spoke with her about seahorses, social distancing, and Aristotle.
What would your Real Housewives tagline be?
I might be looking for love, but my therapist says I'm subconsciously conflicted about intimacy.
What kind of animal would you be and why?
A seahorse because they are very beautiful and the concept of exercise is foreign to them.
What are you excited about right now?
I've accidentally become sober during social distancing and I'm excited to experience that for a few months. What if I like it and this is the new me?
What are the last three songs you've listened to?
"Candy Heart" (off Ms. White's EP, Marina), "Stupid Love," and Caroline Polachek's "So Hot You're Hurting My Feelings."
What superpower would you have and why?
The ability to see myself from the outside, because I think it would make it easier to be nice to myself.
If you could master any skill (that isn't related to your current job), what would it be and why?
Cooking, because it's a skill you would be grateful for every day of your life.
What piece of advice has had the biggest impact on you and why?
"When it comes to who you are, what you do, and who you love, you simply can't force it." —Aristotle
Miles wears a Balmain dress and jacket, M. Gemi pumps, and Panconesi earrings.