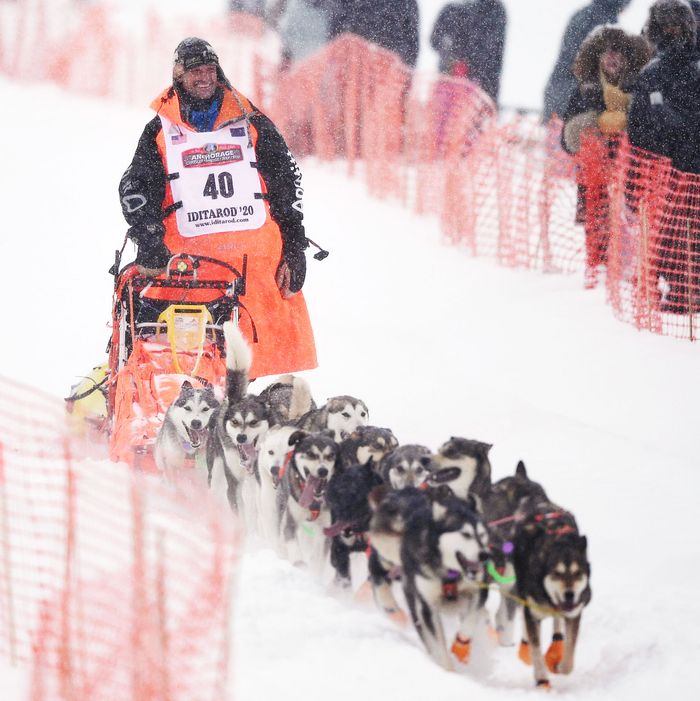 Thomas Wærner and his good dogs.
Photo: Lance King/Getty Images
As sporting events across the country have been canceled in an attempt to contain the spread of the coronavirus pandemic, 11 sweet athletes claimed victory in one of the world's most grueling races this week. On Wednesday morning, hot Norwegian musher Thomas Wærner, 47, and his ten good dogs crossed the finish line of the Iditarod dog sled race in Nome, Alaska, nine days, ten hours, 37 minutes and 47 seconds after they set off on their nearly 1,000-mile journey from Anchorage. Yay. I'm proud of them.
According to the Associated Press report from the scene, after he won, "Wærner immediately thanked the 10 dogs in harness, petting and rubbing each, ending with his lead dogs, K2 and Bark. Then each dog got a snack."
K2, Wærner says, is an "amazing dog" who "has this inside engine that never stops." And Bark: "He's the one just charging through everything. It doesn't matter what comes, he will just go through it, storms or whatever." While the eight other dogs didn't get specific shout-outs, I'm sure they're all very good as well.
After winning and giving the triumphant dogs their snacks, Wærner video chatted with his wife, Guro, who was back in Norway. Originally, Guro was planning on meeting her husband at the finish line, but she flew back home last week to avoid potentially getting trapped in the U.S. due to coronavirus-related travel restrictions.
Other mushers were also affected by the pandemic. Race checkpoints were moved and shut down, and on Wednesday, dogsledder Blair Braverman tweeted that, due to health precautions, musher Quince Mountain had been withdrawn from the race, and his 14 dogs were being flown back to Anchorage. Braverman added that Mountain told "told the dogs they did so well that they won Iditarod early."
Please note the story you're reading was published more than a day ago. COVID-19 news and recommendations change fast: Read the latest here to stay up-to-date. We've lifted our paywall on all essential news and updates about the coronavirus.