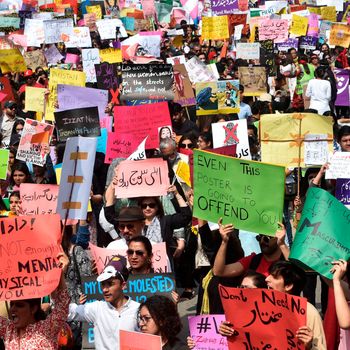 Lahore, Pakistan.
Photo: ARIF ALI/AFP via Getty Images
On Sunday, International Women's Day, women around the world participated in organized protest over a long list of social ills, including femicide, fascism, and unequal labor standards.
The Bangkok Post reported that in Indonesia, Thailand, and the Philippines, women demanded more labor protections and rights. In Pakistan, where some conservative groups had threatened to force demonstrations to shut down, women and men still marched. Reuters reported that at an event in Islamabad, some counter-protesters threw rocks and shoes at Women's Day marchers.
In Istanbul, thousands of protesters gathered at one of the city's main thoroughfares, Istiklal street, which authorities had declared off-limits, eventually leading to a clash with police, who fired tear gas at dozens of demonstrators. Tens of thousands of women formed a protest in Mexico City to demand greater action be taken to prevent femicides in a country where more than ten women are killed every day, often by their male partners.
Brazilian protesters in Sao Paulo, Rio de Janeiro, and Brasilia condemned the administration of the country's far-right president, Jair Bolsonaro, who's made many offensive remarks about women and LGBTQ people (he once told a female congresswoman in the country's Workers' Party, "I wouldn't rape you because you don't deserve it"), and generally supports policies that impede equal rights for women.
In London, sex workers marched to advocate for the full decriminalization of sex work and labor protections like pension provision, paid sick leave, and guaranteed basic pay. Buying and selling sex is legal in England and Wales, but most activities associated with the practice, such as owning a brothel or soliciting sex in public, are not. And more than 150,000 people gathered in Santiago, Chile, many holding up signs calling for an end to the country's harsh abortion restrictions.
Here are images from around the world of demonstrations on International Women's Day.