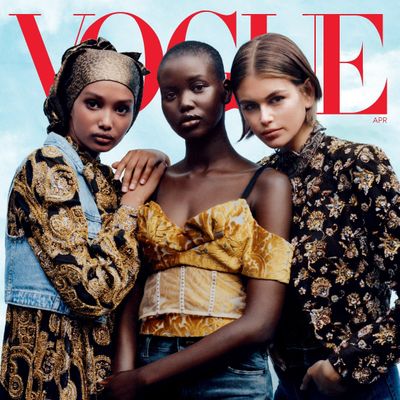 Anna Wintour is famous for being one of the first editor-in-chiefs to put celebrities on her magazine covers instead of models. But on Thursday, Vogue magazine took the opposite approach. Its April cover, photographed by Tyler Mitchell, aims to highlight models from the around the world, featuring Ugbad Abdi, Adut Akech, and Kaia Gerber. A total of 30 digital covers also feature models like Paloma Elsesser, Liu Wen, Adesuwa Aighewi, and more, representing 25 international editions of Vogue.
"Phrases once used to crassly compartmentalize models — from the 'Brazilian bombshell' to the 'all-American beauty' — no longer fit," writes Chioma Nnadi. "The wave of identically cast Eastern European faces that dominated the runways in the early aughts has given way to a new generation of diverse international characters with multilayered identities."
In lieu of a single cover story, the magazine let each model speak. "Before I'm anything else, I am a refugee, and I'm so proud of that," says Akech, who was born in the war-torn area that is now South Sudan and raised in Kakuma, Kenya, in one of the world's largest refugee camps. "I want to educate people on what that really means."
On Instagram, Elsesser teared up on the subject of the main cover. "Seeing Ugbad on the cover of American Vogue is one of the most powerful things I've seen in a really long time," she said. "It's such a big deal. It shouldn't be, but it is. She did that. Y'all did that. All these other girls — we really did that."
You can see the full cast and read their stories, here.