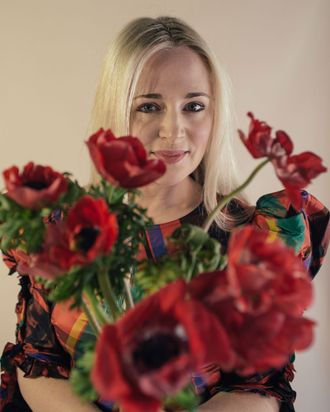 Amber Valetta was recently named sustainability editor of British Vogue. Livia Firth holds the same title for Vogue Arabia; Tonne Goodman recently took on the role for American Vogue. But with all due respect, Clare Press started the trend. She's had the title in Australia since the beginning of 2018.
Press was early on the sustainability path. In 2013, she'd been covering fashion (and some beauty — I met her on a Nars trip) but had grown tired of it. The industry's social and environmental failings were getting her down, and she was feeling the pull to do something about fast fashion. So she joined Fashion Revolution, a consumer activism campaign that sprang up after the Rana Plaza garment factory disaster that year. People were snapping selfies, wearing their clothes inside out to reveal the labels, and asking brands, #whomademyclothes? "I had to put my money where my mouth is," explained Press.
In 2017, she was working as a fashion editor at Marie Claire when Australian Vogue's editor-in-chief Edwina McCann asked her to contribute some ideas for an upcoming sustainability-themed issue guest edited by Emma Watson. She replied that she'd join Vogue in a larger capacity if they'd have her. "I don't they'd ever considered having a sustainability editor," says Press, "but Edwina is wonderful and she gave me a chance." In February 2018, in an industry first, it was announced that Press had been brought on board to lead Vogue — and the Australian fashion industry — in sustainable change.
Press is the author of two books, Wardrobe Crisis and Rise & Resist: How to Change the World. Her podcast, also called Wardrobe Crisis, explores the issues behind sustainable and ethical fashion and features the aforementioned Amber Valletta, plus sustainability luminaries like Rosario Dawson and the San Francisco–based eco-entrepreneurs behind Allbirds. In June, she will co-host a new podcast series for the U.N.'s Ethical Fashion Initiative.
Meanwhile, other fashion publications are putting their own sustainability experts in place. Business of Fashion hired Sarah Kent as their London-based sustainability correspondent last year, and Vogue launched Vogue Values, a commitment to diversity, responsibility and respect for our natural environment, in which all 26 of its international titles are involved.
I spoke with Press about how sustainability became fashion's hottest topic.
Is sustainability going mainstream in fashion?
Yes, it certainly is. In 2020 sustainable fashion is covered by major news outlets, conferences on the subject are proliferating, and fashion's sustainability goals are being discussed at Davos, the U.N. and the G7. Brands are publishing sustainability targets and launching organic, recycled and carbon-neutral collections. According to Lyst, online searches for sustainable fashion rose by 66 percent last year.
There's a growing awareness that the current fashion system is unsustainable. According to Fashion Revolution, globally, we're buying 400 percent more clothes than 20 years ago. Textile waste is a huge problem. We're churning through precious natural resources to make more than 100 billion garments a year, only to throw them away. Up to one third of what's produced it never sold, and we under-use the clothes that do end up in our wardrobes. It's senseless.
Have you always been passionate and mindful about it? Or was there a moment that hit you that this is a big problem?
Rana Plaza was my wake-up call. When that garment factory complex in Savar, Bangladesh, collapsed, it killed 1138 people, injured 2500 more, and left an estimated 800 children orphaned. The workers (overwhelmingly women) were sewing clothes for western fashion brands. I asked myself, as someone who works in this industry, was I part of the problem? And if so, what was I going to do about it?
Nowadays it feels like we're having daily wake-up calls: If current consumption levels continue, fashion could account for 25 percent of global carbon emissions by 2050. We have about ten years to act on climate change, according to the latest IPCC report. Land clearing in the Amazon is linked to the leather industry. Fashion is one of the top five industries implicated in modern slavery. Each year 150 million trees are cut down for viscose production. By 2050 there could be more plastic (by weight) than fish in the sea, and fashion contributes to ocean plastic pollution because we shed tiny microfibers every time we wash synthetic clothes.
Does your purview cover sustainability and fashion, beauty and everything else?
I focus on fashion, but I am becoming more interested in beauty, interiors and architecture because everything is connected. The beauty industry needs to solve its plastic packaging problem.
What's the best part of your job?
Purpose. In my previous roles, I worked with inspiring creatives, but I also spent countless hours telling the reader which color mules were in for spring and which coat shapes they ought to ditch for fall. I enjoyed it, but I wanted to be part of something bigger — I think we all do.
What's the most frustrating part?
Greenwashing is becoming more of a problem. Once something becomes cool, everyone hops on it — not always for the right reasons. Consumers have a lot more B.S. to wade through. Is your product really "natural, green and conscious"? Really? Because I would like to see the evidence to back that up, please, in the form of certifications and supply chain transparency.
Can you give an example?
[British fast fashion brand] Boohoo's #forthefuture capsule was marketed as, "Dress well and do your bit for the planet." Prices started at £4 and everything was made from polyester — but recycled polyester still ends up in landfill.
Or last June, when Zara launched their new sustainability goals. These included sourcing 80 percent of the energy for their stores, offices and distribution centers from renewables by 2025, phasing out single-use plastic packaging, and using more sustainable and recycled materials. All laudable things, but executives backed this up by giving media interviews in which they said things like, "We have always been sustainably conscious," and, "We are the very opposite of a fast fashion company."
Which U.S. brands do you see as pioneers in this field? Who's been making strides?
Well, I think Patagonia inspires everyone. Eileen Fisher is a pioneer, and Maria Cornejo. When it comes to transparency, Everlane is first to mind. Nike and Adidas are doing major things with circular design; Levi's is an innovator. PVH announced far-reaching sustainability goals last year. I recently interviewed the founders of Allbirds — they're a B Corp, they're ambitious on carbon neutrality, and have developed their own sustainable materials. For smaller designers, the CFDA's open-source sustainability tool kit is a positive development.
At the luxury end, Gabriela Hearst is showing you can combine high-end glamour with boundary-pushing sustainability initiatives — I absolutely love what she's doing. Generally speaking though, luxury in the US seems slower on the uptake than Europe. I haven't heard much from Marc Jacobs, have you? Or DVF. Correct me if I'm wrong. And what about the big influencers? Why aren't Kim amd Kanye onto it? The icecaps are melting, the oceans are acidifying, the forest are burning. They could use their enormous platforms to change the conversation.
In the wake of the bush fires, what is the current political climate like in Australia? 
Vested interests in this country's extractive economy drive the political discourse on climate and the environment here. We're still having arguments over whether climate change is a factor in the drought and fires. I mean, come on! It's super depressing. The recent bush fires were unprecedented. Millions of acres burned, amounting to 21 percent of our total forest cover. Areas of sub-tropical rain forest burned that have never burned before. An estimated 1 billion animals died. Australia should be a lesson to the rest of the world — if we don't take the Paris Agreement seriously and make cutting emissions a priority, this is what the future could look like.
I believe we need to slow down and be more mindful, but also plan for a different shaped economy — to aim for what the British ecological economist Tim Jackson calls "prosperity without growth". We need to be bold enough to completely rethink what fashion can be.
What are some easy ways we can all be more sustainable?
One, stop thinking recycling is the answer. It should be the last resort. Less than 9 percent of the plastic that's ever been produced has been recycled. Consider some easy switches in your bathroom cabinet — a bamboo toothbrush; bar soap; shampoo bars; washable muslin cloths instead of disposable wipes; bamboo or cardboard cotton tips. If you're feeling bold, try a moon cup.
Two, consider renting or swapping clothes. Rent the Runway is the new Net-A-Porter, if you ask me.
Three, vote with your dollar. Demand brands do good as well as look good. Support social enterprises and B Corps.
Four, keep your clothes for longer. According to WRAP, extending the life of a garment by just 9 months of active use can reduce its water footprint by up to 20 percent.
And five, use what's already in existence. There are so many ways. "Shop" your own wardrobe — I bet you find stuff in there you'd forgotten you owned. If you want new, try one of the new wave of upcycling designers like Zero Waste Daniel and Bode designer Emily Bode in New Yorker, or French designer Marine Serre. Shop vintage or second hand — everyone else is. According to Thredup, the re-commerce market is expected to eclipse the fast fashion market within the decade.